Planetary Health Solutions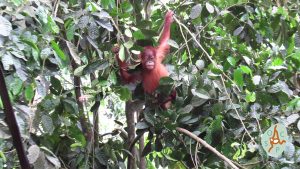 Wild orangutan populations are in rapid decline due to increasing habitat loss and hunting. One conservation approach being employed to reverse this trend is the reintroduction of ex-captive, rehabilitated, and wild translocated orangutans back into areas of safe, secure forest.
Although this method has a long history, dating back to 1963 in Sarawak (Malaysian Borneo), little progress has been made to improve post-release monitoring. Given the difficult factors in tracking orangutans, many animals are rarely seen again after being released.
Current efforts to map, measure, and understand their status, trajectory, and threats are inefficient and produce inconsistent data with little predictive power. Decision-makers and scientists need timely and reliable tools and data to assess the status and trends of this species to inform long-term management strategies and protect them from extinction. Orangutan Outreach is teaming up with the Sumatran Orangutan Conservation Programme (SOCP) and Planetary Health Solutions (note: links to Facebook) to help make this dream a reality!
Planetary Health Solutions' "Orangutan Biologger Project" has partnered with SOCP to develop a new approach to promote the health of critically endangered Sumatran and Tanupuli orangutan species by accessing real-time information about an orangutan's location and physiological well-being. Movement is fundamental to behaviors such as acquiring food, shelter and mates, avoiding predators, and dispersing to new habitats. Understanding how animals move within and between landscapes provides a sound basis to improve management, mitigate the risk of human-animal conflict, and inform policy.
Your contribution to this project will help the Planetary Health Solutions team with research and development, prototyping, hardware implementation and platform installation and testing, and operational deployment and evaluation...