MOM Archive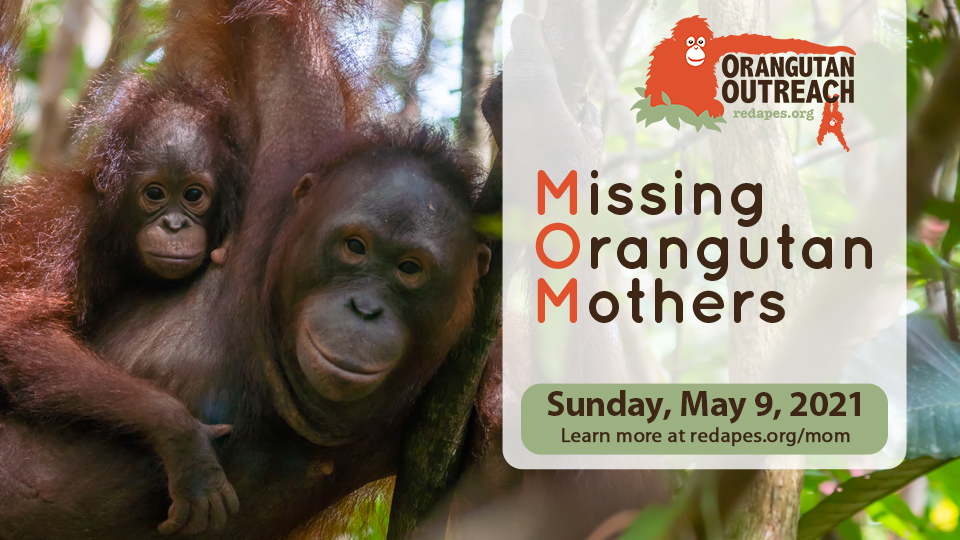 The 2021 M.O.M. banner features lovely Rika and her adopted son, Aben. Little Aben was rescued and brought into the care of International Animal Rescue (IAR) in December of 2019. At that time, the IAR team was having success pairing orphans with older female orangutans at the center. (See the story of Monti and baby Anggun here) They felt Aben would benefit greatly from having an orangutan mother. In the Fall of 2020 the IAR team decided on Rika to be the adoptive mother for Aben. The two were put together and the bonding process was very promising. Aben and Rika were often seen hugging affectionately. Aben cried if separated from Rika, and Rika would be angry if Aben was taken from her. It seemed to be love at first sight! This newly formed mother/baby pair moved to a pre-release island on the grounds of the IAR orangutan center. With joy the team observed as Rika became an excellent mother to Aben. Rika will protect Aben and teach him important survival skills. The plan is for the two to be released back into the wild together.
---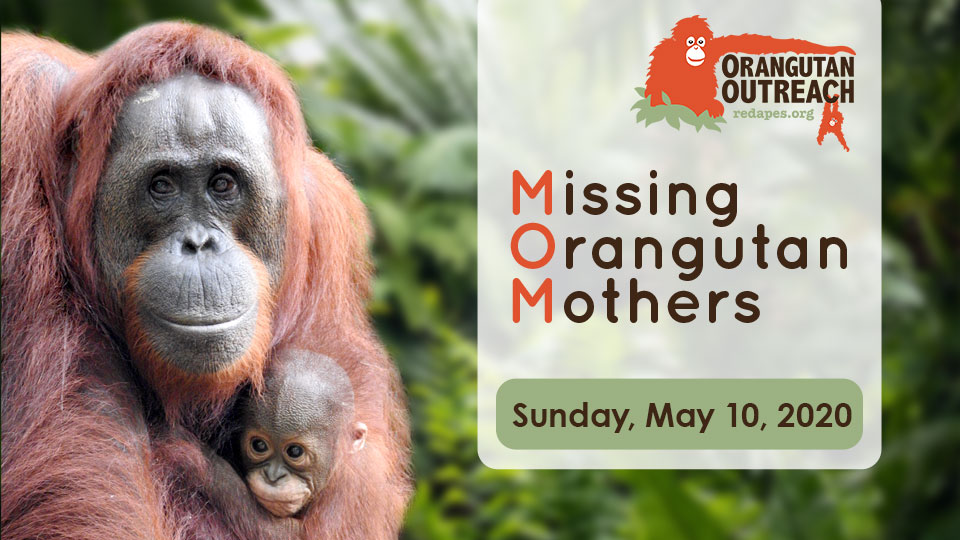 Photo of Manisha & Baby Meteor © BOSF 2020 Andrea Knox
The 2020 M.O.M. banner features Manisha and her baby son, Meteor. Theirs is a true success story! Manisha was rescued as a youngster in 2000 and then spent almost 14 years under the care of the Borneo Orangutan Survival Foundation (BOSF). She was released to Bukit Batikap Forest in 2013 as a truly rehabilitated orangutan. Beautifully and remarkably, Manisha became a marvelous mother! In August 2018, Meteor arrived, born wild and free. Manisha is an attentive, protective, excellent mother. She provides her baby with everything she did not have. Manisha and Meteor are a shining example of the perfect orangutan mother-child relationship!
---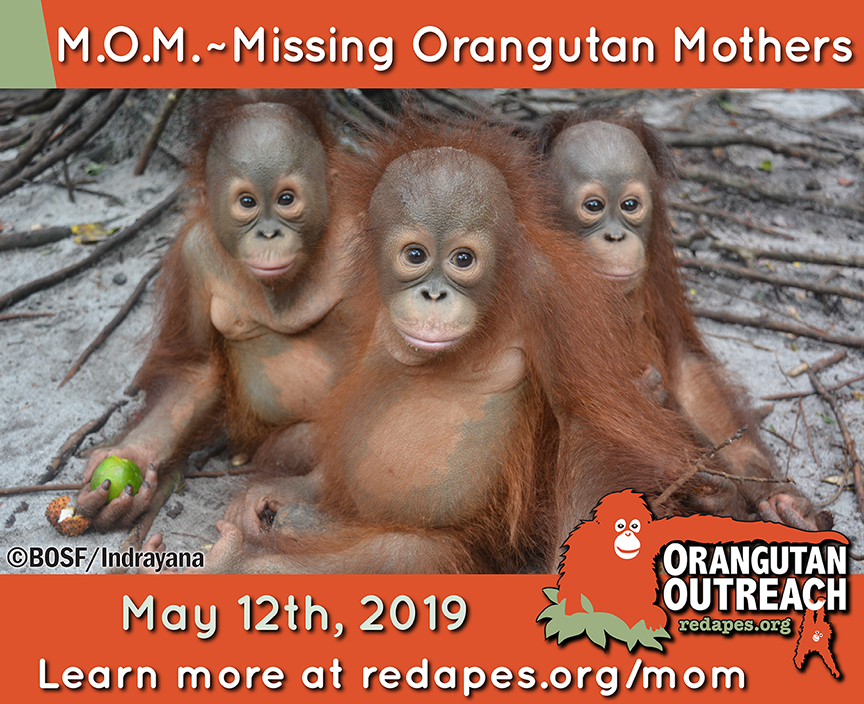 The 2019 M.O.M. banner features orphaned orangutans Valentino, Yutris, and Momot. They are three of the hundreds of orangutans who attend the BOS Foundation's jungle school at Nyaru Menteng in Borneo. They are learning skills that one day will enable them to live as wild orangutans. All three star in the new series Orangutan Jungle School. All donations from our 2019 M.O.M. campaign were allocated to BOS Nyaru Menteng for the continued rehabilitation of Valentino, Yutris, Momot and their friends!
---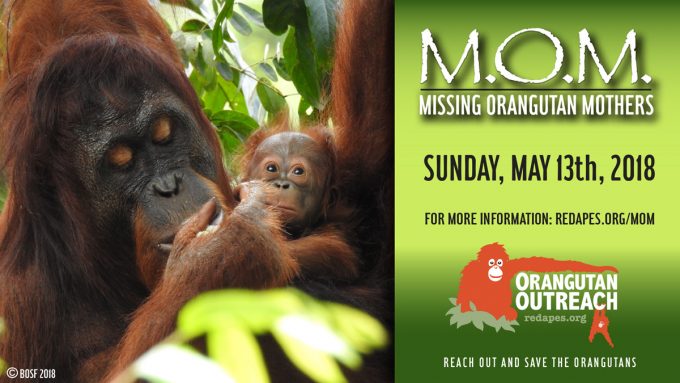 The 2018 M.O.M. banner featured first-time mother Ebol and her beautiful baby girl Eden. They are living in BOS Nyaru Menteng's Batikap Release Forest, which is located deep in the Heart of Borneo. The Borneo Orangutan Survival Foundation has released more than 100 rehabilitated orangutans into the protected forest over the last few years and these rehabilitated orangutans are now having babies of their own. Read more about the release program here. These rehabilitated orangutans are creating a new, wild orangutan population.
---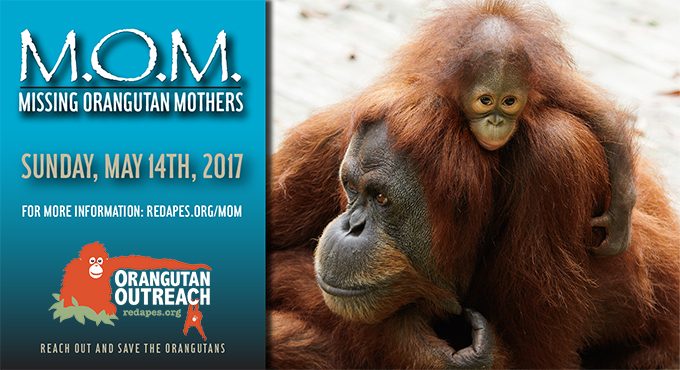 The 2017 M.O.M. banner featured Zoo Atlanta's Madu and baby Keju. When Keju's biological mother at Wisconsin's Henry Vilas Zoo was unable to provide appropriate maternal care for her, zoo staff made the difficult but necessary decision to find her a surrogate mother. Although Madu has never had offspring of her own, she has an outstanding track record for surrogacy. It was love at first sight as Keju grabbed onto Madu and never let go! Madu accepted the youngster as her own and the two have been together ever since. Keju is Madu's fourth foster child and first foster daughter. Photo of Madu and Keju courtesy of Zoo Atlanta. Fun fact: the word 'keju' is Indonesian for 'cheese'.
---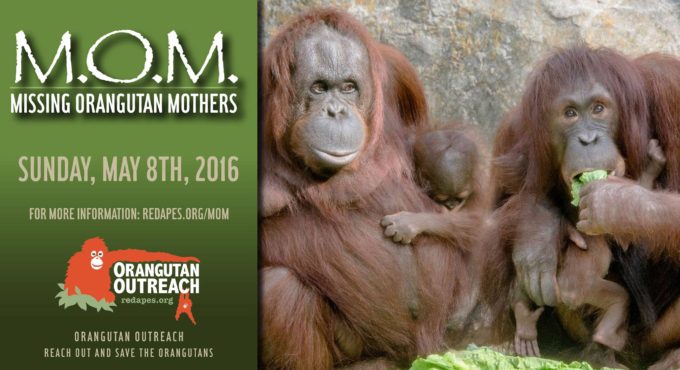 We had a special treat in 2016: 2 mothers & babies in 1! Bornean orangutans Josie & Baby Gojo and Hadiah & Baby Topi from Tampa's Lowry Park Zoo donned our MOM poster. Special thanks to Zoo Photographer Dave Parkinson for allowing us to use his photo.
---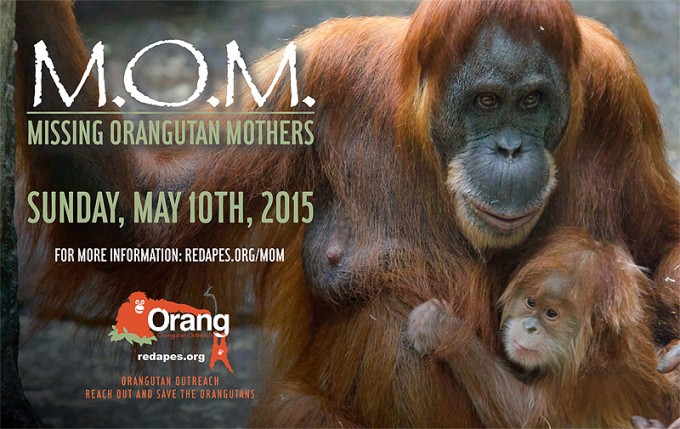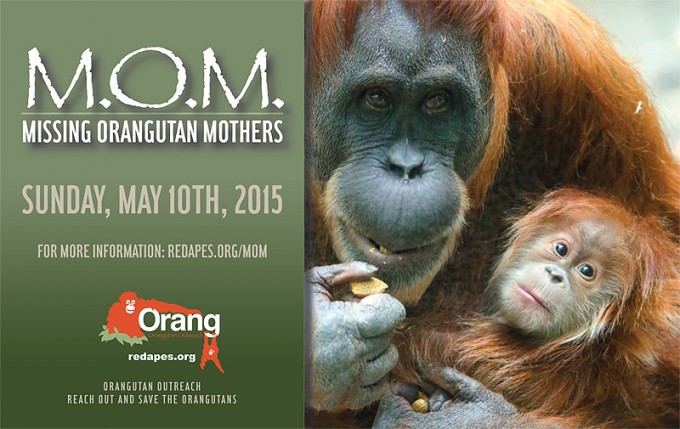 In 2015 we couldn't make up our mind which banner to use so we chose two! They feature two lovely girls from the St Louis Zoo. Sumatran Orangutan Mom Merah and her amazingly gorgeous baby girl, Ginger, will make your heart swoon. Special thanks to Robin Winkelman for being kind enough to let us use her photos and to designer Laura Mendoza for creating the banners.
---
---
---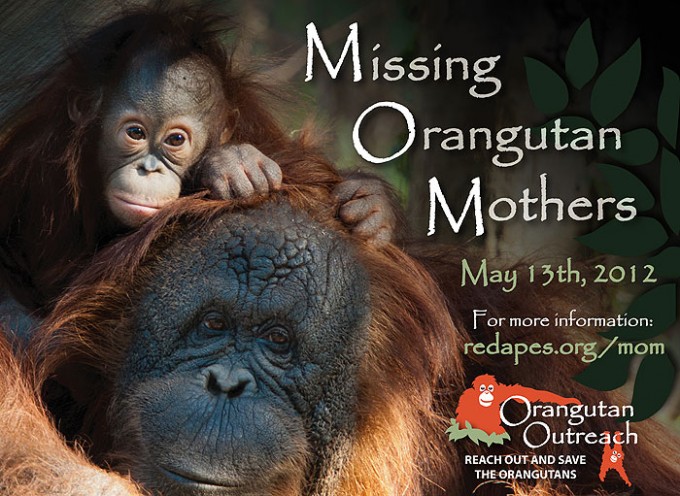 ---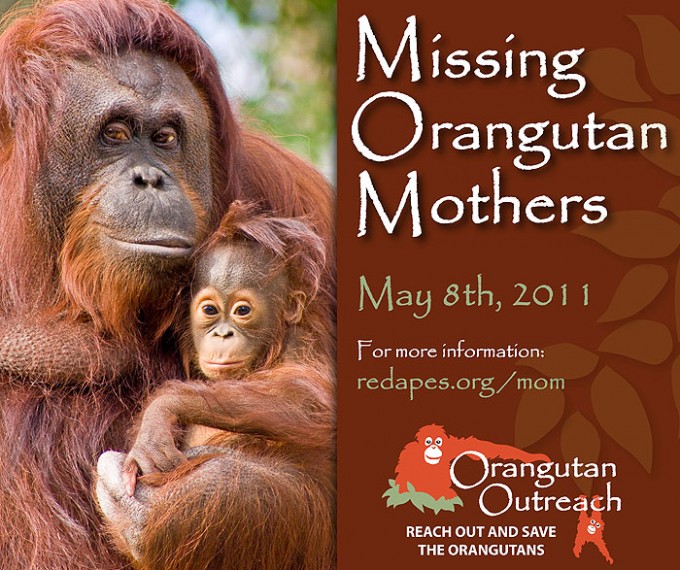 ---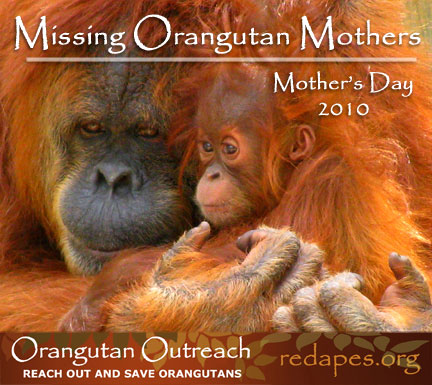 ---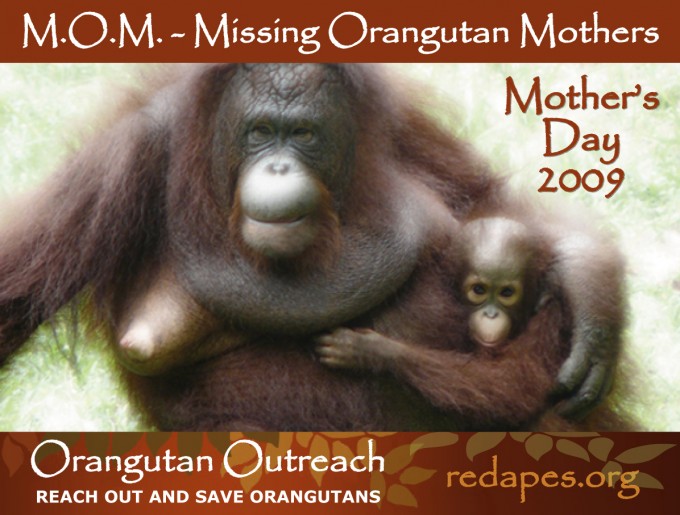 ---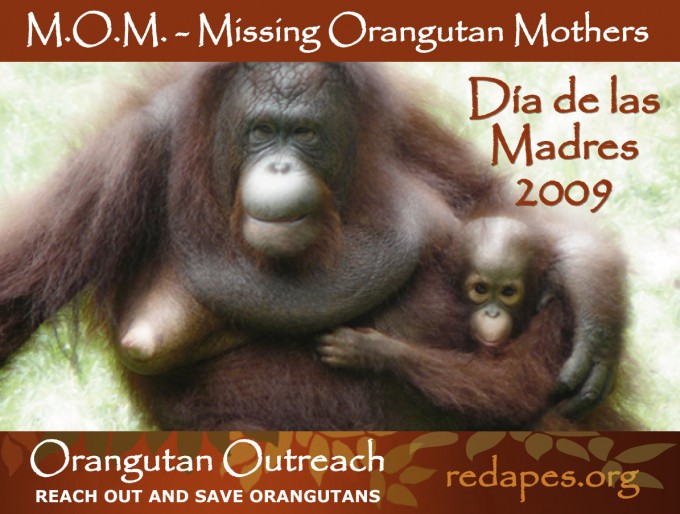 ---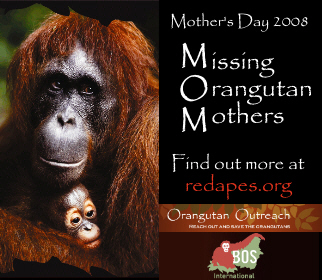 ---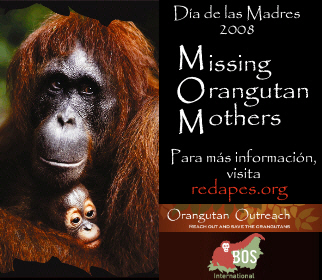 The 2012 M.O.M. Campaign was dedicated to a very special baby named Luna. This precious angel 'disappeared' under very suspicious circumstances from her rescue center in 2011... Luna shall remain in our hearts forever. We will never forget her. 
Learn more about the tragic loss of Baby Luna.