Ape Conservation Effort: Run for the Redheads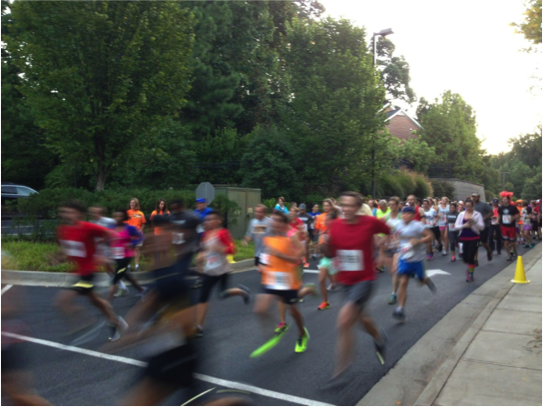 Feb 2014 - Our friends at Atlanta's Ape Conservation Effort (ACE) had another successful fund raiser for the orangutans! The First Annual "Run for the Redheads" was held on Saturday, September 14, 2013 and raised over $6800 for Orangutan Outreach's partners Sumatran Orangutan Conservation Programme (SOCP).
Over 160 runners gathered at a local church in Atlanta as the sun was rising on a beautiful fall day. Sponsors from West Stride and Hayley the Orangutan (actually an ACE volunteer in an orangutan costume) led the runners in a warm-up before the 5K. Then, at 7:30 am, the runners were off! The competitors were a mixed bunch - serious runners, new runners, even some red headed runners! Everyone enjoyed the pleasant, if hilly, course and finished with a respectable time.
Once all the 5K runners were done, it was time for the Great Ape Gallop - a one mile fun run for all ages. The group of kids and adults finished the Gallop to great applause. The after-party included bananas, of course, as well as a "Who Looks Like an Orangutan?" contest. The Zoo Atlanta ZooMobile offered live animal encounters with animals appropriate to the event - a tortoise and a hare and a beautiful red tailed boa constrictor. And of course there was a grand presentation of medals to the winners.
The proceeds of $6865 will benefit the Sumatran Orangutan Conservation Programme. The primary goal of SOCP is the conservation of the critically endangered Sumatran orangutan. To achieve its aims, SOCP has adopted a number of methods including reintroduction programs, habitat protection, monitoring of wild populations, and public education.
Run for the Redheads 2013 could not have happened without their wonderful sponsors - Trinity Presbyterian Church, WSB-TV, Cobb Pediatrics, West Stride, Gorilla Sacks, Tamaqua Foundation, Haven OB/GYN, Lauderdale Shirthouse, Inc. and Zoo Atlanta. A huge round of applause also goes to Patti Frazier, Run for the Redheads 2013 Chair, and her tireless committee-- and to all the volunteers who staffed the event.
And now for 2014! The Second Annual Run for the Redheads will take place on Saturday, September 13, 2014 at 7:30 am. Once again, there will be a timed 5K and a 1 mile Great Ape Gallop fun run. All proceeds will once again go to SOCP to help them continue their valuable work. If you're interested in being a sponsor, please let us know and we'll put you in touch with the ACE team.
Text courtesy of Julie Gaines, Chair, Run for the Redheads 2014