Art Sale to Benefit Borneo Nature Foundation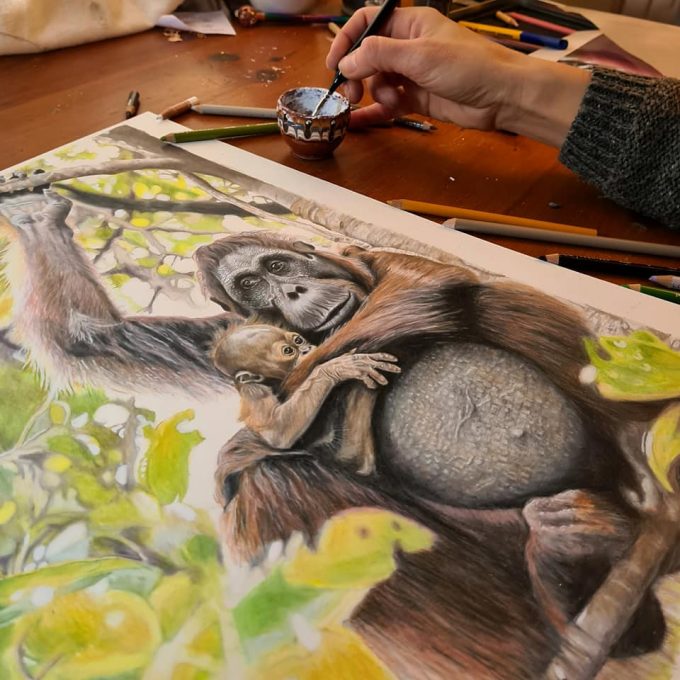 The Borneo Nature Foundation is carrying out vital work to protect Borneo's remaining rainforests and is implementing huge restoration efforts to restore burned and degraded peat-swamp forest.
BNF works with local communities to develop sustainable livelihoods, educate about the importance of the forest, establish community firefighting teams, build dams to rewet the peat, and set up community tree nurseries with the aim to plant 1 million trees by 2025! All these activities are contributing towards a better future for wildlife, local communities and the health of our planet.
You can support BNF's work by purchasing one of these stunning, limited edition prints, numbered and signed by Rae Gray. All money raised from the sales of this artwork funds conservation of critical orangutan habitat in Borneo. This piece would make a lovely addition to a home or a wonderfully unique gift for Christmas!
Buy these prints at BNF's online Etsy shop.
To find out more about BNF's work, visit their website, and follow them on Facebook, Twitter and Instagram.
(Click on the thumbnail to see a large version of the image)
Orangutan
This charming piece features mother and baby pair, Gracia and Gara. Gracia is one of Sebangau's most well-known forest residents and an experienced mother. The BNF team have been following Gracia since 2005 and in this time, have seen her raise three babies and become a grandmother! Gara is her third baby. He is now four years old and quite the handful! The Bornean orangutan is critically endangered as a result of rampant habitat loss and hunting. It is estimated that just 71,820 individuals remain, with only 38% of this population predicted to be viable in 100-500 years. Gracia and Gara experienced the effects of habitat loss when part of their home range was burned during the catastrophic forest fires of 2015. Fortunately, they have moved into other areas of forest and are currently doing well, but some aren't so lucky.
You can also adopt Gracia! Funds go to BNF's reforestation program so Gracia's children will have a home to call their own! Learn more and adopt Gracia here.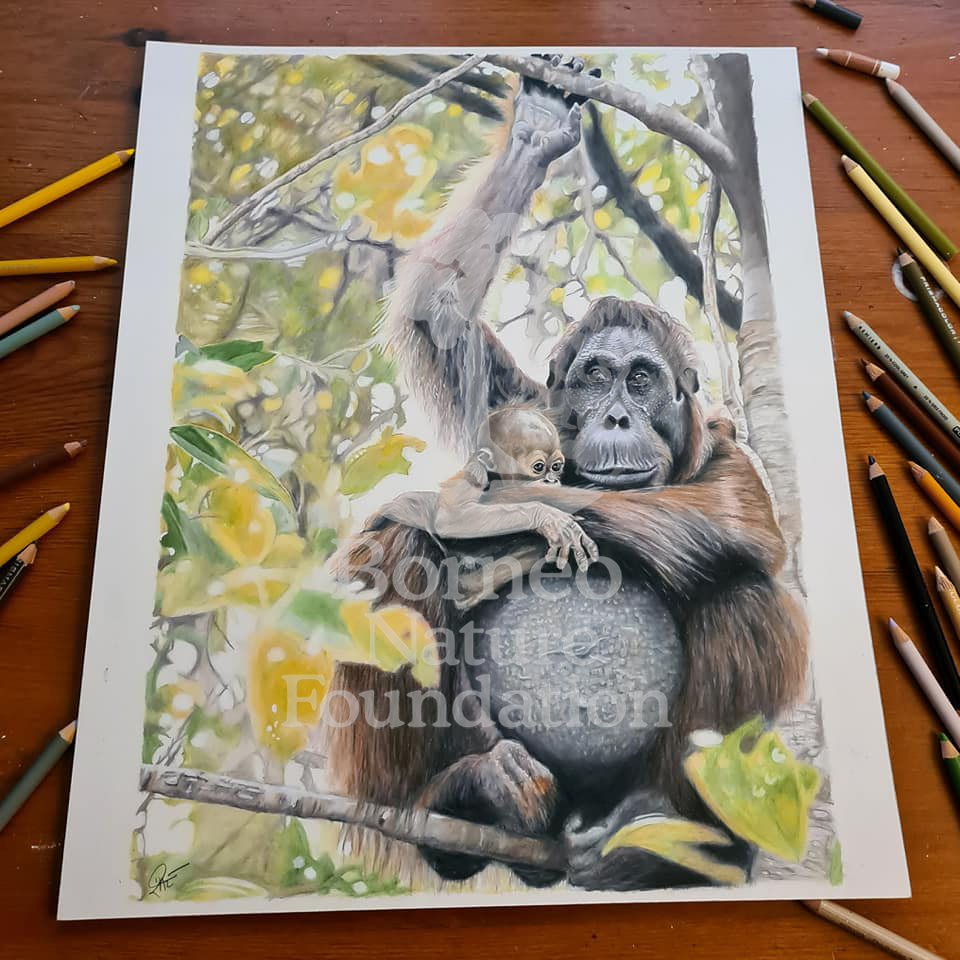 Clouded leopard
This striking piece features one of Sebangau's most elusive residents, the clouded leopard. BNF was the first to identify the presence of this species in the Sebangau forest as a part of their camera trapping project, running since 2008. As seen so vividly in this piece, clouded leopards have unique, cloud-like spots that can be used to identify individual animals, each with a different pattern. BNF have identified 12 individuals that visit their research area and have been able to estimate their home range size and social organization, on which there is very little research due to the rarity of clouded leopard sightings. Clouded leopards are classed as Vulnerable by the IUCN Red List and their population is declining. They are threatened by hunting, residential and commercial development, agricultural expansion, and logging. These activities are resulting in the loss of their forest home at an alarming rate.