BOS Foundation: Post Release Monitoring Team Still Busy in the Forest
Text by: BOS Foundation Communication Team
Please support the BOSF Emergency Covid-19 Relief Fund
April 8, 2020 — It has been almost six weeks since the BOS Foundation closed its orangutan rehabilitation centers to the public in East and Central Kalimantan, as well as its release sites in the Kehje Sewen Forest (East Kalimantan), the Bukit Batikap Protection Forest and the Bukit Baka Bukit Raya National Park (both in Central Kalimantan) to volunteers and researchers. Despite these closures, our post-release monitoring (PRM) team is still conducting daily routine patrols in the forest and observing orangutans.
Due to the remote location of each of our release sites, they remain mostly cut off from major population hubs where COVID-19 is currently spreading. We further isolated these sites by stopping the intake of volunteers and researchers, which allows us to reduce travel into and from the camps to essential business only, namely the transportation of food, supplies, and salaries. To this end, only the designated camp managers or coordinators travel to the rehabilitation centers when it is absolutely necessary.
During their long trek back to the monitoring camp from the city, we are making every effort to charter private transportation for them, limiting their contact with the general public. For journeys where this is not possible, the staff are quarantined for two weeks once their reach camp. For locations where we can provide the private travel, quarantine is undertaken prior to departure in a secure area of the rehabilitation centre. Still, we recognize that these measures are not failproof, so the staff at the camps still have their temperature checked every morning, are isolated if they fall ill, are given vitamin supplements, are regularly disinfecting camp, and are maintaining a minimum 10 meters of distance between them and all orangutans.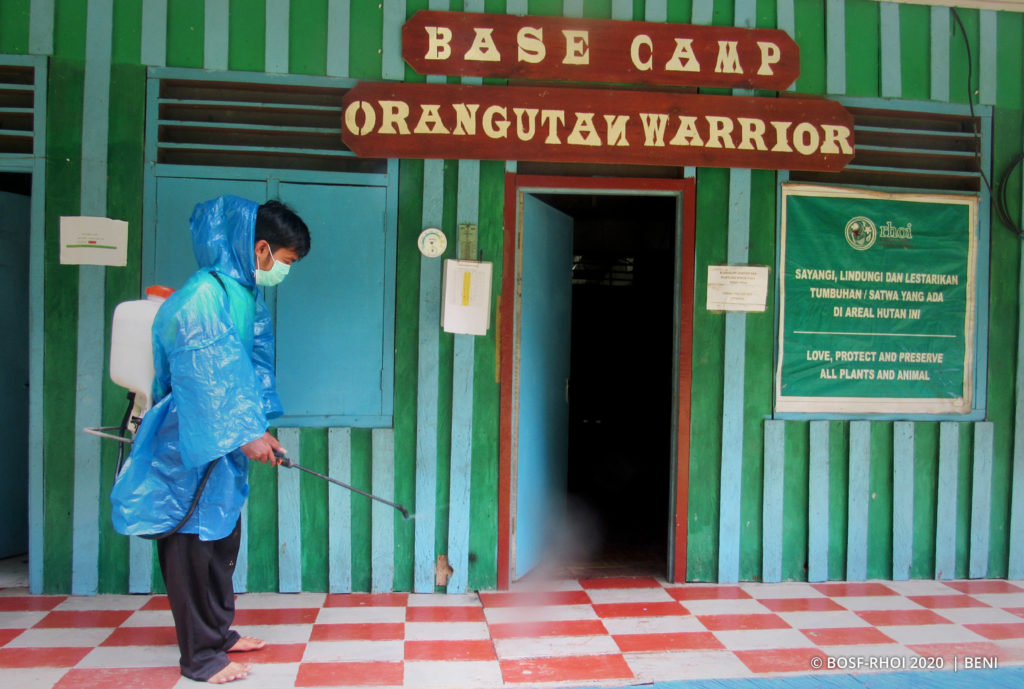 Regularly disinfecting camp
By taking these precautions, our PRM teams can continue their vital work. Early every morning, the team members leave camp and hike along transects where they monitor and observe previously-released orangutans. This activity continues until very late in the afternoon, when it is time for the team to head back to camp. The data on orangutan activities and behaviours that is collected throughout the day is then discussed among team members during their nightly meeting.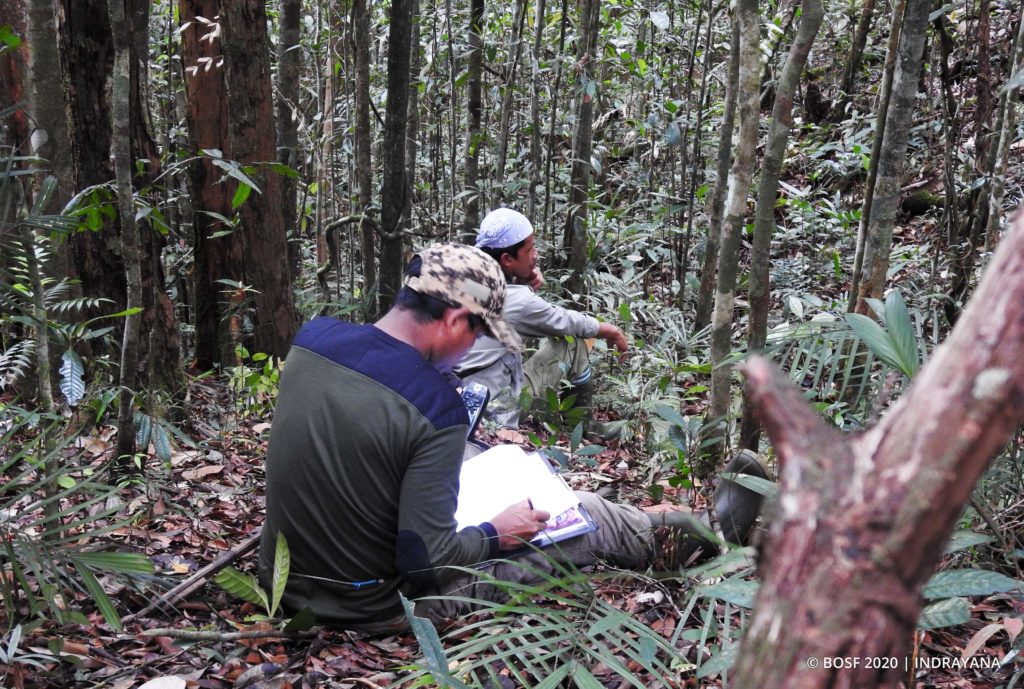 PRM teams collect data
The PRM team also regularly conducts phenological surveys to collect data on flora found in the forest. Phenological data shows the locations and seasonal fruiting cycles of the plants that orangutans feed on. With this knowledge, our team can determine the best location for future orangutan releases, as newly-released orangutans need to immediately forage to survive in the forest.
Team members who are not involved in conducting the two activities outlined above are typically tasked with clearing overgrown transects, checking rainfall and humidity levels, conducting biodiversity surveys, or patrolling the release area. Even though we work far from the nearest village and human settlements, we are committed to ensuring that the forest remains free of human interference.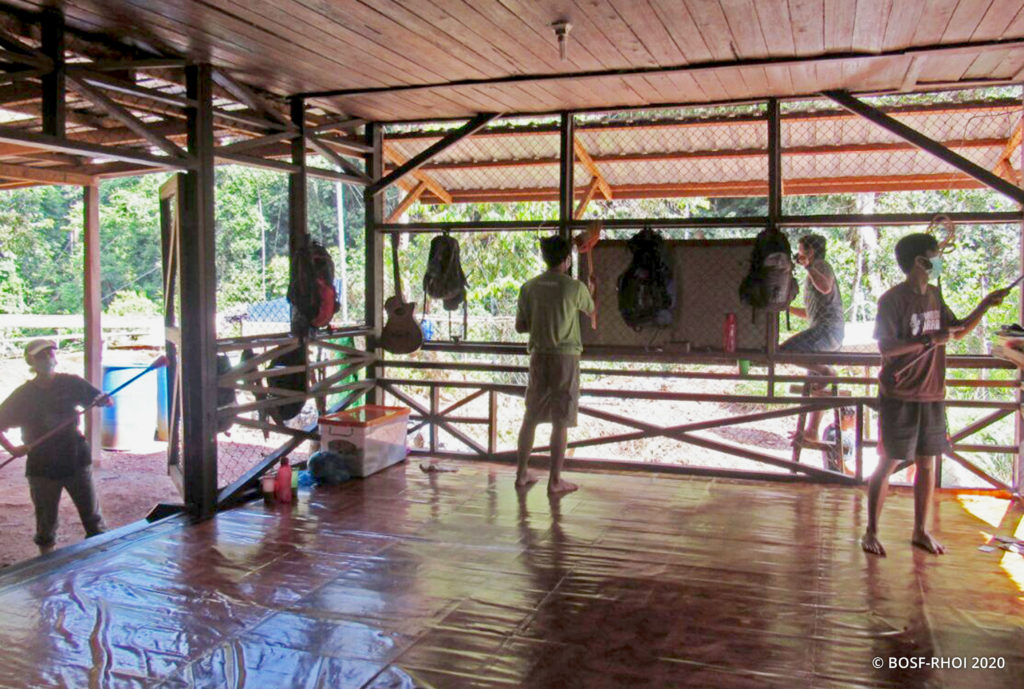 Regularly cleaning camp
If you are able to work from home during the lockdown to prevent the spread of the COVID-19 virus, the world thanks you for your social-distancing efforts. But please, do not forget the plight of this extraordinary, endangered animal. We still need your help and support to protect orangutans and their habitats!
Orangutans in Borneo Need Your Help!
Please support the BOSF Emergency Covid-19 Relief Fund