BOS Nyaru Menteng: Meet Toby!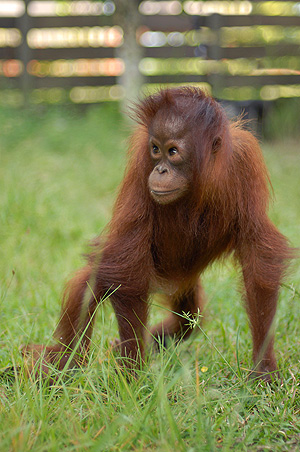 Just like humans, mother orangutans form an extremely close bond with their infants. The trauma an infant goes through when his or her mother is taken from them is an event which can't be easily erased from a young orangutan's memory. It is heart-wrenching for the team at BOS Nyaru Menteng to receive orangutans who are physically and psychologically scarred and traumatized.
One of the top priorities at the BOS Foundation is to do their utmost to heal the psychological trauma young orphaned orangutans have experienced in order for them to develop into confident individuals who are able to survive in the wild once they are old enough to make the trip to forest freedom.
Toby Arrives at Nyaru Menteng
Toby was only two and a half years old when, in late May 2012, she was allegedly found without her mother in an oil palm plantation in Manusup village, Kapuas, Central Kalimantan. An employee of the plantation subsequently brought her to the BOS Foundation rehabilitation centre in Nyaru Menteng, through liaison with the Central Kalimantan Conservation and Natural Resources (BKSDA). Toby was so deeply traumatized from her ordeal that she was only able to join her peers in Forest School eight months after her arrival.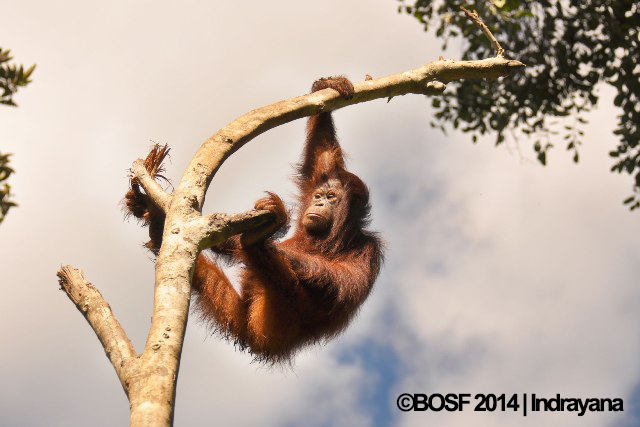 In Forest School, the babysitters gave Toby the much needed love she needed and started to introduce her to natural foods such as forest fruits, termites, tree bark and young leaves. In school. Toby also started to recognize predators such as snakes. A year in Forest School under the close watch of her babysitters has helped Toby regain her confidence.
Fast Learner
Young orangutans who are separated from their mothers are traumatized and need to go through a period of recovery before joining and learning in Forest School-- and that is exactly what our team at Nyaru Menteng has done for Toby.
Toby has grown into an exceptional young orangutan in her group. She quickly learned how to build nests and is agile at climbing and moving through the trees. She loves traveling through the trees and seems very comfortable in the forest. She often chooses to sleep in the Forest School rather than her enclosure.
We could not be more proud of her development.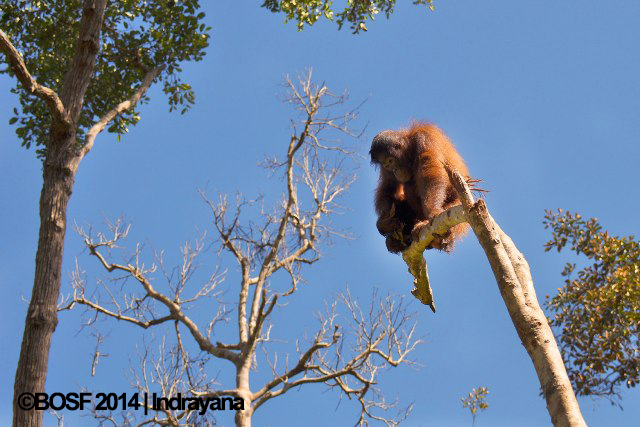 Toby the Brave
Toby is now five years old. On March 21, 2014, she moved up to a higher level of Forest School and now loves to play with older orangutans. She is most frequently seen with Ponty, an eight-year-old orangutan, and they often explore the Forest School together looking for food. Being younger, Toby also learns from Ponty and tries new forest fruits. She also continually practices her nest-building skills. Together they sometimes sleep in the forest for a few days-- which is a great learning experience for when they will eventually be returned to the wild.
In Nyaru Menteng, Toby is known as an active, confident and brave young orangutan and we wholeheartedly thank our Team in Nyaru Menteng for helping her regain her confidence and preparing her for life in the wild.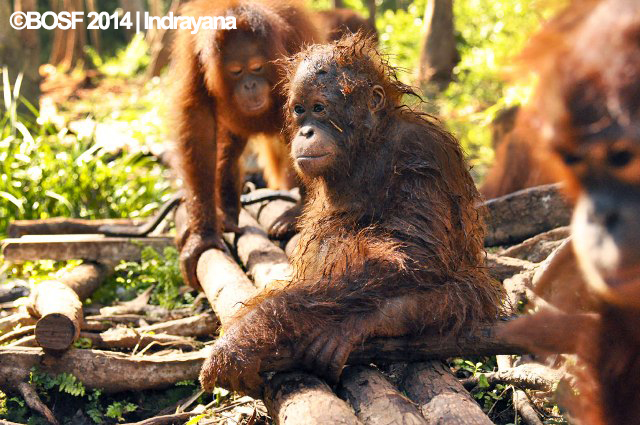 Please support the orphaned orangutans at BOS Nyaru Menteng by adopting Elo, Jumbo and Cinta! Share their journey through their rehabilitation process in forest school by joining the Orangutan Outreach Adoption Program!
With your help Toby and all of the orangutans at BOS Nyaru Menteng can be returned to the forest!
Thank you!!!  {:(|}
---
Text by Monterado F., Communication and Education Coordinator at BOS Nyaru Menteng
Photos by Indrayana, Adoption Photo Coordinator at BOS Nyaru Menteng