BOS Nyaru Menteng News: Making the Move from the Nursery Group to Forest School
On May 21 2014, the BOS Foundation's Forest School in Nyaru Menteng welcomed new students from the Nursery Group. Orangutans who arrive at our centers at a very young age need to first spend all of their time under the dedicated care of our babysitters in the Nursery. Once they become more independent and ready to increase their learning, they progress onto the first level of Forest School. So who are the new students?
Our four new Forest School students were all rescued by the Central Kalimantan Conservation and Natural Resources Authority (BKSDA) and were brought to Nyaru Menteng between August and October 2013.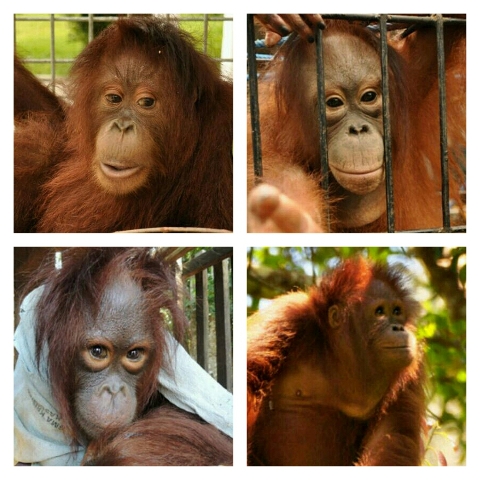 Fenti
Fenti is a four year old who arrived in Nyaru Menteng as an orphan without her mother. She also had injuries to her right eyelid and was heavily dependent on human contact, especially the babysitters in the nursery.
Initially Fenti was extremely nervous and did not want to climb trees, but preferred to sit on the ground to watch other orangutans at play. It is heartening to note that over time, and with regular encouragement from the Nursery staff, Fenti has now overcome her fear and is a great climber. In fact she is more than ready for the Forest School.
Adil
Six year old Adil, is a male orangutan who was illegally kept as a pet at a residence in Tumbang Banjang village, Katingan Regency.
Having been used to constant human contact, Adil was naturally very curious about things belonging to humans around him. Unfortunately that also meant that he was habituated to eating human food especially rice instead of food from his natural habitat. Overtime and with help from his babysitters, Adil has developed more natural orangutan traits including eating fruit from the forest and after joining the Forest school this behavior will thrive even more.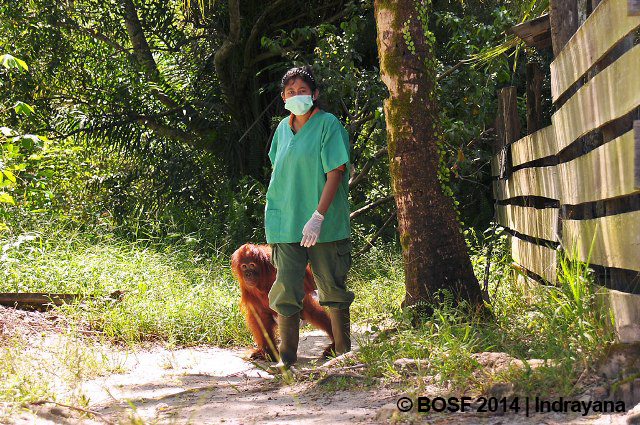 Melanie
Melanie was illegally kept as a pet by a resident in Buntok for four years before her arrival in Nyaru Menteng last August. During her initial health check, several 4mm caliber rifle pellets were found in her left arm and neck. Melanie has now fully healed from her wounds and thanks to the love and care of her babysitters she has regained her lost confidence. Melanie has now graduated from the Nursery Group and is ready for the Forest School.
She has a very special boyfriend, none other than Harrison Ford, who fell in love with her while filming the climate change documentary series Years of Living Dangerously.
Quireda
Querida is a four year old female orangutan who was kept illegally as a pet by people in Tumbang Tajung following her discovery after land was cleared to make way for a new oil palm plantation.
When she arrived in Nyaru Menteng Querida was very thin with wounds around her eyes and nose. She also retained traces of her natural wild behaviour. With love and care from the babysitters in the Nursery Group she is now ready to continue to the Forest School.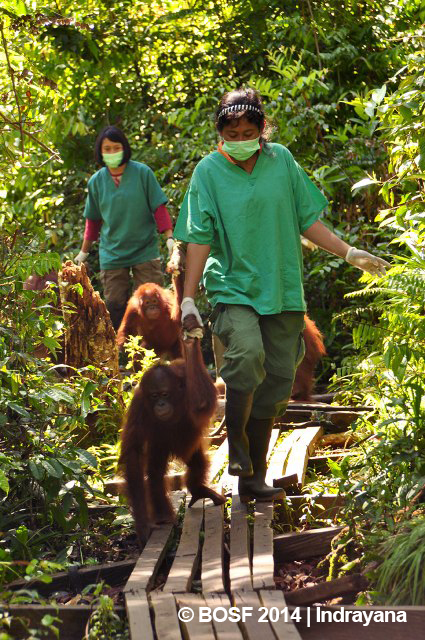 First Day at School
Accompanied by their babysitters and the Medical Team, our four new students entered into Forest School with total confidence.
On arrival, Melanie was immediately attracted to a tall Suntai tree and she climbed it to more than four metres high without hesitation. After a brief rest she became even more adventurous and moved onto a tall liana, climbed it to more than 20 metres high and rewarded herself by picking and eating the fruit. Well-deserved fruit, Melanie!
Initially hesitant to climb more than five metres, Fenti and Adil decided to join Melanie. In the end they, along with Querida, not only climbed the tree but also shared its fruit.
It was a proud moment for the Babysitters and the Medical Team to observe the foursome on their first day especially with such joyful accomplishments.
Congratulations and have a good time at school, Melanie, Fenti, Adil, and Querida! We wish you the best in developing your skills in the Forest School and for your future life in the wild.
Text by : Monterado Fridman, Koord. Divisi Komunikasi & Pendidikan PROKT- NM
Photos by : Indrayana, Koord. Foto Adopsi PROKT- NM
See more on the BOSF website.
Orangutans in Borneo Need Your Help!
Donate crypto or with a Card