Earth 4 Orangutans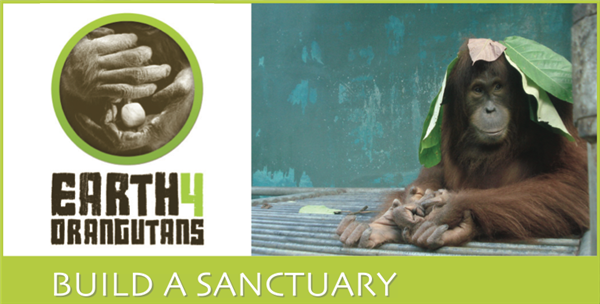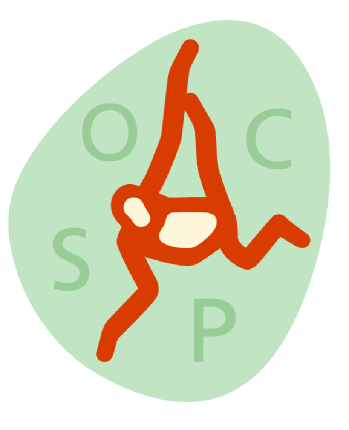 We are thrilled to be joining forces with Dr Ian Singleton, Jessica McKelson and the Sumatran Orangutan Conservation Programme (SOCP) on an exciting new orangutan sanctuary project in Sumatra. We will be continually updating this page, so please check back soon and often! You can also see and learn more on the main Earth 4 Orangutans website!
Featured in the Australian media
Photos from the SOCP quarantine center
What is Earth 4 Orangutans?
E4O is the development of a vital island orangutan sanctuary in Northern Sumatra, Indonesia for rescued orangutans who for reasons of ill health or injury due to human impact require long-term care and can never be released into the wild. The sanctuary will allow each individual an enriching life within a natural habitat setting. The sanctuary will also become a crucial conservation education resource aimed at changing attitudes towards wildlife and the environment within the region, utilizing the orangutans as the forefront of conservation education.

View more videos on SOCP's Vimeo page.
The Residents
Tila, Dek Nong, Leuser, Gober & the Twins (Ginting and Ganteng) currently reside at the SOCP center where they are being cared for by dedicated staff while they wait for their new homes. Click on their names to learn their stories. Gober's positive response to cataract surgery means she has a good proportion of her sight restored. This means she will be able to be released back into the wild, along with her twins Ginteng and Ganteng, in early 2014. Gober is a very attentive mother and it will be a great privilege to be able to return her to the forest so she can live out the rest of her life in the wild while raising her twins as wild orangutans, teaching them how to make day and night nests, forage for termites and which trees have the best fruit! In the meantime she continues to be a fantastic ambassador for E4O.
Concept Images
How can I get involved?
Adopt an orangutan! You can directly support the SOCP Baby House by adopting Nadya or Megaloman for just US $10/month. Learn more about them on our adoption page.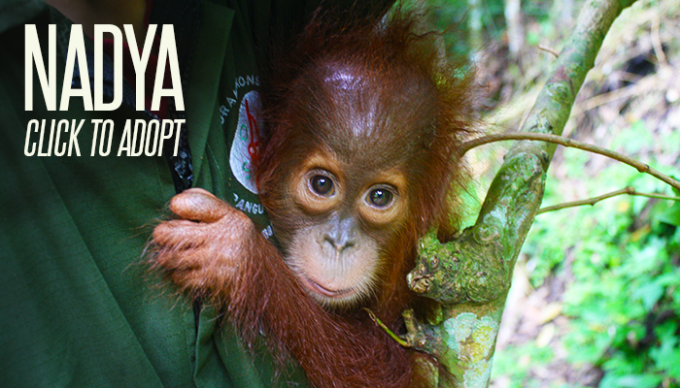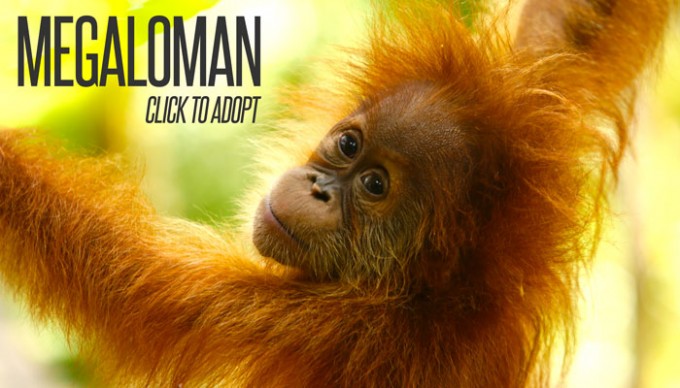 Donate!
Contributions made via this button will be allocated to SOCP for the Baby House.

Raw Wildlife Encounters!
Witness wild orangutans on an E4O fundraising adventure through Raw Wildlife Encounters! On this eco tour you will visit the SOCP quarantine centre and meet world leading orangutan expert Dr Ian Singleton on an exclusive behind-the-scenes visit. You will then spend 7 days on an adventure around wildlife hotspots of Northern Sumatra, supporting local community conservation projects and getting up close to elephants, orangutans and a wealth of Sumatran wildlife. There are limited positions so enquire now!
Social Media!
Get involved! Share our updates and campaigns on social media! Facebook and Twitter.
See more social media pages and apps here.
Volunteer!
Earth 4 Orangutans is looking for skilled volunteers in the areas of events, fundraising, grant writing and online content development. If you would like to be involved, please contact us!