Monti Goes Wild!
A success story 10 years in the making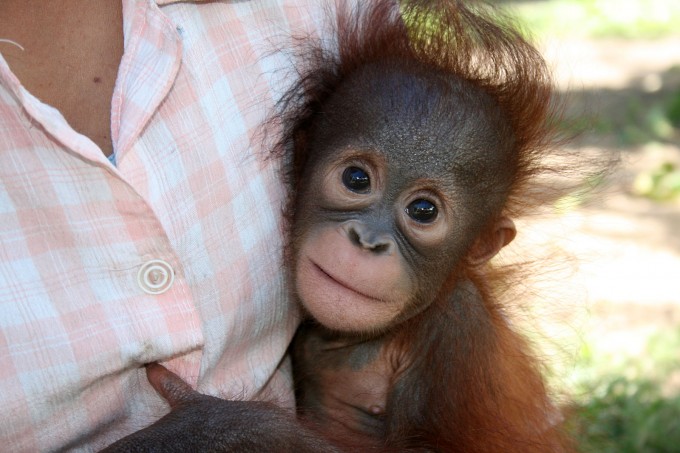 In August 2009 Orangutan Outreach teamed up with the world-renowned British charity International Animal Rescue to help fund a new orangutan rescue center in a badly neglected corner of West Kalimantan in Indonesian Borneo. Over the course of the past 10 years that small emergency transit center in the town of Ketapang grew into a massive project that has saved the lives of hundreds of orangutans and raised conservation awareness among thousands of local people.
Through generous donations and online adoptions of orangutans being cared for at the center, Orangutan Outreach has been able to raise nearly $1 million dollars for IAR's ongoing orangutan conservation work in Ketapang. We are enormously proud of this achievement and our only wish is that it could be more....
When IAR Ketapang opened its doors in 2009, the immediate priority was to set up a temporary facility where confiscated and rescued orangutans could be given immediate care and emergency veterinary treatment by Dr Karmele Llano Sánchez and her team. IAR soon began caring for nearly a dozen orangutans— and the number quickly rose. The more we looked for orangutans being kept as illegal pets or traffickers, the more we found. It was endless.... But what were we supposed to do? Stop looking?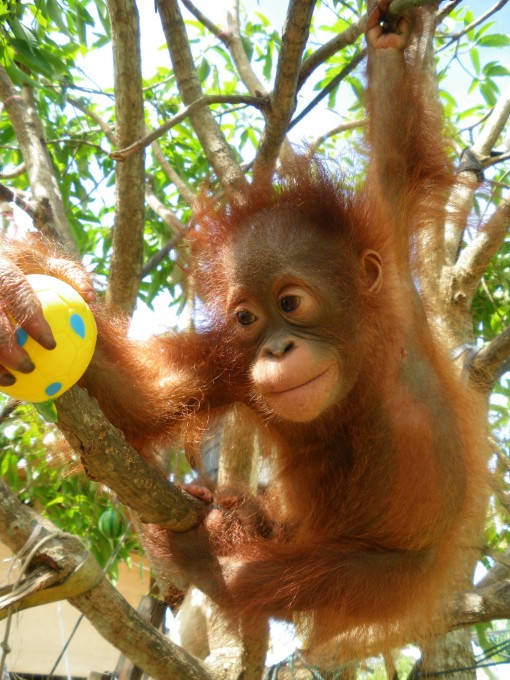 One of the first babies IAR rescued was a tiny 6-month-old infant who would be given the name 'Monti'.  Monti was brought to the center on November 30th, 2009 after the IAR team had been searching for her for several days. As is so often the case, an anonymous caller had contacted the local Ketapang forestry officers and told them that a family had a young orangutan. The caller had said some rural people had found her all alone in the jungle and that they had been taking care of her ever since. But the truth is far more sinister.  We know that what really happened is that somebody killed her mother to get to the baby. Orangutan mothers would never voluntarily give up their babies any sooner than a human mother would... and a baby orangutan can fetch up to $50 on the local black market—nearly two month's salary for a local farmer. If that baby survives, he or she will bring as much as $50,000 to criminal wildlife traders from wealthy animal collectors as far away as Russia or the Middle East.
When she was rescued, Monti was absolutely helpless without her mother to guide her on life's journey.... From her very first day at the rescue center everyone knew she was special. She was very inquisitive... paying close attention to— and constantly trying to grab— everything around her! She had a sparkle in her eye and a tranquility that was hard to believe given the hardship she had already faces in such a short life. Together with several other newly rescued babies— Bunga, Malky and Sigit— Monti became part of the very first Baby School cohort at IAR Ketapang. In subsequent months, the number of new students would skyrocket....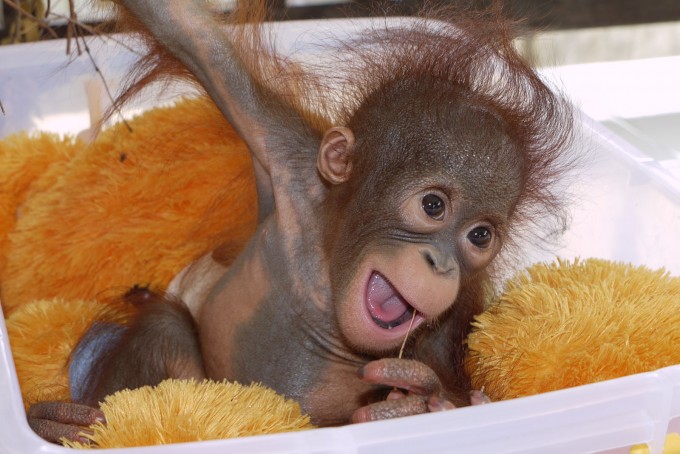 What would have happened to Monti had she not been rescued by IAR? We can only imagine. She could be dead (most likely) or worse: She might have become an illegal pet for a wealthy, politically-connected family in a big capital city of Indonesia. Or, she might have been smuggled out of the country and forced to perform in a humiliating show for tourists in some godforsaken animal park in Thailand. Thankfully, Monti was saved.
Monti's story had yet to be written. Her fate is now in our hands—and we pledge to work with IAR to do everything in our power to make sure she will have a future—and that she will have a forest to go back to when she is ready to do so.  
We originally wrote those words 10 years ago. 10 years is a long time for anyone. Human or orangutan. And for an orphaned orangutan rescued as an infant, it is literally a lifetime.
Monti spent the next few years in Forest School learning how to be an orangutan— what to eat, how to climb, how to build a nest, how to get along with others of her own kind. Through it all Monti was always gentle and caring with her fellow orangutans as well as her human caregivers. She was attentive to their lessons and never caused trouble. In fact, she was so acclimated to their presence that we were concerned for a while that it might inadvertently prevent her from ever being able to go back to the wild— which is the ultimate goal of all the rehabilitation work.
Monti and Oscarina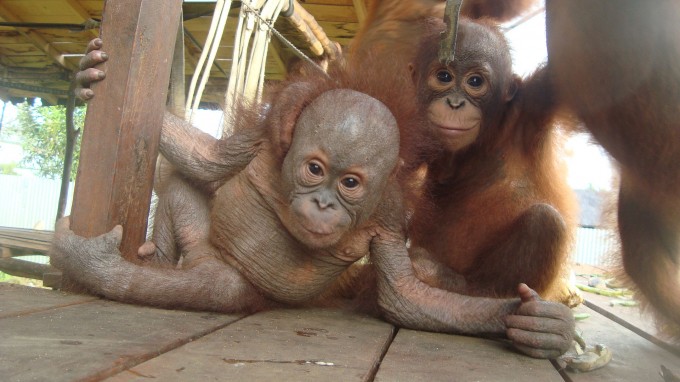 Everyone knew Monti was a very special orangutan in 2012 with the arrival at the center of a sickly, totally bald female orangutan named Oscarina.
Oscarina had been kept as a pet in a local village and had subsisted on a diet of only rice and water. The fact that she had survived is testament of the 'will to live' possessed by orangutans.
Oscarina arrived at the facility in such poor shape that not even the vet team knew if she would be able to fully recover. But with time, she began to grow strong and healthy— and with a proper diet and vitamin supplements, her hair even began to grow back. Once she left her quarantine period it was decided that Oscarina should meet another orangutan.... to, in effect, have a friend. And who better than sweet-tempered Monti to take on this monumental task?
Monti immediately took Oscarina under her wing and kept a close eye on her. She showed her around the play area, introduced her to other orangutans and gave her the confidence to flourish.... The two were inseparable. It's safe to say that without Monti there to guide her, Oscarina would not have been able to grow into such a confident orangutan, who is now on track to be released into the same forest where Monti is now residing with baby Anggun. But we are getting ahead of ourselves...   🙂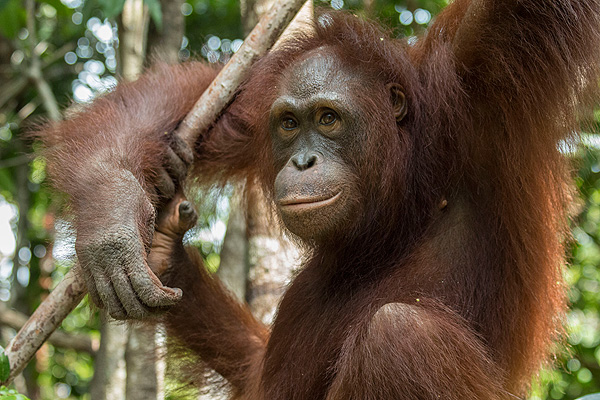 Monti continued to grow and develop in Forest School. As new, younger orangutans continued to arrive at the center, she and her friends moved up in the ranks... She began to make friends with older orangutans like Prima and Mimi who would show her even more forest skills. From the older orangutans she began to develop a new behavioral trait that we all were waiting to see in her: independence. Monti learned from her older friends that it was okay to go higher in the trees, build nests far away from the class site and to spend long hours away from the caregivers. With time these older orangutans would be released by IAR and orangutans like Monti, who had been babies back in the day, now became the "elder statesmen" at the center.
Over the years, as IAR acquired more land and developed more forested islands within the boundaries of the main Ketapang property, orangutans like Monti had even more space to explore and grow! Monti and her friends soon began staying out in the forest rather than coming 'home' at night to the safety of the night cages and the security of an easy breakfast of milk and fruit. They preferred instead to stay out in the forest and fend for themselves. We couldn't have asked for a better sign of personal development.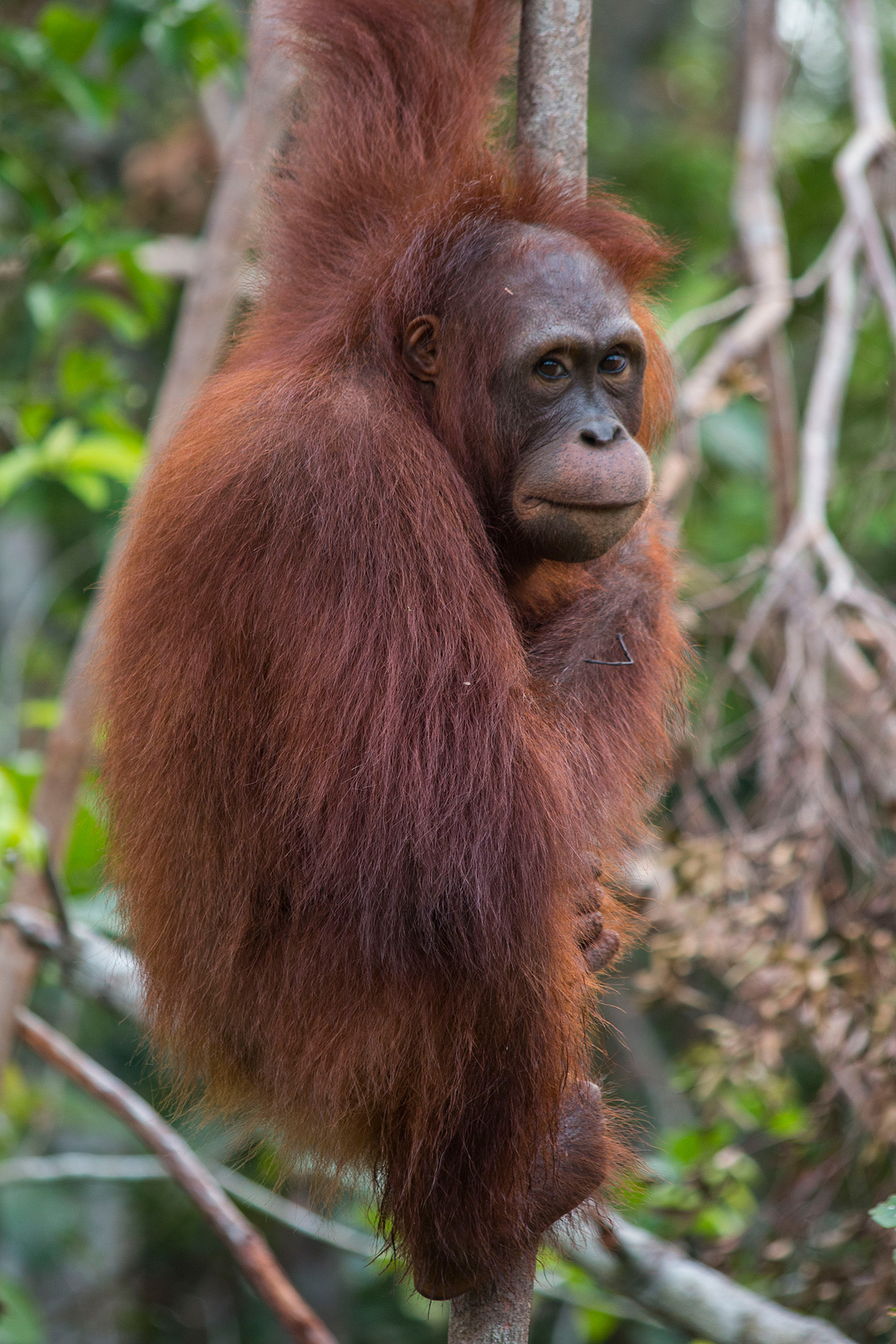 As she grew older and more independent, Monti began interacting with larger, older orangutans— including many big males who were coming into their own and wanted to play the 'tough guy' with orangutans like Monti. But she was having nothing of it. She was smarter than the boys and knew how to get away from them when they got too aggressive in their games. That's not to say she didn't have her boyfriends and line of male suitors. One of our favorite matches was a slightly older male named Pungky, a longtime member of our online adoption program who was released into the forest several years ago.
By 2017 Monti was becoming as wild as she could at the center. She was spending all her time on the islands— day and night. Dr Karmele and her team decided that she was now ready to take the next step— perhaps the biggest step of her life! She would become a release candidate. This meant she would be observed by the staff to make sure she had all the skills she would need to survive on her own.
It was also around this time that the IAR staff decided to try something new in the rehabilitation program— something revolutionary! They would attempt to pair up newly arrived orphaned infants with older, more established females so they could learn from them rather than go through the stages of learning from human caregivers. After all, who better to teach valuable skills like nest building, brachiating and foraging for food than another orangutan? If this worked, then the long process of rehabilitation might be able to be shortened by years! If the right pairings were made, there was no limit to what might be achieved for these rescued infants. And who better to be a trailblazer in this new endeavor than Monti?
Monti and Anggun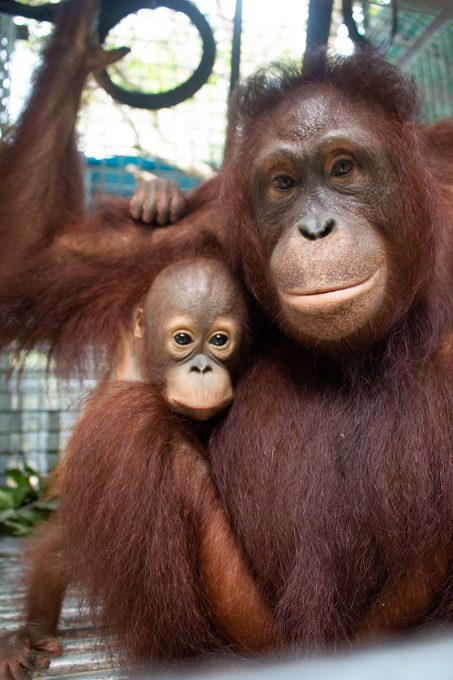 In August 2018 the staff made the decision to move Monti off the island and into the socialization area next to the enclosure of a very young baby named Anggun. Anggun had been rescued in April when she was less than a year old. She was still very small, and although she had finished her time in quarantine, she was still too young to go in with the other orangutans. Behaviorally speaking, she was still nearly wild as she had not spent much time in captivity. What she needed was a mother.
Monti immediately moved close to the baby, separated only by the cage.... Anggun, too, was curious about this new presence beside her... and was surely reminded of her own lost mother.... The aim was for Monti to eventually become Anggun's surrogate mother. And it worked like a charm. The two of them hit it off immediately.  Monti soon began teaching Anggun new skills, such as how to open a coconut, and she always let Anggun drink and eat first, much like a wild mother would do for her own infant. Monti was proving herself to be an excellent parent! She could always find a way to calm Anggun down when she cried or squealed. And when they slept, Anggun would lie on Monti's belly. And it wasn't only Anggun who benefitted. This was also a wonderful experience for Monti. It was a chance for her to practice being a mother, which would help her in the future if she ever had a baby of her own after she was released.
According to Dr Karmele, "It was hoped Monti would teach Anggun the necessary skills to survive in her natural habitat while also protecting and nurturing her. The strategy was highly successful. Monti became increasingly maternal and Anggun grew more confident at learning new things. This proves that even when orangutans like Monti lose their mothers at a very young age, they are still able to be good mothers, not just with their own children, but also with other baby orangutans."
The relationship between Monti and Anggun grew stronger by the day... always tender and instructive. It was indeed a perfect match. The two were inseparable and the team decided it was time to take Monti back to the pre-release island— with Anggun!  She would again be observed to see how she coped in the forest— this time with a little fluffy satellite in her orbit.
After many months of observation the team decided that everything was going exactly as they hoped and the decision was made to release Monti and Anggun into the forest together!
The Release
IAR's team travelled with Monti, Anggun and three other orangutans (Merah, Ujang and Utat) for three days to the release point at the heart of Bukit Baka Bukit Raya National Park in West Borneo. When all was said and done, they had transported the orangutans over a 434-mile road trip from the center in Ketapang which was followed by an hour-long boat journey and finally a five and a half mile walk through dense forest.
In the wild, baby orangutans stay with their mothers until aged between six and eight so it is hoped the bonded pair will continue to embrace their new lives in the jungle together. But this story hasn't ended. Together with IAR we have taken the responsibility not only to reintroduce Monti and Anggun into the National Park, but also to ensure their adaptation and continued survival in this new unfamiliar habitat. Therefore, IAR has amazing local orangutan monitoring teams living and working in the forest. They, together with one of IAR's veterinarians, are on hand to make sure Monti, Anggun and the others are all okay. They follow them, rain or shine, and help them and assist them if they run into any problems or if they become sick. If all goes according to plan, Monti and Anggun will be able to help form a new population and thereby help maintain the existence of orangutans in the wild.
Dr Karmele, speaking on Monti's release: "Reintroducing Monti and Anggun on the 11th of February was one of the most remarkable things of our lives. Witnessing just how caring Monti is to Anggun; helping her, providing for her and teaching her to survive in the wild is an amazing achievement for us all. Seeing this sad story, that we see far too often, have a happy outcome means a lot to us, and reminds us of the importance of our ongoing rescue and rehabilitation efforts. Orangutan populations are declining rapidly, and now, every single orangutan we can save, every single forest we can protect is important. That's why seeing how Monti and Anggun, as well as all the other orangutans reintroduced into Bukit Baka Bukit Raya National Park are making a difference not only for the protection of this forest, but also for the survival of the species. This makes us very proud."
Special Note to Monti's Adoptive Parents
We cannot thank Monti's amazing adoptive parents enough. None of this would have been possible without YOUR generous support. Many of you have been with her since day one... when we launched a new center with a new partner and rescued a tiny infant named Monti....  Your support has made it possible for us to give Monti and Anggun a fresh start in an amazing forest.
However we also require your continued support to continue saving orangutans and giving them a second chance - just like Monti and Anggun. Thank you so much from the bottom of our hearts.
Your financial support is still desperately needed. We hope you will want to continue adopting an orangutan and will want to choose a new baby to take Monti's place— if not in your heart, than at least in your adoptive family.
Please contact us and we'll help you set it up. There are lots of amazing babies to choose from and they all need your support so that they, too, can take the long journey back to the forest and have a second chance at life as nature intended....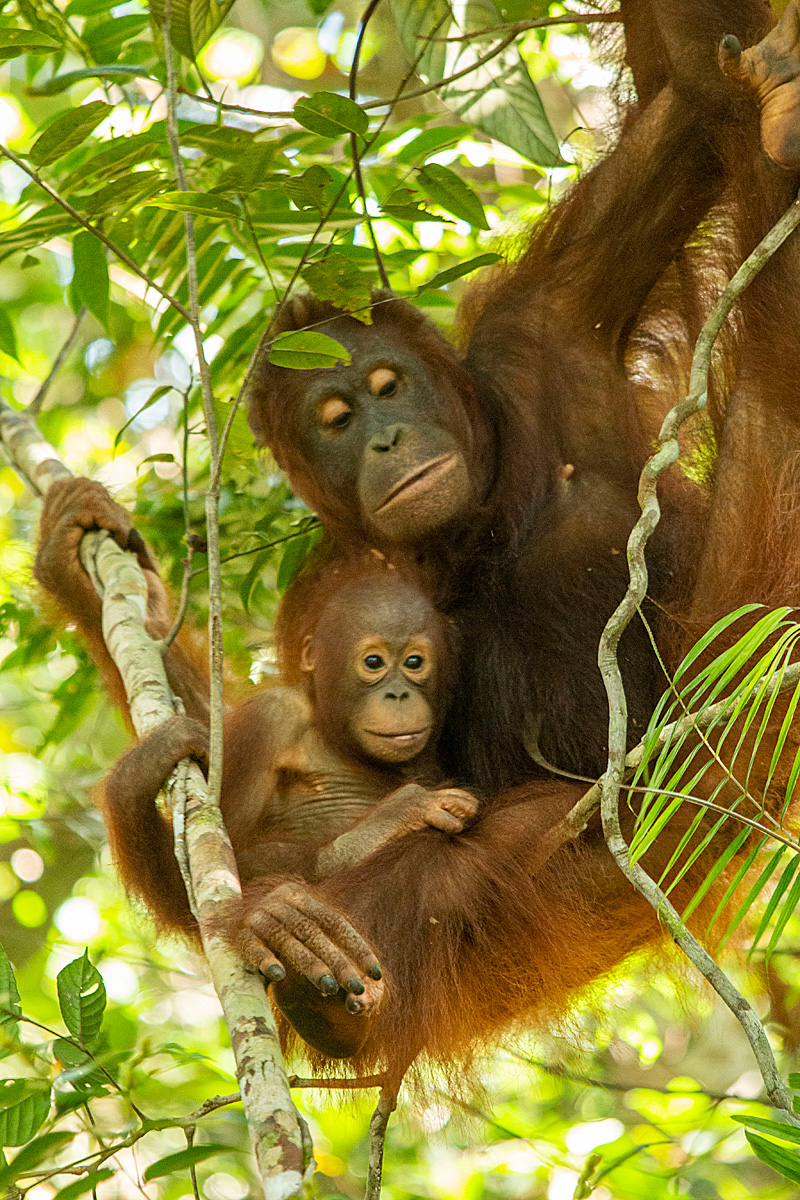 Orangutans in Borneo Need Your Help!
THANK YOU FOR YOUR SUPPORT!
{:(|}