Orangutan Outreach Newsletter: Summer Sizzle
Check out our latest newsletter here.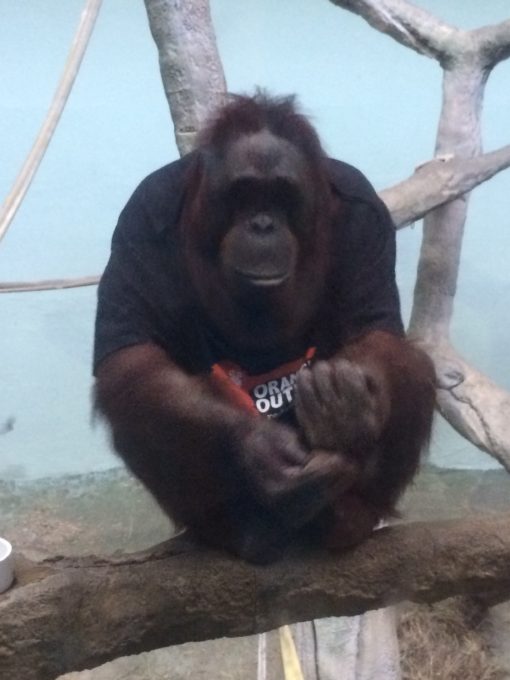 We finally have new Orangutan Outreach t-shirts with our new logos, but supplies are limited! If you want one you better hurry! We're already running out of some colors/sizes! ORDER YOUR SHIRT TODAY!
Our gorgeous t-shirt model is the O-so-lovely Lena, resident of the Topeka Zoo. Lena is 34 years old and has a younger sister named Rudy. She loves pineapple, apples, elm & mulberry browse. She likes to blow kisses and loves to play peek-a-boo with zoo visitors. She also likes to do somersaults! Lena has never given birth, but she is a wonderful aunt to her 3-year-old nephew Bumi. She loves playing with him and even shares her food with him! Lena loves to cover herself with different types of fabric, so when she was presented with an Orangutan Outreach t-shirt, she didn't waste any time putting it on! We think it looks GREAT on her! 🙂
Thanks to Topeka Zookeeper Drew Kiker for sending us Miriam Gordon's awesome photo and to everyone at the Topeka Zoo and Conservation Center for ALL their generous support!