Pose for Pongos: Yoga Event Helps Orangutans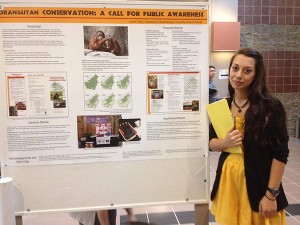 7 Jan 2014 - We'd like to give a special shout out to our friend and supporter Lauren Gosik from Tampa, Florida. Last month Lauren-- with the help of Amy Blackford from Tampa's Lowry Park Zoo-- organized an awesome, inspirational event to help the orangutans!
Lauren held her first 'Pose for Pongos'-- an hour-long yoga session, taught by professional instructor Mia at Jai Dee Yoga and Wellness Studio in Tampa, FL. Mia donated her time and her studio to support the effort and cause. Thanks, Mia!
Lauren had an information table set up to help raise awareness for the orangutan crisis as well as buttons for sale and raffle prizes, which included an 'Orangutan Fanatic Basket', an online orangutan adoption from Orangutan Outreach, and a charcoal drawing of a mother and infant orangutan.
Lauren was able to raise $430 for Orangutan Outreach.The raffle winner chose Baby Cinta from BOS Nyaru Menteng as her adoptee!