Orangutan Haven Residents: Tila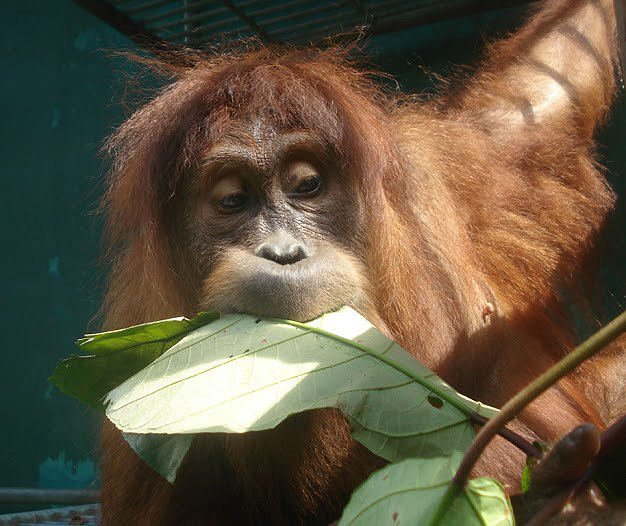 Tila was confiscated as a youngster in September 2003 from a village near Sampan Getek in North Sumatra. She appeared to be healthy, but blood tests revealed her to be infected with, and a carrier for, human Hepatitis B virus. This means that she can never be released back into the wild, as she presents a potential hazard to other orangutans and primates living in the forest. Tila is now around 11 years old and sadly has spent all her time in quarantine alone. Tila has been forced to spend the years on her own to avoid infecting other healthy orangutans.
Update from Tila's Keepers - July 2013
Tila has grown into a beautiful female orangutan. In the past few months she has developed wild behaviors and does not like it when the keepers spend too much time around her cage.
Her favorite food is watermelon! She will leave the rest of her fruit and vegetables and always indulge on her fresh watermelon before any other food.
As Tila has become a little more 'wilder' and has developed into a mature female orangutan, her patience to move and separate for the keepers has diminished. The keepers are finding it hard to lock Tila into her off-limit cage so they can service her main cage with new enrichment and furniture. She will not cooperate and will often play many games with the keepers. She pretends to go half way onto the lock up and then runs out.
A new training plan to encourage her into the lock-up has been introduced. All food is fed in the lock-up and we want to build her confidence so that she trusts that we will not just lock her in-- and that the space is not a bad spot. Once she moves comfortably in it we will then lock her in and refurnish her cage with exciting toys and hammocks. She will then learn that every time she moves into the lock up, she will be rewarded with a new food item or enrichment device in her main home.
Tila is also a little overweight. Staff have her on a diet, but we think with more activity in her home and training her for lock up, she will lose weight in an exercise regime.
Keeper Activities:
As a part of an April 2013 campaign to raise much needed funds for Quarantine and improve husbandry conditions SOCP set about developing an internal staff competition.
The goal was to upgrade the current Quarantine Centre and implement a team program.
1. Improve the orangutan welfare and husbandry
2. Improve the Quarantine practices
3. Clean up and organise the centre so staff can work more efficiently
4. Increase staff motivation – Reward those that are doing a good job.
5. Implement staff quarantine protocols for each area they work in
6. Staff to implement a management system in the areas they are delegated to work
7. Increase the communications with the Quarantine Centre – between technicians, veterinarians and managers
The competition was judged by Ian Singleton and Jessica McKelson. A number of good improvements were made to the Permanent Cage facilities where Tila resides.
A new enrichment device to help teach her to problem-solve for food. This treat log encourages her to use tools to access the food.
Additionally, the entire permanent cage facility had new paint, new tools and some new overall maintenance to tidy the space up!
Please make a contribution to Earth 4 Orangutans today!
(Contributions made via this button will be allocated to SOCP.)