SOCP Press Release: Return to wild of formerly blind Sumatran orangutan mother of twins after ground-breaking surgery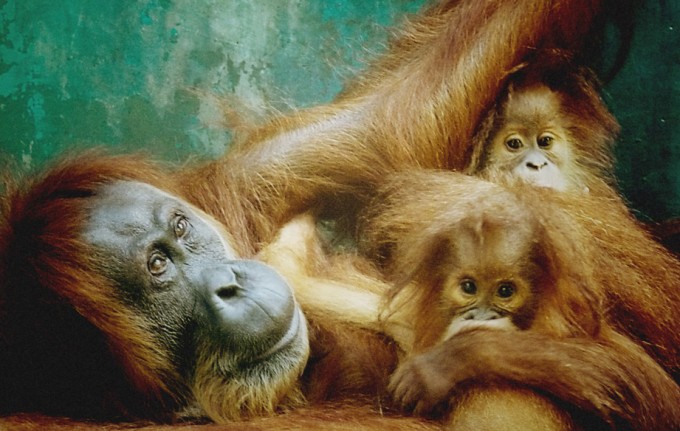 Please support Gober & the Twins: https://redapes.org/gober
January 9th, 2015, Medan, Indonesia — On Monday January 5th 2015, Gober, a formerly blind orangutan mother of twins was returned to a life in the wild in Aceh, Sumatra Indonesia as part of the work of the Sumatran Orangutan Conservation Programme (SOCP). The release of Gober was only possible due to groundbreaking cataract surgery in 2012 that restored her eyesight.
Twin orangutan births are rare, but Gober's twins are totally unique as they were born to parents who were BOTH blind. Their father Leuser, lost his eyesight when shot at least 62 times with an air rifle. He still has two pellets in one eye and one in the other.
Gober was originally rescued by the SOCP from an isolated patch of forest surrounded by palm oil plantations in 2008. As she was blind, she was raiding farmer's crops to survive and would surely have been killed if left where she was. She was then cared for at the SOCP orangutan quarantine centre near Medan, North Sumatra.
Normally, females at the centre are kept separated from males to prevent pregnancies, thus avoiding further orangutans in captivity. However, Gober was allowed to conceive despite being unable to see, as it was considered that rearing an infant would dramatically improve her welfare, giving her something to do. Her twins are Ginting, female and Ganteng, male and they will be 4 years old on January 21st.
The release took place in the conservation forest of Jantho, in Aceh, Indonesia. Aceh has been in the news recently due to the 10th anniversary of the devastating 2004 tsunami.
Sadly, the plan to release Gober and both of her twin infants together did not work out as hoped. All three were released at the same time, but Ganteng did not take well to the forest environment and Gober struggled in the trees with two infants to watch out for. It was not long before she seemed to give up trying, and poor little Ganteng was left behind.
Whilst Gober and Ginting subsequently coped perfectly well, traveling through the canopy, finding food and building a huge nest for the night, little Ganteng spent his first night in the forest alone and afraid, cold and wet.
The following day, after seeing that his mother and sister where not coming back for him, SOCP staff were able to give Ganteng food and managed to usher him back to the safety of the onsite cages later that afternoon.
Speaking from Jantho on Wednesday, Dr Ian Singleton said "The last couple of days have been an emotional roller coaster ride, for all of us but especially for Ganteng, and presumably for Gober and Ginting too. No one believed she would leave one of her twins behind, at least not so soon after release. We're all a bit stunned at just how quickly it happened."
He went on to add "Gober and Ginting are doing fine and it remains to be seen if they will try looking for Ganteng again or not. In the meantime the most important thing is that all of them are safe. If she doesn't come back for him, he will still get his chance of a life free in the forest in the not too distant future."
Mr John Kenedie, MM, Head of the Government's Conservation Agency for North Sumatra, where Gober and the twins spent the last several years, commented, "Gober's story is a welcome ray of hope for her species. All being well, Gober and Ginting will be fine in the forest and Ganteng will get his chance later. Gober's release is part of an ongoing reintroduction project for orangutans in Aceh. More than 50 orangutans have now been released in Jantho. They are the founders of an entirely new orangutan population being established there. Sadly though, there are still many much less fortunate orangutans out there, being killed and captured as the forests are destroyed. We must do all we can to prevent this and prevent orangutans coming into captivity in the first place. Anyone found illegally capturing, killing, keeping or trading orangutans and other protected species is clearly breaking the law and will be prosecuted," he stressed.
Mr Genman Hasibuan, S.Hut, MM Head of the Conservation Agency for Aceh added, "Gober's return to the wild is a highly unusual event, as she was completely blind when first rescued, and gave birth to twins whilst at the rehabilitation centre. After surgery however, she regained her sight and this has given her the opportunity to be a wild orangutan once again. But we still need to monitor the progress of all three of them closely. The lessons we have learned and the experience gained will be invaluable in our efforts to conserve their species in the future."
Drh Rachmad Wahyudi, SOCP veterinarian and one of the original team who rescued Gober emphasized "We had to capture her as if we hadn't she would certainly have been killed. At that time none of us thought she would ever be a wild orangutan again, but now Ginting is with her benefiting from her vast experience. It's a pity Ganteng isn't with them too. It must be a huge shock to him to lose contact with his mother and sister like this, but in the end the most important thing is that all are safe and that at least two of them are already free. All being well Ganteng will get his chance later and meet his mother and sister once again in the coming years."
Dr Singleton concluded "In hindsight, we may have been a bit too optimistic expecting Gober to take care of both twins whilst she, herself, had to readapt to the forest after all these years. It was still a genuine shock though, that she left Ganteng behind so readily. But she knows life in the forest better than any of us, and has probably made the best decision for all three of them, whether she realised it or not. By leaving him behind early there's still every chance of all three of them living side by side in the same forest in a year or two. If we'd done this when the kids were smaller and more dependent, if anything had happened to Gober after release, she is quite elderly after all, we would probably have lost all three of them. If we'd waited till they were older, there's no guarantee it would have gone any better and Gober would have had to endure even more years in a cage, where she has never settled and has always been stressed. I've been racking my brains since Gober left her son to think of a way we could have done this better, but I really can't think of one. Despite obvious disappointment that it didn't go as planned, I still think we can consider Gober and Ginting's release as a huge success, and we must now ensure Ganteng gets out there with them eventually as well."
- ENDS -
Background Information
A more detailed and personal account of this story with greater background and discussion is accessible on Dr Ian Singleton's blog.
Sumatran orangutans (Pongo abelii) are a distinct species from their Bornean relatives (Pongo pygmaeus) and are only found in the northern parts of Sumatra in the provinces of Aceh and North Sumatra, where their major stronghold is the forests of the Leuser Ecosystem. Sumatran orangutans are listed by the World Conservation Union (IUCN) as a Critically Endangered. They were also recently added to a list of the "World's Top 25 Most Endangered Primates" produced by the IUCN Species Survival Commission Primate Specialist Group.
The Sumatran Orangutan Conservation Programme (SOCP) is a collaborative programme involving the Swiss based PanEco Foundation, Indonesia's Yayasan Ecosistem Lestari and the Indonesian Ministry of Forestry's Directorate General of Forest Protection and Nature Conservation (DitJen PHKA).
Main activities of the SOCP include:
Confiscation, quarantine and reintroduction to the wild of illegal pet Sumatran orangutans
Research and monitoring of remaining wild Sumatran orangutan populations
Habitat protection and conservation
Conservation education and awareness raising
To date the SOCP has returned to the wild more than 200 illegal captive orangutans and also rescued a number of isolated orangutans living in tiny forest fragments and relocated them to safer forest areas.
####
For further information contact:
Mr Genman Hasibuan, Kepala BKSDA Aceh, Tel: +6281286319877, Email: email hidden; JavaScript is required
Dr. Ian Singleton, Director of Conservation, PanEco Foundation / Head of SOCP, Tel: +62811650491, Email: email hidden; JavaScript is required
Mr John Kenedie, Kepala BBKSDA North Sumatra, Tel: +6281229695533, Email: email hidden; JavaScript is required
Drh Rachmad Wahyudi, Consultant Veterinarian SOCP, Tel: +6281370908747, Email: email hidden; JavaScript is required