SOCP Update: From Cage to Nest— Happy 5th Birthday to Ganteng!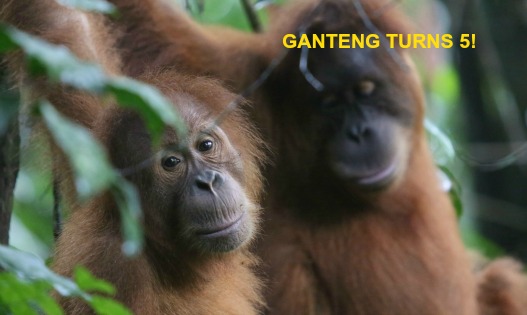 Happy Birthday Ganteng! 21st January 2011, 5 years ago, Ganteng was born with his twin sister 'Ginting'. After a year of ups and downs, Ian SIngleton (Director SOCP) and Jess McKelson (Quarantine & Pre release Supervisor) visit Jantho and witness Ganteng back in the wild. Listen to Ian describe his first time back and experience since he released Ganteng in January...
Jess talks to Ian about the Animal Training Program and what the benefits are for other younger animals.
"To be honest it's actually amazing to me that both Gober and Ganteng are now living free as wild orangutans in Jantho, Aceh. Back in 2011 when the twins were born, Gober was still totally blind, and we never expected she would again be free in a forest. That changed completely when we were able to do surgery on her cataracts. I remember very well the birth of the twins too. We knew Gober was pregnant, and due any day, but had no idea that she'd present us with twins. The only downside is that poor little Ginting didn't make it this far, even though when Ganteng was left behind we all thought it would be Gober and Ginting that would be the big success story, not her twin brother. But still, like I said, theirs is an incredible story, and, despite the sadness, also a very positive and heartwarming one. Gober, who we always knew was elderly, gets to live out her days in a spectacularly beautiful and rich forest, much better in fact than where she first came to us from. She might even be pregnant again already, we are not sure. And now Ganteng is also making really excellent progress as a wild orangutan. So happy 5th birthday little guy…..and I hope there are many many more truly "Wild Birthdays" to come!"
Ian Singleton, Director SOCP.
Check out more on Ian's blog!
GANTENG TURNS 5 YEARS OLD!
Wow! 5 years ago today (21st January 2011), Ganteng and his sister Ginting were born at SOCP's Quarantine Station to their mother Gober (their father was Leuser). Time has flown by! Even now, I can remember watching the two twins for the first time as they clung to Gober, and how absolutely terrified they were of the humans in front of them.
Today, on Ganteng's fifth birthday, I dedicate this piece to his sister Ginting, who would have also turned 5 years old today, however, tragically, we found her passed away in the forest due to natural circumstances (age 4). Ginting's legacy will always be remembered every time we see Ganteng.
It is crazy to think that just 12 months ago, Ganteng was released back to the wild, he did not follow his mother and sister, instead, he ended up spending the next few months in the pre release cage alone, scared of the forest, and terrified of climbing trees. I reflect on how far Ganteng has progressed in the last 10 months I've been working with him and the team in Aceh to 'train' him for an eventual life back in the forest.
Wow, life has changed dramatically for him!
I am thrilled Ganteng has taken to the animal training program so well and can now confidently say that he is behaving like a wild orangutan; I am honoured to be a part of Ganteng's life and I am so proud of the team in Aceh who have worked so hard on implementing the steps to make it possible for Ganteng to return to the forest.
The best birthday present we have given him is the opportunity to be free, to learn about the forest, to meet and to follow his new wild cousins and to be a wild orangutan. His survival success now rests with himself. Although he's doing so well, we will continue to monitor him daily, and I silently pray that his mother Gober will end up passing by and they will reconnect. (Dreaming big!)
Happy Birthday Ganteng! A brave little orangutan and a hero in the Sumatran orangutan world!
Ian & Jess's Journey: December 2015
SOCP Director Ian Singleton and myself have just returned from four days at Jantho Reintroduction Centre in Aceh Besar. It had been over 10 months since Ian last visited Jantho to release 'Gober' and her twins, 'Ganteng' and 'Ginting'. I was excited to show Ian Ganteng's progress, and also to look at commencing a new training program for another candidate, 'Lucky'. I was also anxious to see how Ganteng was getting along, as when I last left him he was just starting to learn how to build and sleep in nests by himself about 50-100m from the pre-release cage area.
Arriving at Jantho:
The road leading into Jantho was extremely muddy as it is the rainy season. Torrential downpours each afternoon leave the bumpy track almost impassible and getting bogged down is just part of the journey into camp! After finally arriving, all I wanted was to head straight into the forest in order to find Ganteng, so, Ian and myself quickly headed off in search of the staff monitoring him around 1km away from camp.
I'd heard from the team's regular updates that over the last month the young male had developed an incredible confidence to explore while following a group of his fellow released orangutans in an area of high fruit density. Ever since my previous month's visit, when I pushed him to move away from the cage location, the monitoring team had also observed him building nightly nests and sleeping in them away from the cages. Ganteng was still was coming down three times a day to get supplementary food from the staff, which is important to give him a healthy, balanced diet, as we slowly wean him onto eating only forest foods.
Approaching Ganteng's location in the forest, I was excited, but also a little nervous about how Ganteng would be doing. Actually, it was very difficult to spot him high up (20m+) in the fig trees with his friends, so it took a few hours to fully assess his condition. How wonderful to watch him behaving like a wild orangutan with no interest in coming down to people. Fantastic result!
My only concern was that Ganteng might get sick from sleeping in the forest, as torrential downpours each afternoon and night lead to dramatic temperature drops overnight. Only time will tell how the young orangutan will adapt to these rainforest extremes.
Our Time at Jantho:
For three nights, Ian, myself, and the staff observed Ganteng behaving like a wild orangutan. Each morning the staff would meet back at the nest he'd constructed the night before, wait for him to wake up and then follow him throughout the day. He was feeding in many fig trees, eating other wild fruits, and munching on leaves from a number of orangutan food species.
It's still key for Ganteng's development to be around other orangutans, so it was great to see him interacting with other individuals! While we observed, he would follow them, staying close, and learning all about how to be a wild orangutan; which trees to feed in, how to manipulate the fruits, who wants to play, and what are the best times to be social. Not once did he retreat back to the pre-release cage area, instead choosing to stay in the forest with his friends. This has been a huge development from the training program; we are witnessing natural learning, dispersion and exploration, where Ganteng's key teachers are the orangutans, which have been released, instead of spending long periods in the Quarantine – they're wild animals.
It was extremely hard to get any good footage of Ganteng, as he was always so high up in the canopy, often out of sight feeding and nesting. But witnessing him build a nest each night and behave like a wild animal was extremely rewarding.

What have we learnt from training Ganteng?

Photo Jess McKelson, SOCP – 'Ganteng'
Ganteng learnt how to build a nest in a cage, and we weren't sure if he'd be able to apply these skills in the forest. It took some time, and some pushing for him to bend, break, and shape tree branches into an orangutan's characteristic nest. Now, although he is not a perfect nest builder, he is able to build a nest high up in the trees. One of the most important behaviours of a wild orangutan!
Ganteng is a 5 year old which is attracted to following other orangutans no matter what sex they are. He often follows his friends; learning forest pathways, and a variety of feeding behaviours. Interestingly, we have also noted that he is teaching others the feeding behaviours he's picked up from his broad range of orangutan interactions. For example, he has been observed showing orangutans how to eat termites and feed on different leaf species, both of which make up an important part of the wild diet. These orangutans then eat these foods the next time they encounter them, even without Ganteng present. Wild social transmission in action!
Ganteng's training with the staff is well developed, as they are able to call him down and move him to other trees when the pathways become too difficult or he has ranged too far from his orangutan friends. We think it is critical to keep him around other orangutans and manipulate his movements, and by using his diet we are able to ensure he is kept in contact with them. Yet he is still able to connect with the monitoring staff when we feel he is unable to resolve an individual problem.
Amazing work from everyone on the monitoring team!
Video & Text written and prepared by Jess McKelson, SOCP