Baby Orangutan Rickina Inspires Birthday Girl Sophie Rose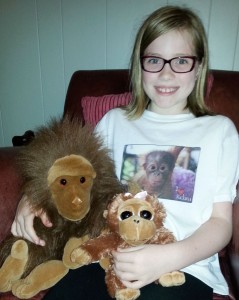 At Orangutan Outreach, we strongly believe that young people can make a big difference in the fight to save orangutans! Meet our Youth Ambassador.
With that in mind, we'd like to introduce you to an awesome young lady named Sophie Rose.
10-year-old Sophie Rose is a true advocate for the orangutans, and this year— instead of birthday gifts— she asked her friends to help donate toward her adoption of Rickina, who is being cared for at IAR Ketapang. You can see an amazing video of Rickina on YouTube.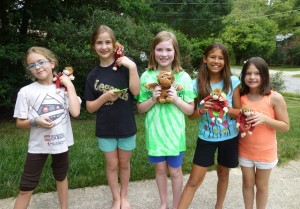 With help from her mom, Sophie Rose gave all the girls special Rickina t-shirts and sent them on a scavenger hunt to "rescue" their new orangutans. (as seen in photo)
The girls also played the "Are You Smarter Than An Orangutan?" game and told each other jokes from the website.
Sophie Rose also put together ornate gift bags with orangutan information for her friends to take home. After all of the games, jokes, pizza and "hairy" orange orangutan cupcakes, the girls had a sleep-over.
Sophie Rose's mother emailed us a few days ago to let us know Sophie Rose was now able to adopt Rickina and that she was "jumping around with excitement". According to Sophie Rose, adopting Rickina is one of the best birthday gifts ever!
We couldn't agree more!  Thanks for your support, Sophie Rose!  We look forward to your next amazing effort to help the orangutans!  {:(|}