Tarzan: Two Years Exploring Batikap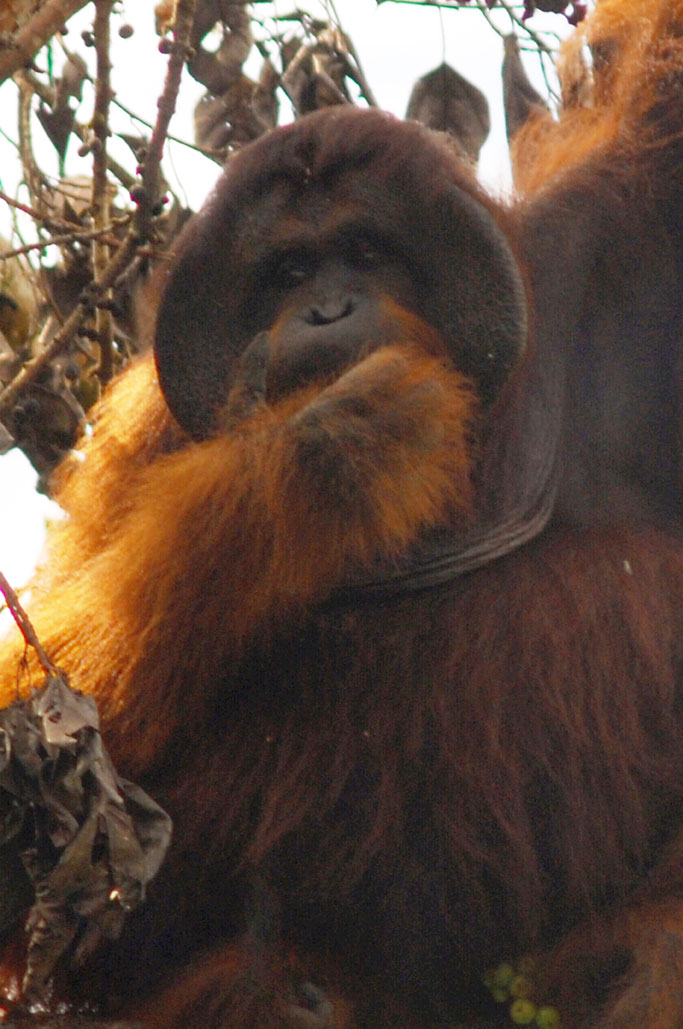 February 2014 - Last August 2013, the BOS Nyaru Menteng Bukit Batikap Monitoring Team found big male orangutans Tarzan and Edwan hanging out across the Joloi River. The mighty Tarzan was very healthy and when the team located him, he was enjoying one of his favorite foods, rattan shoots.
Read more about the BOS Nyaru Menteng Orangutan Release Program.
Two months later, on October 30 2013, Tarzan was seen along one of our orangutan monitoring transects and the team was able to observe him for an hour. He was very healthy and also very active.  While eating, he kiss-squeaked three times and delivered a long-call in the team's general direction. His vocalizations were clearly intended to make the team aware that he was displeased with their presence and also to give a clear indication of his territory, which shows his natural wild behavior.  Soon after, Tarzan seemed distracted by a new food source he'd located.  Apparently the food was so good that he decided to ignore the team for a change.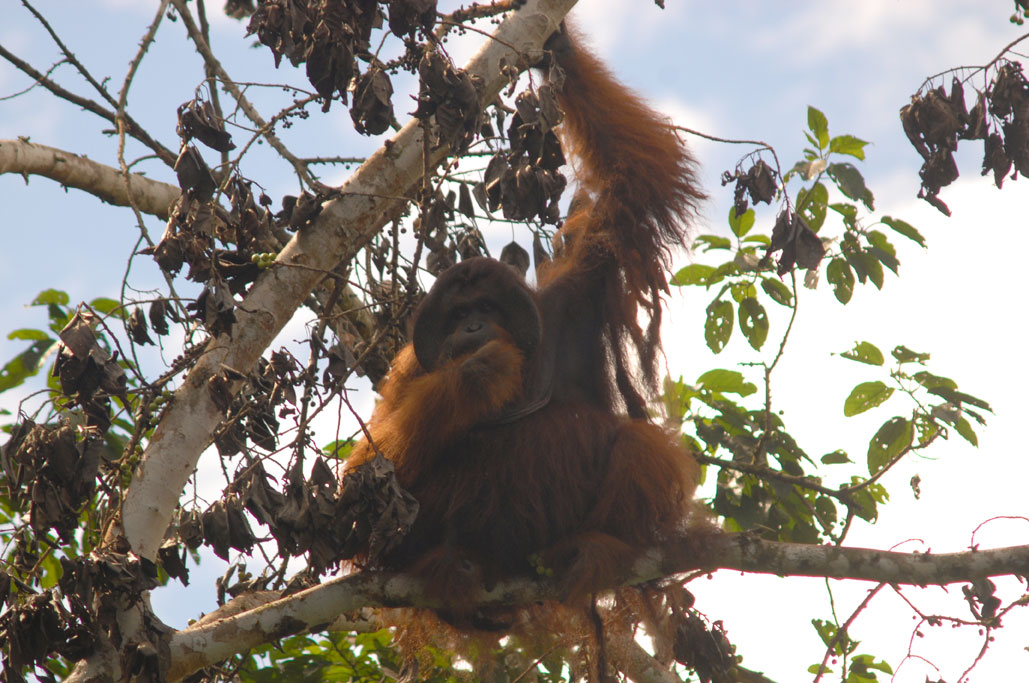 The next time he was seen was on November 4, 2013 across the headwaters of the Posu River. We are pleased to report that this dominant male who was reintroduced to Bukit Batikap on February 28, 2012, now spends most of his time in the trees. That day, Tarzan built his nest early at 2:35 in the afternoon.  Most probably he was so full from the all the fruit he had consumed that day that he felt like resting. Tarzan built his nest 10 meters above the ground very quickly and expertly, and soon he was resting comfortably.
The next day on November 5, 2013, the Monitoring Team observed Tarzan nest-to-nest to make sure that he was well and also that sufficient data were recorded.  When the Team reached the bottom of the tree in which he had nested, Tarzan was still in the nest and looked healthy. He emerged out of the nest and started eating rattan shoots as his breakfast. That day, the Team lost his whereabouts for a short while. Apparently the agile Tarzan had crossed Joloi River through the interconnecting canopy across the river!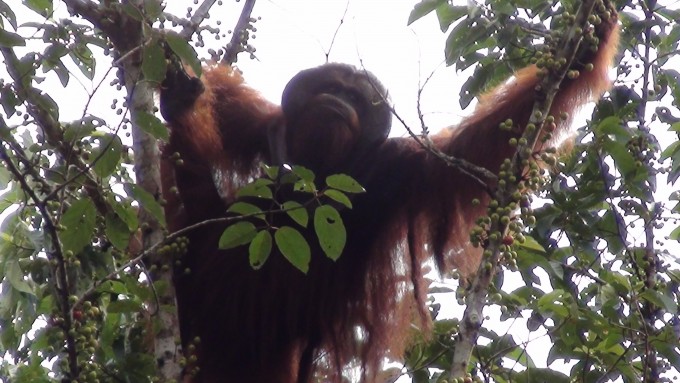 After almost two years of living in the Bukit Batikap Conservation Forest, Tarzan is thriving in his natural habitat. He is wihtout question the dominant male orangutan in the Camp Posu area. From two females who were released together with him two years ago Astrid and Monic, we believe that Tarzan has fathered two young orangutans: Astro and Messi. Astro was Astrid's first child and was born in late 2012. Monic gave birth to Messi in September 2013. During the gestation period for both of these females, Tarzan acted as a very protective guard, and now his two sons have become the most welcomed additions in Bukit Batikap.
Text by: Monterado Fridman, Coordinator of Communication and Education Division Nyaru Menteng
Photos by: Bukit Batikap Conservation Forest Monitoring Team
The continued success of the BOS Nyaru Menteng Orangutan Release Program depends on support from donors like YOU!
The Orangutans Need Your Help!
Please make a donation to BOS Nyaru Menteng today!
THANK YOU SO MUCH FOR YOUR SUPPORT!
{:(|}