Thanks for Giving to the Orangutan Outreach Emergency Fire Fund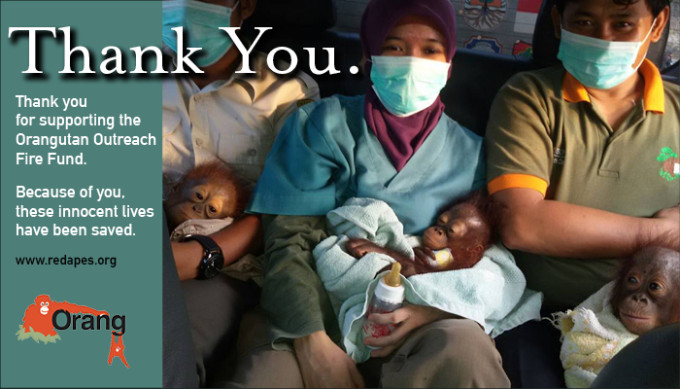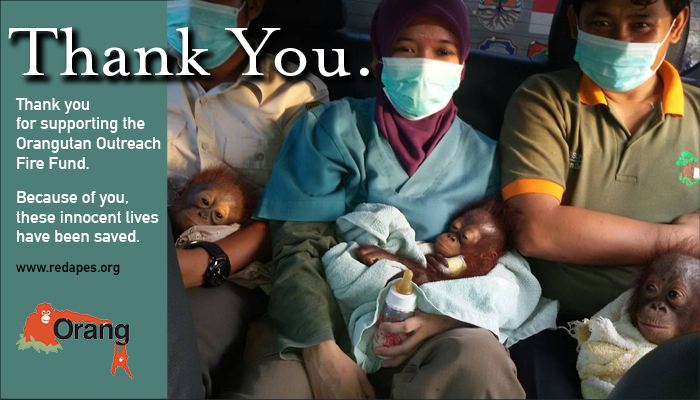 In a time of desperate need, we asked and YOU responded.
Thanks to YOU, orangutan lives have been saved. We are so grateful for your support.
Nearly 2,000 individual donors have contributed to the Fire Fund. People from all over the world have given generously. Thanks to all our dedicated friends, fans and supporters on Facebook and Twitter for sharing our posts and tweets. And to all our friends in the zoo community for reaching out to their institutions and Zoo Keeper Associations to support the Fire Fund. Finally, a special thanks to Christy Lee Ewing and her friends for setting up such a successful GoFundMe crowdfunding page.
So what's happening in Borneo now?
The good news is that persistent rains have extinguished all the fires and the peat forests are safe for the time being. There is a fear, however, that the El Niño will return in the near future— so the teams are busy building fire breaks, damming illegal canals and doing everything they can to be prepared for another round of fires.
More than 2 million hectares of forest were burned by the fires. Survey teams are now assessing the damage on foot and by drone. Research teams will be counting orangutan nests and confirming who is alive... and who didn't survive.
Replanting has begun in many areas and tree nurseries will be set up to plan for long-term reforestation.
Rescue and 'HOCRU' (Human Orangutan Conflict Response Unit) teams are making sure that desperate, starving orangutans are not coming too close to villages where they would most likely be killed (and their babies taken for the illegal pet trade). They are also investigating calls regarding orangutans being kept as pets... victims of the fires.
All of this takes time and money. For this we depend on YOUR generosity and we still need your help.

There has been an increase in new babies arriving at the care centers and we'll be helping our partners expand their existing facilities to accommodate all the new arrivals. We'll soon be helping BOS build a new Baby House at Nyaru Menteng in Central Kalimantan. We'll be posting info on this project very soon so stay tuned!
If you still want to make a contribution to the Fire Fund, the links will stay active. Funds will be allocated to all of the above work which is being carried out by our partners BOS, IAR and OUTROP.... as well our friends at the Tuanan Orangutan Research Program and Pro Natura.
So, on behalf of the teams in the field, the orangutans in the trees and all the individual orangutans large and small who were fortunate enough to be rescued, THANK YOU.
And to everyone in the US we wish you a safe, peaceful Thanksgiving.
All donations made via this PayPal button will be marked as 'Fire Fund'.
This PayPal button is in GBP:
All donations made via this PayPal button will be marked as 'Fire Fund'.