Brenda: Spring 2020
Background & Current Position
In March 2019, a young female orangutan thought to be just four months old arrived at the SOCP Rescue and Rehabilitation Centre. Brenda was confiscated by the Natural Resource Conservation Agency from Southwest Aceh Regency. The story told was that Brenda fell from a tree, causing her broken arm, because her mother was fighting with another orangutan – we feel this story is unlikely. Brenda endured a long, 10 drive with our team along bad roads before making it safely to the SOCP Center.
A few days after her arrival, a specialist surgeon from Switzerland flew out to conduct orthopedic surgery on Brenda's broken arm, and another orangutan – Hope – who also required surgery on a broken shoulder. Brenda's surgery took one and half hours and went smoothly but she took several hours to wake from aesthetic because she was so small. Her recovery also went well and within one week she had started to use her hands. For the following several months Brenda stayed in the clinic with 24-hour watch and care from our dedicated staff.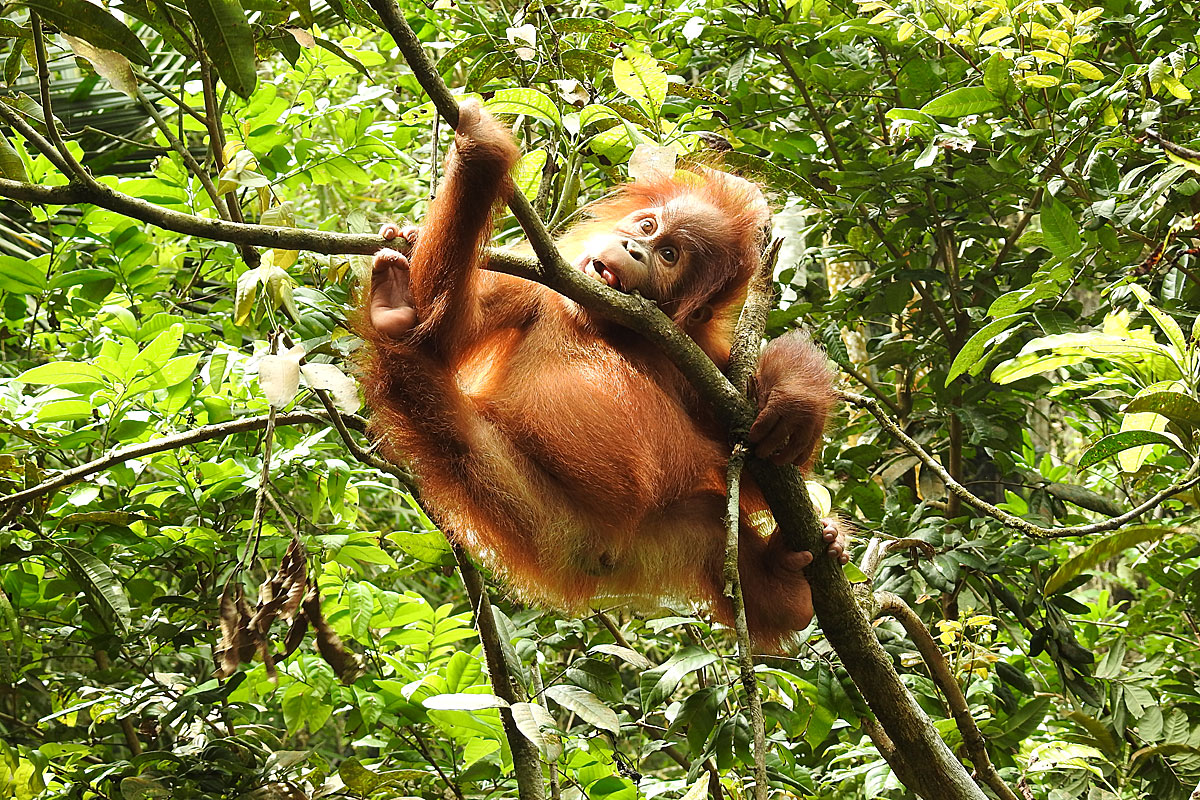 Behavior and Health
Brenda is developing really well both physically and mentally. Other infants arrived at the SOCP Center around the same time as Brenda, but we found that she was not happy at all to share her space or the keepers with the other infants! After this, during the day she would play outside and then at night she preferred to sleep away from the keepers instead of next to them.
During the daily move from playing outside to getting ready for bed, the keepers usually put the infants in their cages for a few minutes while they prepare their bed. Brenda started resisting coming out again and so the keepers decided to let her stay in the cage and found she slept happily and well in there. The cage is inside the clinic and close to the keepers so they can still keep a watchful eye and provide 24-hour care. Brenda is not staying inside the clinic anymore and has a new cage just outside that she shares with two other infants, Adji and Indy.
Brenda is the dominant orangutan in her group and is even dominant with infants from other groups. The most dominant of all the infants is Sapto, who is around two years old. Most infants stay away from Sapto whether in the cage or at Forest School as he will usually try to bite or pull them. However, Brenda fights back! Of all the infants Brenda is the only one brave enough to face up to Sapto.
Brenda has been building up her skills in Forest School. At first, she would only play in the small trees but now she will climb almost five meters up! Brenda moves very well among the branches although she still tends to follow more skillful infants such as Adji or Antana. She has been tasting more forest foods too and is now also less dependent on the keepers and other orangutans. Brenda is one of the most confident orangutans at the Centre!
Upcoming plans
It is very promising to see Brenda's progress so far! She will keep attending Forest School and building up the wealth of tools she will one day need to survive in the wild.