Brenda: Spring 2021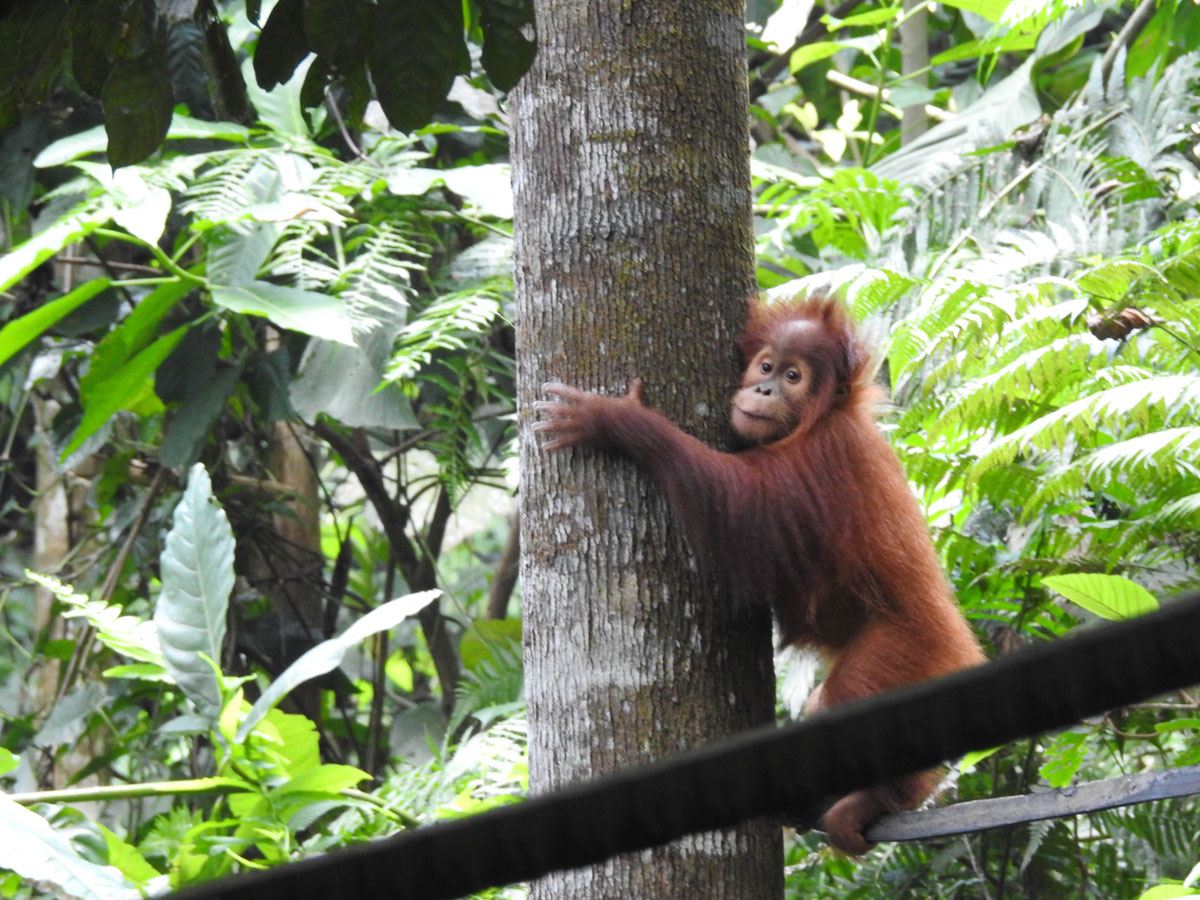 Background and Current position
Brenda came to the SOCP Rescue and Rehabilitation Centre in March 2019. She was around four months old when she arrived with a broken arm. A few days after she arrived, she had surgery to fix the broken bone. Brenda is doing well and has fully recovered from her injury and her arm is functioning as normal. Currently, Brenda is staying in the Treatment Facility next to the SOCP Clinic.
Behavior and Health
Brenda stays with other young orangutans Digo, Unip, Indy and Kike in the Treatment Facility. Brenda finds it amazingly easy to join different orangutan groups and so ever if her friends change due to necessary orangutan movements within the Center she does well.
Brenda was temporarily housed with older orangutans in the Infant House, but she only stayed a week there. This was due to the food competition in the Infant House which Brenda struggled with. So even though Brenda is dominant in the Treatment Facility, she was the youngest in the Infant Group and not quite ready to join them. Despite being dominant in her group, Brenda is friendly to the other four orangutans and has never been observed taking food from her friends.
Brenda shows good interest in enrichment provided by the staff. For example, she will work seriously on food puzzles to get the food and treats. She is not only enthusiastic about artificial enrichment but also about natural enrichment such as leaves. Quite often she will put leaves together and sit on them like a nest, although she will then quickly destroy it and eat the leaves.
At Forest School Brenda will quickly climb up into the trees soon after arriving, but Adji, Antana and Kike will usually take the lead in forest survival skills. Brenda will follow and observe the others in forest skills as they are more advanced than her, although she has advanced well in this skill area since the last adoption update.
Brenda is not yet able to move from one high tree to another. However, she is gaining more confidence to climb higher and reach the edge of canopy. Sometimes she spends time playing on the ground, often when others in her group are doing the same, but this is decreasing, as is her interest in the staff. She is now more focused on activities and learning, which is excellent!
At the end of last year Brenda and her cage mates underwent treatment for common flu. The treatment went well and they all fully recovered. No other health problems were experienced.
Keep up the great work, Brenda!