Bumi: Fall 2020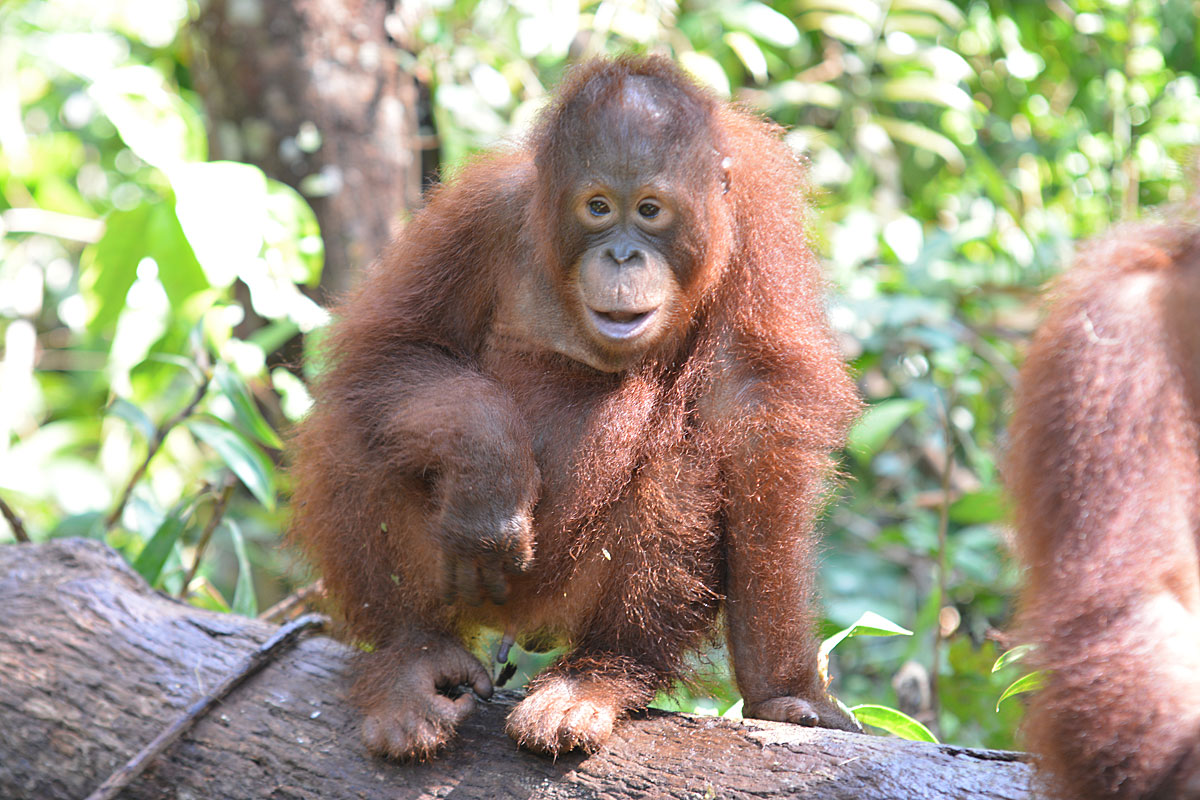 Rehabilitation Center: BOS Nyaru Menteng
Arrival date: 18 June 2016
Age on arrival: 2 months
Current age: 4 years
Gender: Male
Current position: Forest School Group 3
Health Status: Healthy, Recovered from Malaria
Bumi is a vibrant, courageous, and highly curious little orangutan. Together with his best friend Bravis, he happily explores the vast area of Forest School, frolics in the water and mud, and forages for ripe fruits. There are times when the two have even ventured far over to the Group 4 or 5 area to play with the older members of these groups.
During the current COVID-19 quarantine period, BOS has had to limit the number of surrogate mothers in particular areas, in order to adhere to social distancing. To ensure safety, BOS decided to join the Group 4 and 5 orangutans in one playground area in the forest. This allowed Bumi and Bravis to meet many new friends in one visit!
However, a few weeks ago, Bumi had to miss out on all the Forest School fun after falling ill. He had not been his usual active self, which made his surrogate mothers worry. After being examined by the medical team, Bumi was found to be suffering from a bout of diarrhea. He was taken out of Forest School and given special treatment for a few days. Luckily for Bumi, his loyal pal Bravis stopped by every day after Forest School to keep him company.
Bumi seemed to have recovered and he re-joined his Forest School group. He seemed very happy to be back in school playing with friends and exploring the forest, after missing out for a few days.
Bumi's diarrhea unfortunately returned and he was once again examined by the medical team. The news was not good. Bumi had caught malaria— along with several other orangutans in Forest School. Fortunately, it was not a bad case and he remained quite active and continued to have a healthy appetite. Bumi had to miss more days of Forest School while recovering.
Thanks to the dedication and care of the veterinary team and surrogate mothers, Bumi's health improved and he was finally able to re-join his friends in Group 3. He was very happy to meet up again with his best friend, Bravis, and to finally return to Forest School full time. Together with Bravis, Bumi got right back to exploring!
Bumi is a better explorer than his friends and he is also an exceptional forager. On his explorations of the forest, Bumi enjoys tasting the tips of young leaves, which are abundant in the Forest School area at this time of year. Bumi can even consume the various parts of plants now, from their fruits all the way to their piths.
All in all, Bumi has already managed to develop a sound, basic survival skill set. Regrettably, he will have to stay a bit longer in Group 3, due to precautionary activity restrictions put in place due to the pandemic, but no worries!
Stay healthy, Bumi, and enjoy your days in Forest School!