Bumi: Spring 2021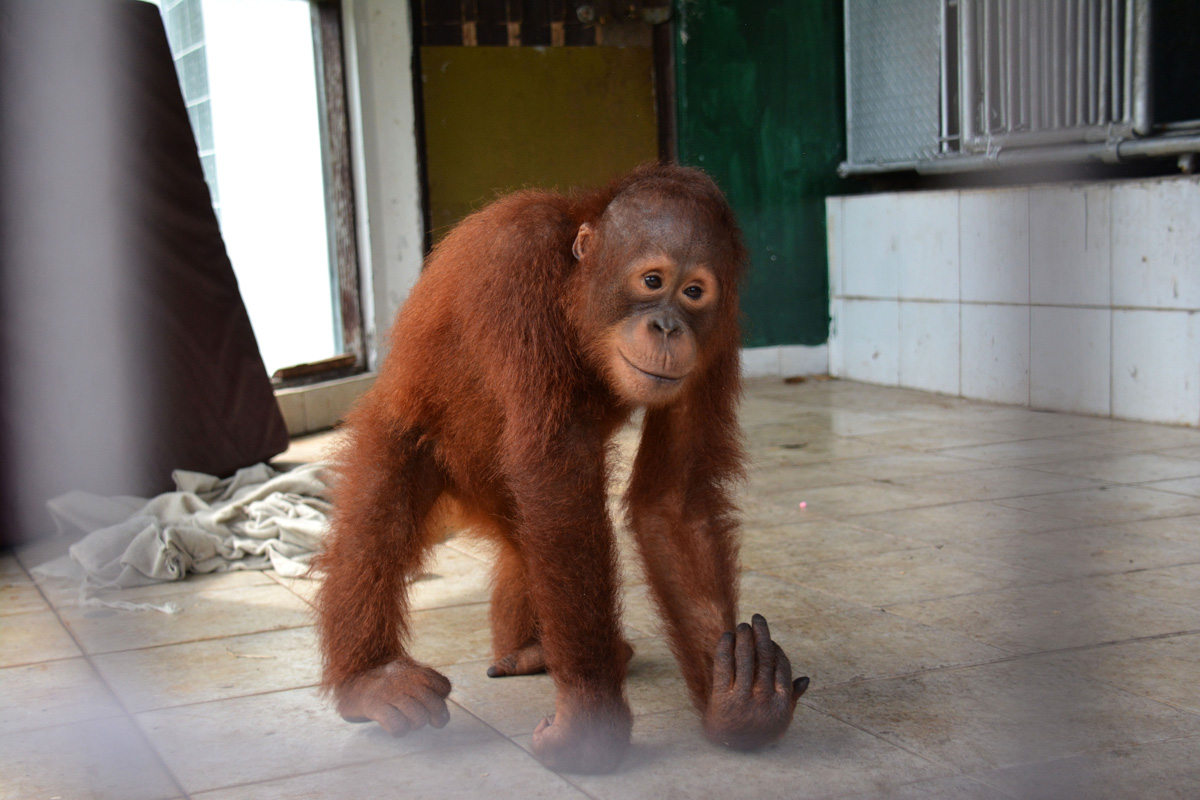 Rehabilitation Center: Nyaru Menteng
Arrival Date: 18 June 2016
Age on Arrival: 2 months
Current Age: 4 years
Gender: Male
Current Location: Forest School – Group 3
Health Status: Healthy
Our Forest School is a special place for young orangutans to learn and practice their natural survival skills. Here, our technicians and surrogate mothers take on the role of teacher, showing all the young orangutans undertaking rehabilitation how to survive in the forest. Like their human relatives, there are some orangutans who are a bit smarter, and others who take longer to learn. There are also the spoiled ones, and the troublemakers among them. At Nyaru Menteng, Bumi is one of the smarter orangutans who also has a naughty streak!
Like other young orangutans, Bumi loves to play, climb trees, and explore the forest with his best friend, Bravis. He will occasionally attempt to build a nest, but still has a lot to learn about this particular skill.
After spending the day in Forest School, Bumi and his peers will head to the playground in the late afternoon, prior to returning to their respective sleeping complexes. On the playground, Bumi and his friends are also given food and nutritional supplements. Our surrogate mothers are often accompanied by a veterinarian, who is responsible for assessing every orangutan's condition; and technicians, who assist the surrogate mothers in making sure every orangutan makes it back to their sleeping complex.
One afternoon, Bumi, who had earlier looked happy during his Forest School session, suddenly looked unwell at the playground. Strangely, he seemed disinterested in playing on the enrichment structure; he just sat quietly on the grass, quietly eating the fruit a surrogate mother had offered him.
Then, the surrogate mother noticed that Bumi's left hand looked injured and bent. Veterinarians were immediately called in to examine Bumi's hand, which had a deep and festering wound. Both the surrogate mothers and the vets suspected that Bumi had most likely been bitten by a passing long-tailed macaque during his day at Forest School. Further tests were done to thoroughly check Bumi's health.
The next day, Bumi skipped Forest School and was taken to the clinic instead. Sedated and accompanied by his favorite surrogate mother, Mbak Sri, Bumi received a more thorough medical examination and treatment for his left hand. Thankfully, the wound was found to not be severely infected and an X-ray revealed he had not suffered a breakage.
After getting a day off to rest, Bumi returned to join his friends in Forest School the next day. Even though his left hand was a little sore, Bumi still managed to climb and play in the trees with Bravis and his other friends. What a tough cookie!
This kind of incident is not too uncommon in Forest School, which is also a natural habitat for countless of other species, such as macaques, squirrels, and even snakes. With these types of neighbors, it might appear dangerous, but this is actually a perfect training ground for Bumi and other young orangutans. Before they return to true forests, they must learn how to avoid and, when necessary, defend themselves from other animals, including smaller, but aggressive macaques!
Don't worry, Bumi, everything is going to be alright, just keep on learning and be more careful!