Cinta: Fall 2015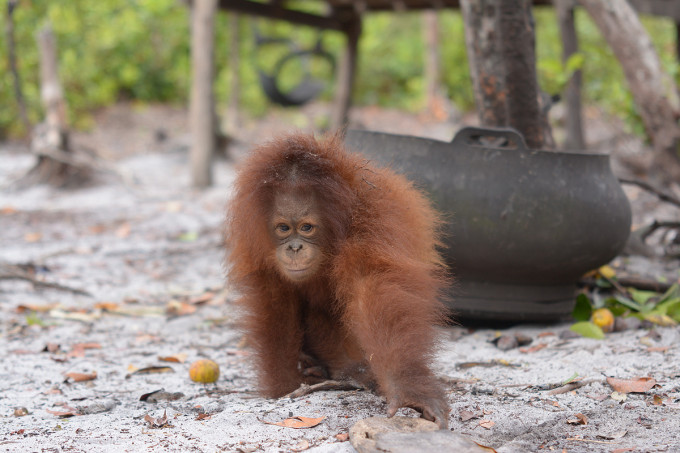 Rehabilitation Center : Nyaru Menteng
Arrival date : February 14, 2013
Age on arrival : 3-5 months old
Current age : 3 years old
Gender : Female
Weight on arrival : 2 kgs
Current weight : 12 kg
Previous location : Forest School
Health Status : Healthy
This year, Cinta is 3 years old. Her development has been astonishing. She has graduated from the nursery group and is now in Forest School.
Her "spoiled little princess" attitude has also declined. Now, she rarely cuddles with her babysitters in the forest school. She only goes to her friends and babysitters for protection if she feels threatened.
In Forest School, Cinta has started to do everything by herself. She likes climbing up the trees, swinging around in the enrichment facilities and she is now even starting to jump and swing from one tree to another. Those activities really seem to make Cinta happy and she often has a big smile on her face!
Cinta sometimes feels afraid and threatened— especially when wild monkeys come near her at Forest School. Whenever she feels even the slightest bit threatened, she quickly runs to her babysitter. Then after she feels safe, she'll go back to playing around in the small trees by herself or near her friends.
Although Cinta likes to be alone, doing her own things, she is a very friendly orangutan. When her friends ask her to play with them, Cinta always accepts the invitation; swinging around in the enrichment, climbing up the trees, and sometimes even wrestling.
For the last few months, Cinta has started to try lots of new foods. Her portion size is also considerably bigger than before and she is starting to grow. At lunchtime, Cinta likes to gather up all her fruit and eat by herself. She LOVES watermelon— even more than bananas!
Although she brings a lot of bananas to her little solo picnics, it is watermelon that she eats first. She also loves corn.
The babysitters are now teaching Cinta how to identify her natural food. One of her new favorite fruits is ehang, which grows naturally in the Forest School area. She always gets very excited when the babysitters introduce new fruit to her. She now eats all the ehang fruits that her babysitters give her.
You're doing great, Cinta! Keep it up!