Cinta: Fall 2016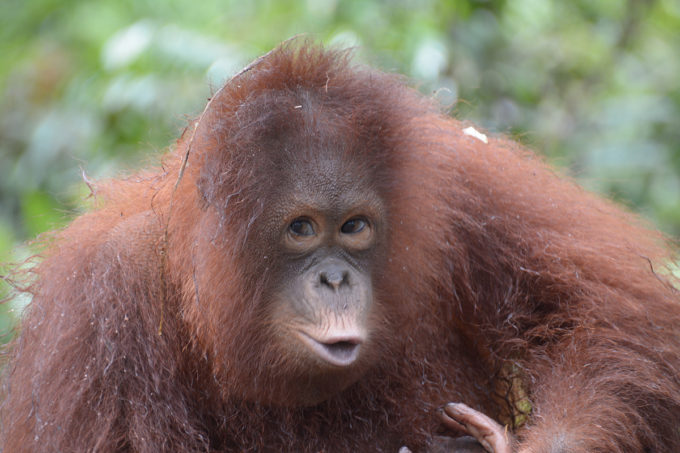 Rehabilitation Center: BOS Nyaru Menteng
Arrival date: February 14, 2013
Age on arrival: 3-5 months old
Current age: 3.5 years
Gender: Female
Previous location: Infant Group – Big Group
Current Location: Forest School – Group 1
Medical Status: Healthy
At the end of February, clever Cinta moved from the Nursery Group to Forest School Group 1, where her skills are progressing daily. Cinta is a smart orangutan and she has adapted quickly to her new environment.
During her first month in Forest School, Cinta, like so many other orangutans, came down with a fever and the flu. She recovered after a few days of intensive treatment and loving care from our medical staff at the Nyaru Menteng clinic, and soon continued her training in Forest School.
Cinta has already formed close bonds with both her peers and some of the elders in Group 1, yet she still prefers to play alone. However, the babysitters have noted that whenever another orangutan approaches Cinta to play, she happily obliges. This is testament to Cinta's kind and easy-going nature.
The babysitters are currently teaching Cinta how to identify natural forest foods, such as bark and leaf tips. Her passion for learning new things certainly makes it easy and fun for the babysitters to teach her. What teacher doesn't love an eager, easygoing student?
When exploring the forest, Cinta likes to be accompanied by her bigger peers, who are teaching her new skills like nest building. She might not be the biggest member of the group, but she is the only one who can climb trees as tall as 10-15 meters!
We are very proud of you, Cinta. Keep growing strong!