Cinta: Fall 2017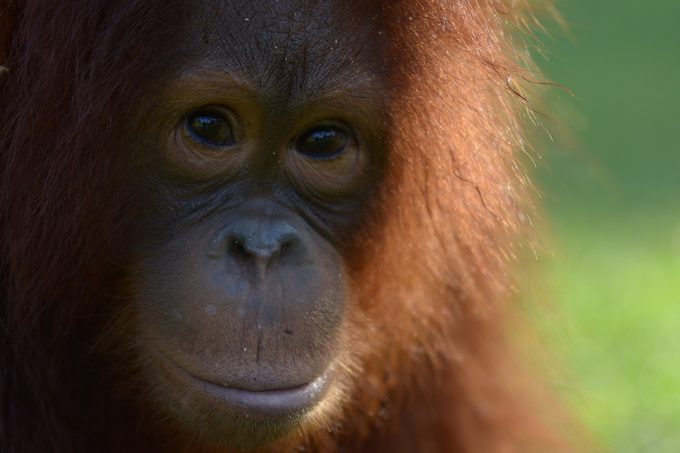 Rehabilitation Centre: Nyaru Menteng
Arrival date: February 14, 2013
Age on arrival: 3-5 months
Current age: 4.5 years
Gender: Female
Current location: Forest School – Group 4
Health status: Healthy
Cinta is very busy these days diligently practicing her nest-building and foraging skills. Unsurprisingly, her skills, especially in regard to building nests, have developed nicely and become more sophisticated than that of her peers. Cinta pays a great deal of attention to comfort when constructing her nests, which she usually builds around twenty meters high off the ground. This is really encouraging progress!
The first thing Cinta does when starting a nest is take a big, strong branch, which she intertwines with other branches until she has a sound, basic structure. Once satisfied with the strength, Cinta then fills her nest with leaves for extra comfort. As soon as she has finished, she will then lie down for a much deserved rest.
Cinta loves to play new games at the Nyaru Menteng playground. She especially likes it when everybody joins in the fun. However, she is often also the first to leave the fun once she has had her fill. Cinta is always interested in everything going on around her and never stops finding new things to do. She truly is a joyful individual with a zest for life and unstoppable curiosity.
After showing significant improvement and a rapidly progressing skillset, Cinta was promoted to Forest School Group 4. In her new group, Cinta is developing even more confidence and likes to explore and forage alone and with friends. Her favorite spot in Forest School is an area with a small creek surrounded by big trees. She goes there almost every day to play with the water and build nests, which she constructs from big branches and lianas.
Without hesitation, Cinta will often wander away from her peers in Group 4 to join the more mature orangutans in Groups 6 or 7. She adapts easily and mingles well with older orangutans like Molek, Lorry, Nilla, and Elo. It seems that these interactions with older friends are what have helped Cinta develop her survival skills so quickly.
Cinta is a sweet little orangutan and interestingly she uses unique gestures to express her moods. She rolls around on the ground to express herself when she's upset; she will jump from a tree to express disappointment; and taps babysitters when she wants to play.
Cinta is a brave, loveable little girl. We are positive she will cruise through all the stages of rehabilitation, and one day become a dominant emale in the forest. Go Cinta!
As her independence grows, Cinta prefers to do more activities on her own. Every time she reaches the Forest School Group 4 area, she will head deep into the forest to forage for natural food, rather than play with other orangutans. This is great progress for Cinta. We see her working hard on honing her foraging skills and looking for alternative food sources in the post-fruit season.
Cinta likes to use her strong teeth to break open weathered pieces of wood and eat up the termites and ants inside, licking them from her nose as they try to escape. Cinta also loves eating cempedak (Artocarpus integer) skin, which is thick and takes time to chew and digest. It can take her up to an hour to finish eating cempedak skin before she will move on to devour the cambium.
Cinta, like all arboreal animals, likes to conduct her activities up in the trees and will only climb down if something on the forest floor catches her attention, like the pen she once stole from a technician.
Every day at around 3 p.m., babysitters take the orangutans from Forest School back to the Nyaru Menteng playground to engage in some enrichment, play games, and drink milk. But Cinta prefers to keep exploring the forest, and will make her way to the playground only after it gets dark.
Cinta has learned many valuable skills during her time in Forest School. She no longer follows babysitters around, nor depends on them.
Keep honing your skills, Cinta! We all hope you will soon return to your true home, the forest.