Cinta: Fall 2019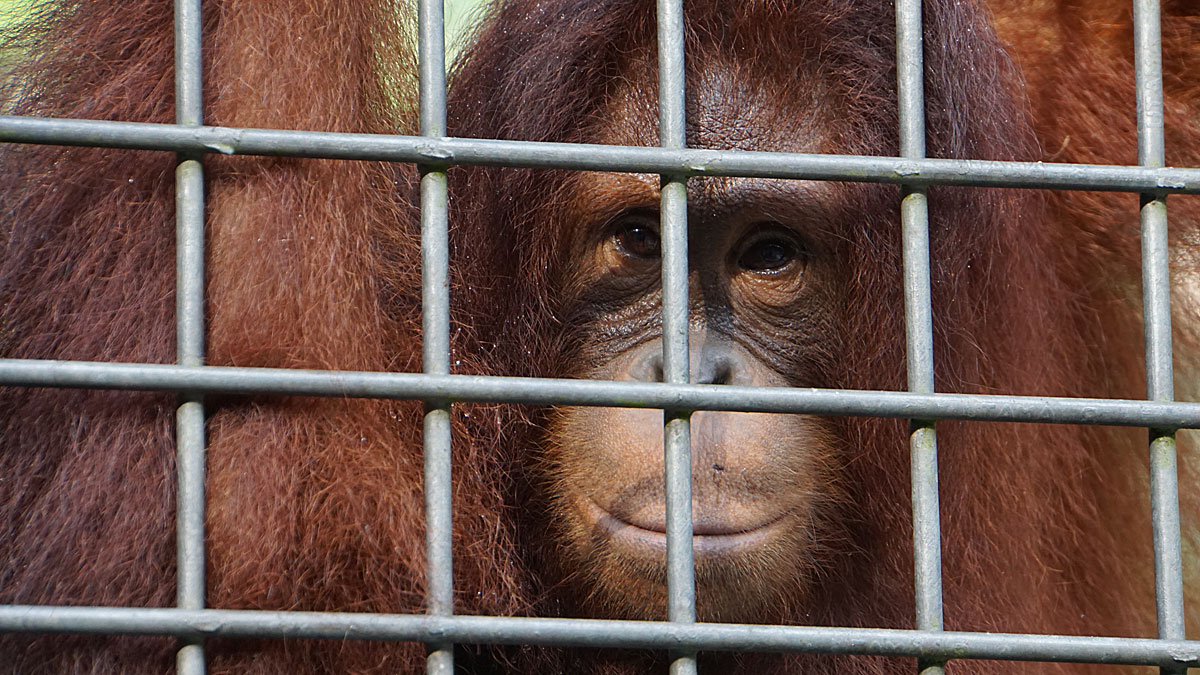 Rehabilitation Center: Nyaru Menteng
Arrival date: February 14, 2013
Age on arrival: 3-5 months
Current age: 7 years
Gender: Female
Previous weight : 55 lbs.
Previous location: Forest School – Group 5
Current location: Socialization Complex INFO 2 (females)
Health status: Healthy
Cinta's significant progress and achievements were recently recognized when, after six long years, she finally graduated from Forest School. This meant that she would join fellow graduates in a Socialization Complex while waiting to be listed as a candidate for the pre-release stage of rehabilitation.
On her last day in Forest School, Cinta went about her regular activities as usual. She played with the babysitters and other orangutans, and brachiated through the canopy to visit her younger friends in Group 4 nearby.
She spent longer than usual in the forest that day, and had to be collected from Group 4 after failing to return to her own group. Cinta tried to evade her babysitters when they arrived to collect her, but finally gave in and followed them to the Socialization Complex, together with eight other graduates.
It did not take long for Cinta to adapt to her new enclosure. The complex she was placed in is large and has plenty of enrichments for her to engage with. She has tried every one of the enrichments, often with comical outcomes. Her stunts receive a lot of attention from the other orangutans. This is the Cinta we all know and love!
Cinta continues to practice her skills through engagement with all the available enrichments. She even encourages her friends to do the same. It's as though nothing can defeat Cinta's positivity!
One recent afternoon, all was quiet in Cinta's complex, which is located behind the Nyaru Menteng Information Center. The orangutans were resting inside blue barrels, avoiding the heat. But Cinta quickly grew bored, and set about looking for somebody to play with.
The enrichments offered on that particular day were suli flowers and long stems. Cinta quickly ate the flowers and then used the stems to entertain herself. She climbed up and poked her friend Iriana, who was resting. But, every time Iriana turned to identify the culprit, Cinta would pretend to be minding her own business, swinging on an enrichment rope. Cinta managed to pull off this prank a few times before Iriana finally caught her in action, just as she was lining up the stem to poke again. Upset, Iriana jumped at naughty Cinta, and the two became involved in a spirited game of chase. Cinta tried her best to escape Iriana's grip: she swung around the complex, jumped over other orangutans and created quite a commotion in the process. Iriana, unwittingly, had given Cinta exactly what she was craving – a playmate!
Cinta's unique character, energy, and engagement in active play is what we hope to see in all the orangutans in our care. The complex is certainly a livelier place with cheerful Cinta around! 🙂