Cinta: Fall 2020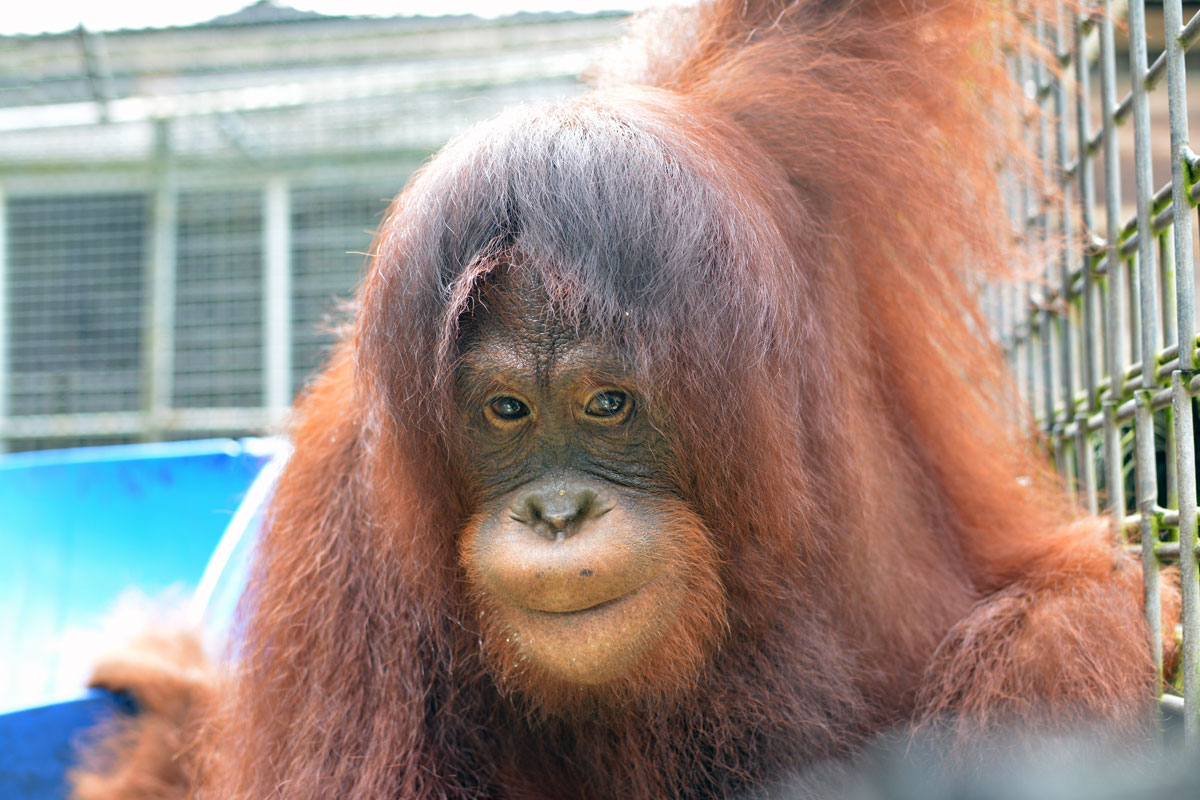 Rehabilitation Center: BOS Nyaru Menteng
Arrival date: 14 February 2013
Age on arrival: 3-5 months
Current age: 8 years
Gender: Female
Current position: SOS Complex
Health status: Healthy
For a few weeks this past summer, while healing from a cold, Cinta had the whole Socialization Complex to herself, after all her peers were moved to islands for the pre-release stage of rehabilitation. Despite not having others to play with, she would always find ways to entertain herself by engaging with the various enrichment tools given to her by the technicians in the mornings and afternoons.
But a few weeks ago, we found Cinta lounging quietly inside a blue barrel, staring at her surroundings as if bored with her own company. She looked completely different, unlike the usual Cinta we know! It was clear that being alone in the complex was beginning to take its toll.
Then, as luck would have it, a few young females had just completed Forest School, and needed to be placed in a socialization cage. Hanin, Fathia, and Timpah, who had all acquired a sound skillset during their time in Forest School, were deemed the perfect companions for lonely Cinta.
When the three newcomers arrived, Cinta approached without hesitation and immediately started to play with them. She led them around the complex as though giving them a tour of their new environment. Not only is Cinta one clever and active girl - she is also pretty good at socializing! The arrival of these three new friends is a great thing for Cinta!
~
While Cinta was never in the same Forest School group as the other girls, she would often meet them while exploring the forest or playing at the playground after school. So, it came as no surprise to see her get along with them instantly.
Unlike her previous school mates, newcomers Hanin, Fathia and Tairan have been able to adjust to Cinta's strong character. They actively play together with the enrichment from technicians, or will happily dangle on the rubber ropes and chase one another. The lively atmosphere of their Socialization Complex is sometimes too loud for the male orangutans housed in the complex next door.
The presence of Hanin, Fathia, and Tairan has given Cinta a lot of joy! Their bonds and friendship were put to the test the very first time technicians came to distribute food. Perhaps feeling the most senior, Cinta came forward first to take fruit, and grabbed most of it! She even snatched the fruit that Hanin and Fathia were holding, without much resistance. But the next day, it was a different story! The others in her complex started to defend their food. Cinta seemed to take the hint, and cleverly offered up her vegetables in exchange for her favorite sweet fruits. As cheeky as Cinta's offer was, the trade was successful!
The way that Cinta interacts with her new friends is reminiscent of how playful she was back in Forest School. Not only does she play jokes on other orangutans, but has also been known to play tricks on the surrogate mothers on more than one occasion. Cinta is truly a special character!