Cinta: Spring 2016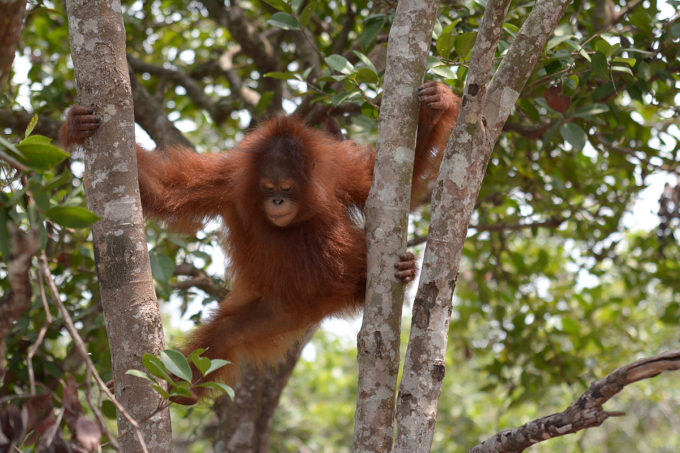 Rehabilitation Center : Nyaru Menteng
Arrival date : February 14, 2013
Age on arrival : 3-5 months old
Current age : 3 years old
Gender : Female
Weight on arrival : 2 kgs
Current weight : 12 kg
Previous location : Infant Group – Big Group
Current Location : Infant Group – Big Group
Health Status : Healthy
Cinta has been developing quickly in the Big Group of the Nursery School. She's now really good at climbing trees and actively swinging around the tree tops.
During the thick haze disaster that covered BOS Foundation Nyaru Menteng last fall, Cinta suffered from an Acute Respiratory Infection (ARI), but thanks to an extraordinary care and treatment by the Nyaru Menteng medical team, she has now fully recovered from the infection.
In the Forest School group, Cinta is diligently learning how to construct nice nests. She still has a lot to learn, though! She stubbornly breaks twigs and arranges them into a small nest in a v-shaped branch. Cinta usually tried to build a nest 2 or 3 times a week. The good thing is that she picked up the skill naturally by herself and continues to improve. We are very proud to see her making progress!
Cinta is becoming known for her teasing and playful nature. Her favorite practical joke it to pull her friends' arms while they are swinging. After they fall Cinta quickly scurries away and climbs up a nearby tree.
At the rate she is going, Cinta will grow up into an amazing orangutan and live free in her true home... in the forest.