Cinta: Spring 2017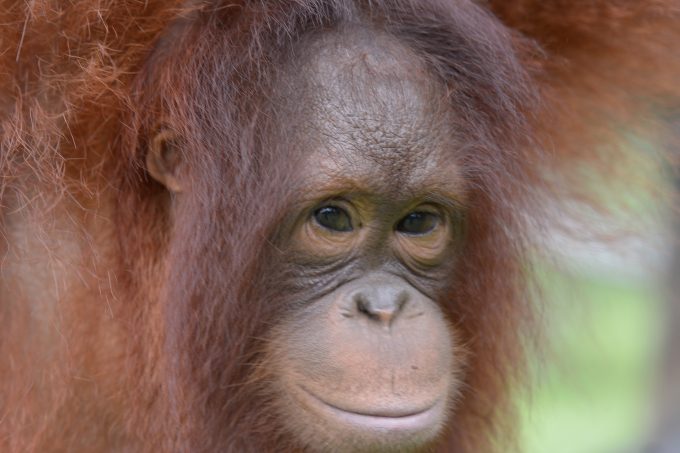 Cinta is a very active orangutan who has made a lot of progress in BOS Nyaru Menteng's Forest School Group 2. Her curious nature about everything around her has helped her develop many skills quickly. That being said, she makes life quite difficult for her babysitters. She loves sneaking away from them watch and trying to break into the main office or clinic. It seems courage and curiosity go together for Cinta and she now enjoys exploring further and further away from her school area.
On day last fall, Cinta roamed far away— all the way into Group 7 area, filled with orangutan much larger and more experience that Cinta. But she showed no fear from the big orangutans.... Instead she mingled with some of the friendlier group members while avoiding the less friendly ones.
In Forest School, Cinta loves to play in the small trees. She is very agile and adept at dangling on the branches and moving from tree to tree along with her with her friend, Liti. With the onset of the rainy season, Cinta and her friends have had to adapt to a different environment: playing in the flooding creeks in Forest School. Cinta loves to get everybody involved in her games and shenanigans— especially her babysitters!— by grabbing their legs. She particularly enjoys this when the whole area is full of mud.
Cinta is slowly getting better at building nests, though she still prefers to construct her nests on the ground. They usually don't look very good, but Cinta cleverly blankets the half-finished nest with a coffee sack so it is comfortable enough for her to lie upon and take her nap.
Cinta remains a very lovable orangutan. Every time she finishes her playing session, she wanders over to a babysitter and sits on her lap. Cinta's self confidence is also growing, and this has given her a chance for promotion. She is about to move up to FOrest School Group 3 where she will face new challenges and make new friends. We hope that she keeps on developing her skills so when the time comes, she is ready for release back into the wild. Keep up the great work, Cinta!