Cinta: Spring 2018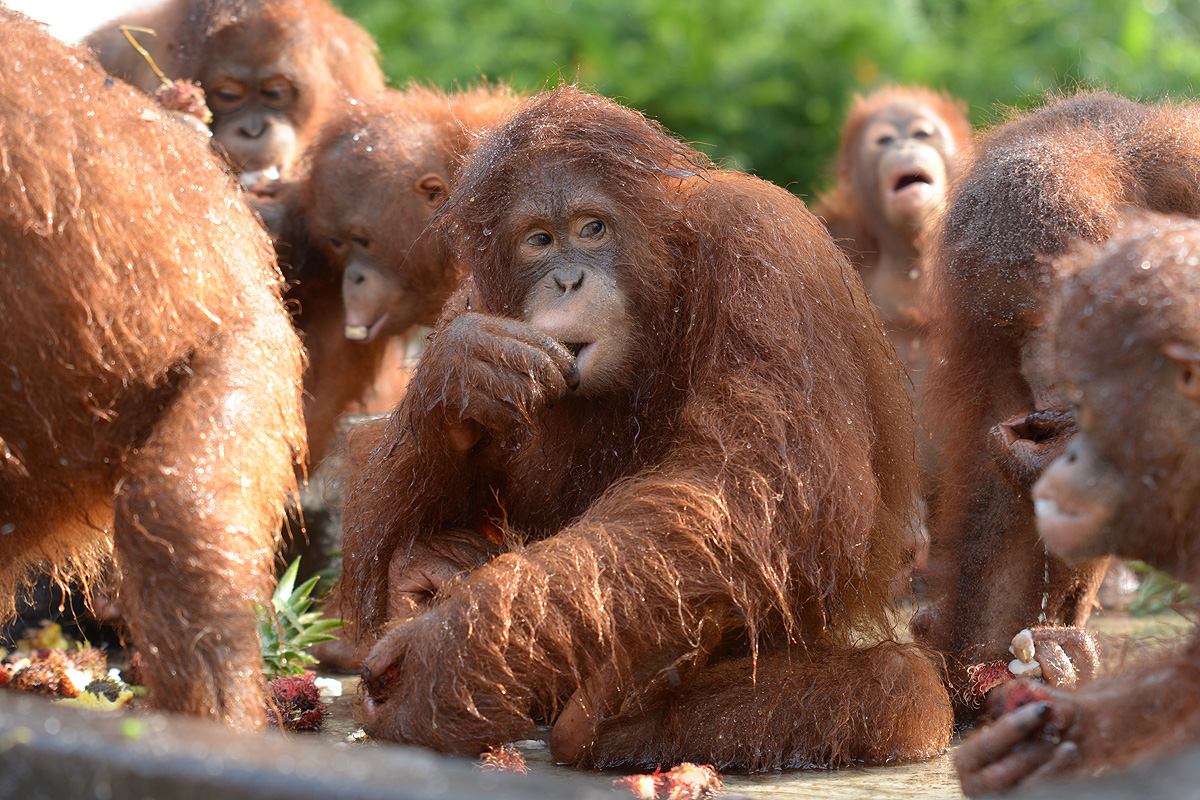 Rehabilitation Centre: Nyaru Menteng
Arrival date: February 14, 2013
Gender: Female
Age on arrival: 3-5 months
Current age: 4.5 years
Current weight: 22 kg
Current location: Forest School – Group 5
Health status: Healthy
In Forest School, Cinta is known as the lovely, yet restless, one. She really loves to play, and actively hones her skills both in Forest School and in the playground. When it is time for the orangutans to prepare for their afternoon nap, Cinta prefers instead to explore in the forest some more and forage for fruits. She will occasionally visit the orangutans in younger groups and invite them to play.
One day, when Cinta was making her way over to a younger group, she fell from a branch and dropped four meters down into a bush. Being the strong individual that she is, Cinta got up and continued on to her destination, as if nothing had happened. When we examined her afterwards, she was indeed all good. What a tough girl indeed!
Even though Cinta is an active member of Forest School who has already mastered her nest-construction skills, she hasn't been building proper nests of late. Oftentimes she will build a nest-like structure on the ground using nothing but ferns. We are still investigating into the reason for this, but she seems to feel quite comfortable laying in her fern ground-nest.
Following a quick nap in her nest, Cinta will continue on with her exploration and foraging activities in the forest. One day, she took Sebangau, another active orangutan from Group 4, along with her. Both are stubborn by nature. The two fought and quarreled a lot over small things such as a single piece fruit. However, the two always manage to make up after a tussle, and to this day still remain great friends.
We are seeing great things from beautiful Cinta, who, after showing significant progress during her time in Group 4, was moved up to Group 5! There are more challenges for Cinta in this new group, as she is not only building on her skills, but also competing with other orangutans while adapting to a more natural environment.
The Forest School Group 5 area where Cinta now learns has plenty of tall trees and a dense canopy. With her exceptional climbing ability, Cinta has easily adapted to her new surroundings and loves spending time in the forest canopy, where she feasts on the fruits she finds. If Cinta finds a stable, used nest, she will rest in it and recharge before continuing her exploration of the forest.
Cinta likes to visit orangutans from the younger groups, and is usually not alone in her quest; Jumbo and Obama, also from Group 5, often tag along. While Groups 1 and 2 are located quite far from the Group 5 area, Cinta and her pals can easily find the way. Under the babysitters' supervision, they like to play with the younger orangutans, and sometimes encourage them to explore the forest together.
It is fantastic to see Cinta progressing along so nicely. Being promoted to Group 5 has brought her yet another step closer to freedom!