Cinta: Spring 2019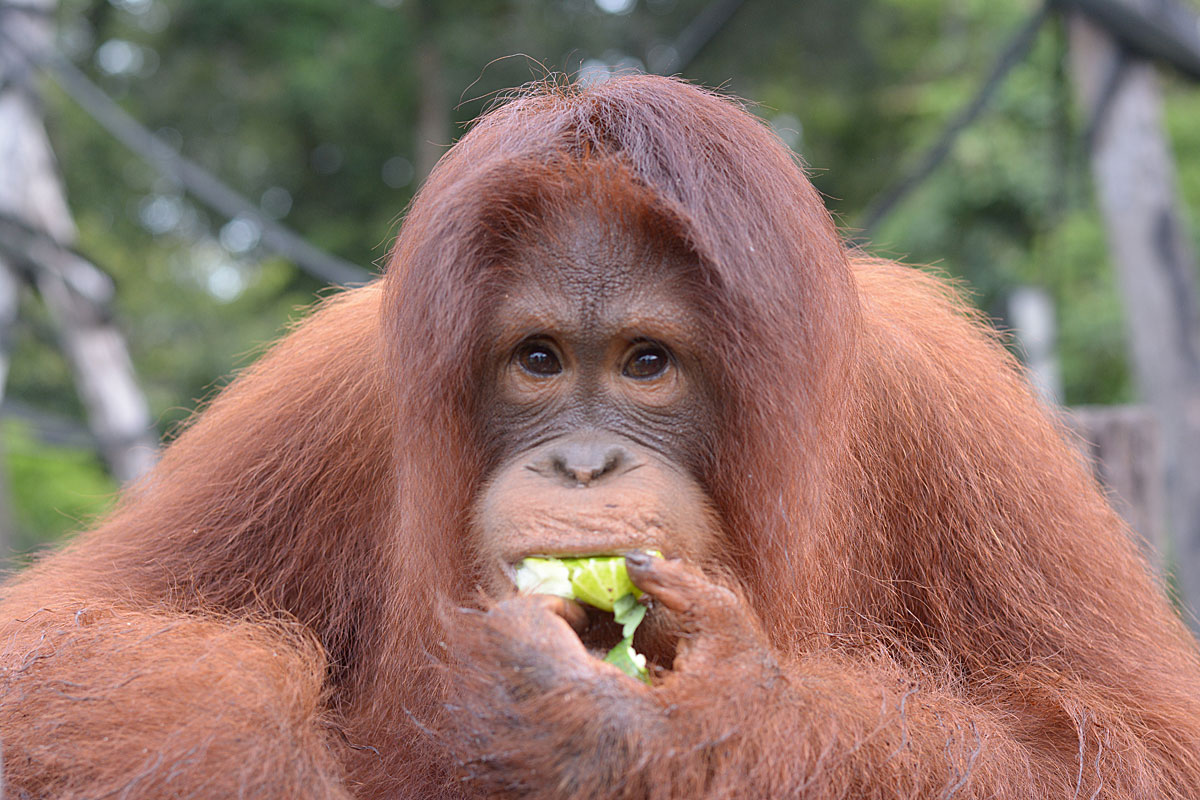 Rehabilitation Center: Nyaru Menteng
Arrival date: February 14, 2013
Age on arrival: 3-5 months
Current age: 5 years
Gender: Female
Current weight: 25.1 kg
Current location: Forest School – Group 5
Health status: Healthy
Cinta is still a student of Forest School Group 5, which is the most advanced Forest School level at Nyaru Menteng. Orangutans need a certain amount of time to be able to successfully complete this level, as their skills and natural behaviors need to be well-honed before advancing to the next step: time on a pre-release island.
As though understanding the stakes, Cinta works diligently to develop her skills every time she enters Forest School. She wastes no time on relaxing, and has been known to even skip naps, something she never did in her previous groups. However, Cinta is still quite young and needs to build up her strength. When she does get exhausted, she knows to build herself a nest to rest in under the shade of a tree.
Cinta has a special routine she follows before building her nests. She starts by sweeping the forest floor with fern fronds, clearing the whole area from twigs and dry leaves. She then collects kalakai leaves and stacks them up high before collecting some fruits to stash inside as bedtime snacks. She always fills her "on-the-ground" nests with plenty of food!
A long siesta, it would seem, is not Cinta's style. She typically only spends about 10 minutes enjoying her comfy nest before she gets up to explore the forest with her peers. This is particularly the case whenever there are puddles around. Not only do orangutans enjoy splashing around in puddles, but can also find natural foods in and around them, such as mushrooms and fallen fruits. Playing with friends usually entertains Cinta and recharges her.
When it is time to return home, Cinta and her friends will pass by the feeding platform to have a fruit party!
~
Orangutans in Forest School are carefully monitored, and their progress is re-evaluated monthly. These evaluations help determine which orangutans need more time in Forest School to develop their skills under the watchful eyes of babysitters, and which orangutans are ready to enter the pre-release stage of rehabilitation.
Cinta is one of the orangutans who has made the candidate list this month for the pre-release stage. Soon, she will go to a pre-release island to undertake the final stage of rehabilitation prior to being released to the wild. Here, she will have a chance to apply all the skills and lessons she has learned during her time in Forest School, and develop more natural behaviors.
While Cinta is notoriously playful, she showed extraordinary progress in Forest School Group 5, and has grown to become a truly smart individual.
Before Cinta can get a taste of life on a pre-release island, she still has to pass several steps, including a health test and brief stay in the Socialization Complex while preparations are made. This is an exciting yet nerve-wrecking moment for the babysitters and technicians who have taken care of Cinta for a number of years, for they all know that making the candidate list does not automatically mean she will make it to the island this time. There is always a chance that her move will be delayed or even cancelled, depending on the circumstances. However, we strongly believe that Cinta will pass her health tests and be enjoying her experience on a pre-release island in the very near future!