Gracia & The Kids: Spring 2021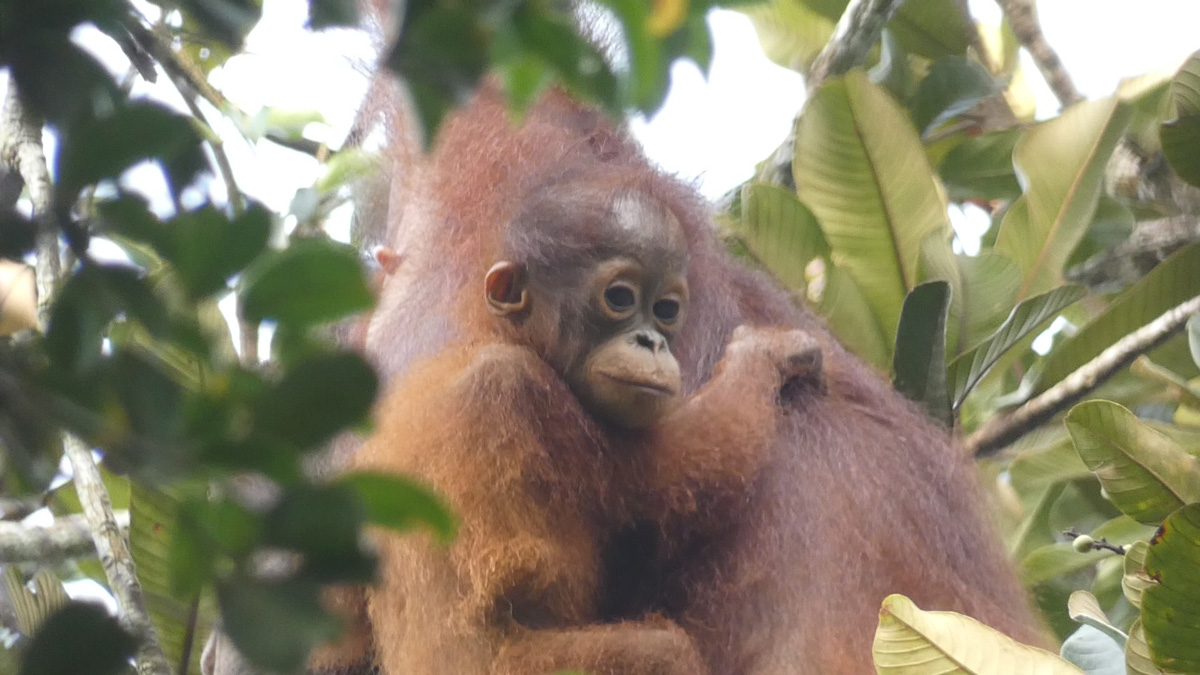 Georgia and Baby Gus (Gracia's daughter and grandson)
This month marks 12 months since most of the world ordered lockdowns, quarantines, and curfews to prevent the spread of COVID-19. This past year has created challenges for all of us, including for the inhabitants of the Bornean rainforest, and the long-term impacts of this pandemic are becoming evident. The rate of deforestation rose at an alarming rate across the globe, with 645,000 hectares of tropical forest destroyed in March 2020, which is 150% higher than March's average in 2017-2019. Indonesian forests were impacted the most with more than 130,000 hectares of forest lost.
Fewer police, rangers, and patrols due to the restrictions enforced by the state have meant many illegal activities have gone undetected or unregulated. However, the pandemic has significantly affected local people, as the loss of tourism, markets, and many jobs, has generated a surge in poverty, therefore people are seeking alternative sources of income from the forest. This has created a complex trade-off between meeting people's immediate need for income and the long-term preservation of the forests, hence it is vital that we promote coexistence.
Deforestation is one of the biggest threats to our planet, our wildlife, and our health, therefore protection and restoration of our rainforests is critical. During these challenging and uncertain times, BNF has continued to protect and restore the Sebangau National Park, the largest unfragmented peat-swamp forest on Borneo's lowlands, and home to a globally significant population of orangutans. As we are still unable to follow the orangutans in the forest, due to the risk of COVID-19 transmission, we have shifted our focus to habitat restoration.
Indonesia remains at a high risk of annual forest fires, particularly in degraded areas, such as drained peat swamp forests. Repeat fires further degrade the land, restricting the regrowth and succession of new forests, thus reducing the number of fruiting trees that orangutans depend on. For instance, part of Gracia's home range, near the Sebangau river, was severely burnt in the major fires of 2015, which still remains degraded today. We must therefore assist reforestation to restore Gracia's home range, creating a safe haven for her and neighboring orangutans and ensuring the future of her offspring against subsequent forest fires.
With your support, we are working with local communities surrounding the Sebangau National Park to reforest burnt and degraded land, to restore critical orangutan habitat. So far, we have established 5 community nurseries in the local villages to grow the seedlings needed for reforestation, and with the help of local people, we have planted 48,902 trees, reforesting 50 hectares of the Sebangau National Park. We are expanding this reforestation program in the form of our '1 Million Trees' campaign! We are upscaling community participation, pioneering large-scale seed dispersal using drones and working closely with Sebangau National Park staff to achieve the goal of planting 1 million trees over a 2500-hectare area by 2025!
Gracia's 'baby' son Gara will be turning 5 this year, meaning he will be beginning to explore the forest and gain independence under the watchful eye of his mother, learning the key survival skills he needs to become fully independent at around 8 years old. Research has confirmed that orangutans are able to survive in various forest types and habitat mosaics, but it is critical to ensure safe connections between forest fragments to reconnect the landscape, particularly for the dispersal of adolescent males. Female orangutans, such as Gracia's older daughters, Georgia and Gretel, tend to establish their own ranges adjacent to their mothers, so it is critical that we restore this particular burnt area to provide enough space for Gracia and her kids.
By adopting Gracia and the kids you are directly supporting the restoration of critical orangutan habitat, helping the next generation of orangutans to thrive in the Sebangau National Park. Thank you for your support. We are especially grateful given all the uncertainty in the world today...