Jelapat: Fall 2019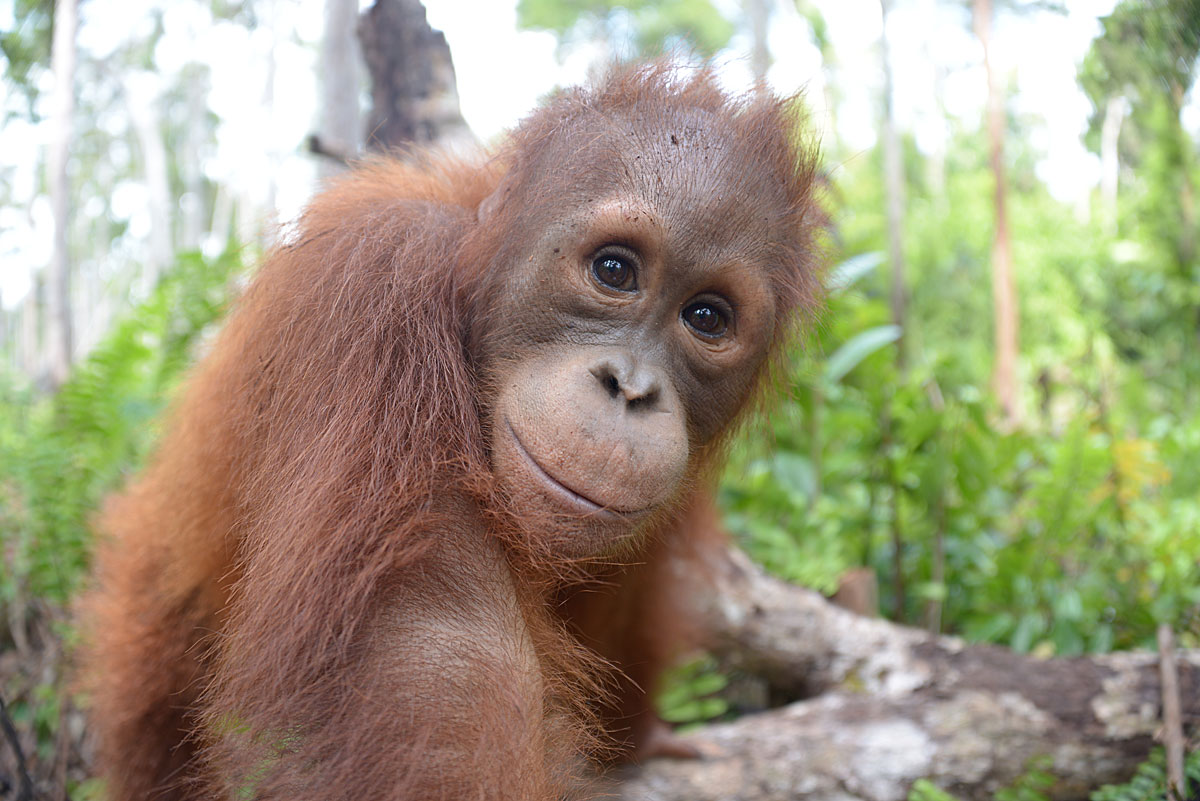 Rehabilitation Center​​: Nyaru Menteng
Date of arrival​​​: June 21, 2016
Current age​​​: 4 years
Previous weight​​: 20.1 kg 
Previous school position​: Forest School – Group 2 : 
Current school position​: Forest School – Group 4
Gender​​​: Male
Health Status​​​: Healthy
This month, the surrogate mothers from all Forest School groups gathered to compare notes and discuss reports on their orangutan students. Several individuals achieved an excellent report after making significant progress in their respective groups... and Jelapat was one of them!
In Nyaru Menteng's Forest School Group 2, Jelapat and his buddy Talaken proved that they had developed natural skills and behaviors beyond that of other orangutans who joined the group before them. Due to this outstanding progress, the team of surrogate mothers agreed to promote both Jelapat and Talaken to Group 4.
The area that Forest School Group 4 occupies has several tall trees, a thicker canopy, and wider creek. Plenty of challenges await here. No wonder Jelapat and his friends thoroughly enjoy coming to school every day to explore!
On one particularly hot day, Jelapat was dangling upside down and deliberately launched himself into a muddy puddle. He repeatedly dipped himself in and out of the puddle until his body was covered in thick mud. What a smart boy, cooling himself down like that!
Satisfied with his muddy coat, Jelapat returned to join his group for milk distribution. However, his mucky look frightened some of his friends. With his face completely covered in mud, even some of our surrogate mothers were unable to recognize him! For everyone's comfort, a surrogate mother decided to wash Jelapat down.
It is wonderful to see Jelapat making the most of his days in Forest School!
~
The Nyaru Menteng team in charge of food works hard to provide the best menu for the orangutans in our care. The team not only takes into consideration the seasonal availability of fruits, but also nutritional properties.
Around this time of year, tomatoes are aplenty! Not only are tomatoes tasty and refreshing, but the red soft fruit is highly nutritious and good for orangutan sight and digestion. Most orangutans enjoy eating them— and the juicier the better!
One recent morning, lanjung bags full of tomatoes were secured to the backs of our surrogate mothers for the students in Forest School. The orangutans were impatient and tried to steal the tomatoes from them on the morning walk to the forest. Once the group had reached the Forest School Group 4 area, the orangutans quickly swarmed the surrogate mothers for fear of missing out on tomatoes — Jelapat included!
However, Jelapat only took one tomato from a bag, and quickly put it in his mouth. This was his first time with a tomato! He did not bite or chew the fruit, only played around with it, and occasionally took it out of his mouth to check if it was still intact.
A surrogate mother thought Jelapat did not like the fruit, and offered a banana to replace it. But surprisingly, he quickly swallowed the tomato, before snatching the banana. No one thought Jelapat would eat the tomato!
It turns out that Jelapat does like tomatoes, and loves to roll the fruit around on his tongue to feel its smooth skin and texture. He always seems to find the interesting in simple things. That is a positive outlook we should all take onboard!
Keep up the great work, Jelapat! 🙂