Jelapat: Spring 2019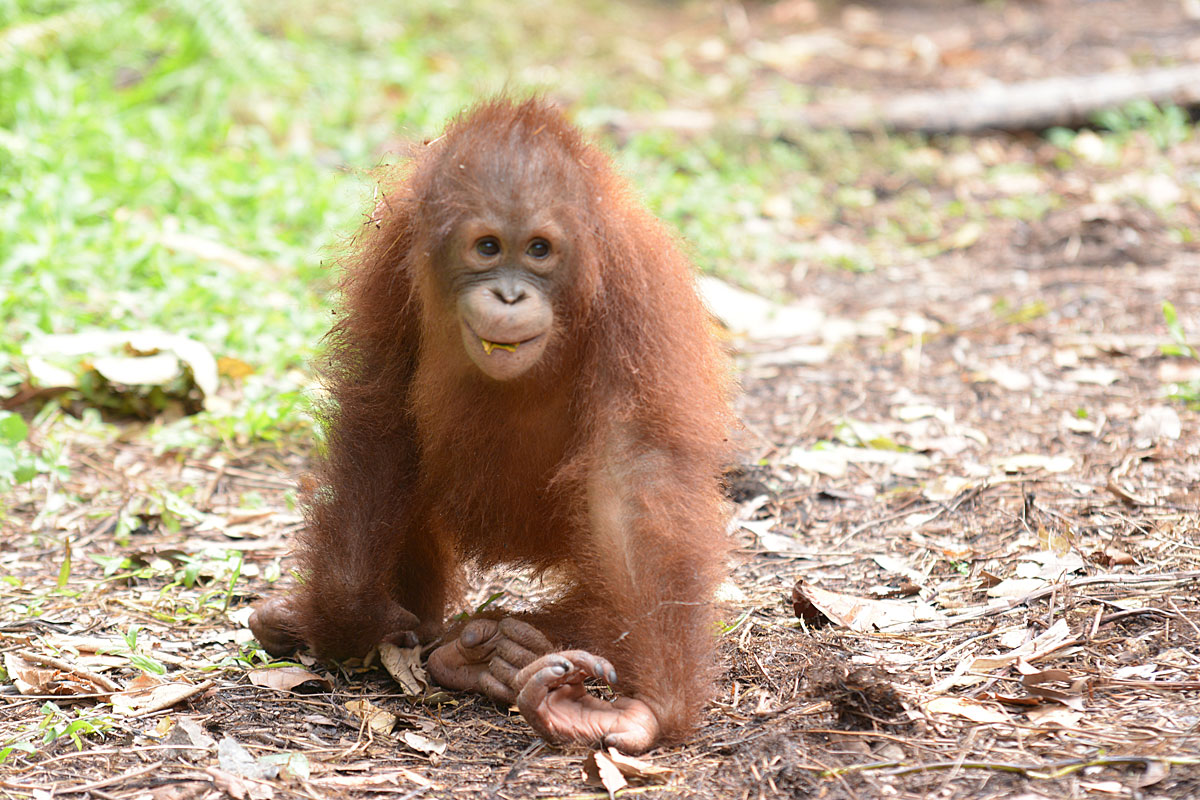 Rehabilitation Center: Nyaru Menteng
Date of arrival: June 21, 2016
Current age​​​: 3.5 years
Current weight​​: 20.1 kg 
Current school position​: Forest School – Group 2
Gender​​​: Male
Health Status​​​: Healthy
Little Jelapat confidently climbs up tall trees and happily plays in them, but his small stature and young age means that he cannot advance beyond Forest School Group 2, for now.
Over the past few weeks, frequent rainfall in Forest School has led to the appearance of flying insects such as dragonflies and moths. In big numbers, these insects can become annoying to orangutans, with some – like Taymur - even becoming afraid of them. Other orangutans will use leafy twigs and small branches to shoo them away, as Talaken does. Jelapat, on the other hand, is surprisingly curious about how these insects taste!
Jelapat was recently observed catching a small flying insect that was perched on him. Without thinking, he threw it in his mouth, only to spit it back out and rub his tongue. Clearly, the taste was less than palatable, as Jelapat's facial expression revealed.
Jelapat's curiosity and courage to try new things deserves a huge thumbs up! Although the results don't always turn out as he would expect, he is at least willing to try something different. We hope that all the orangutans in our care show the same initiative as Jelapat, and learn by trial and error.
~
The special friendships that form among orangutans truly amaze us. Plenty of examples can be found at the Nyaru Menteng Rehabilitation Center, especially among orangutan babies, who have all suffered the traumatic experience of losing their mother. Their individual stories and will to survive are nothing short of inspiring.
Jelapat and Talaken are two such individuals in Nyaru Menteng's Forest School. These two baby boys have formed a close bond; wherever one is, the other can always be found nearby.
However, Jelapat was recently seen playing alone in Forest School. He seemed somewhat restless and depressed, and had even tried to leave Forest School early. Babysitters soon realized the reason for his miserable mood. His best friend, Talaken, had fallen ill and was under the care of the medical team in the clinic for three days. Jelapat was clearly feeling his friend's absence, and was desperately lonely.
Once Talaken had been declared healthy and returned to Forest School, Jelapat suddenly brightened up! Visibly ecstatic, Jelapat ran to greet Talaken, and guided him to the playground area.
It was so wonderful to see Jelapat happily reunited with his bestie. One cannot underestimate the powerful bonds that baby orangutans form with their peers!