Jelapat: Spring 2021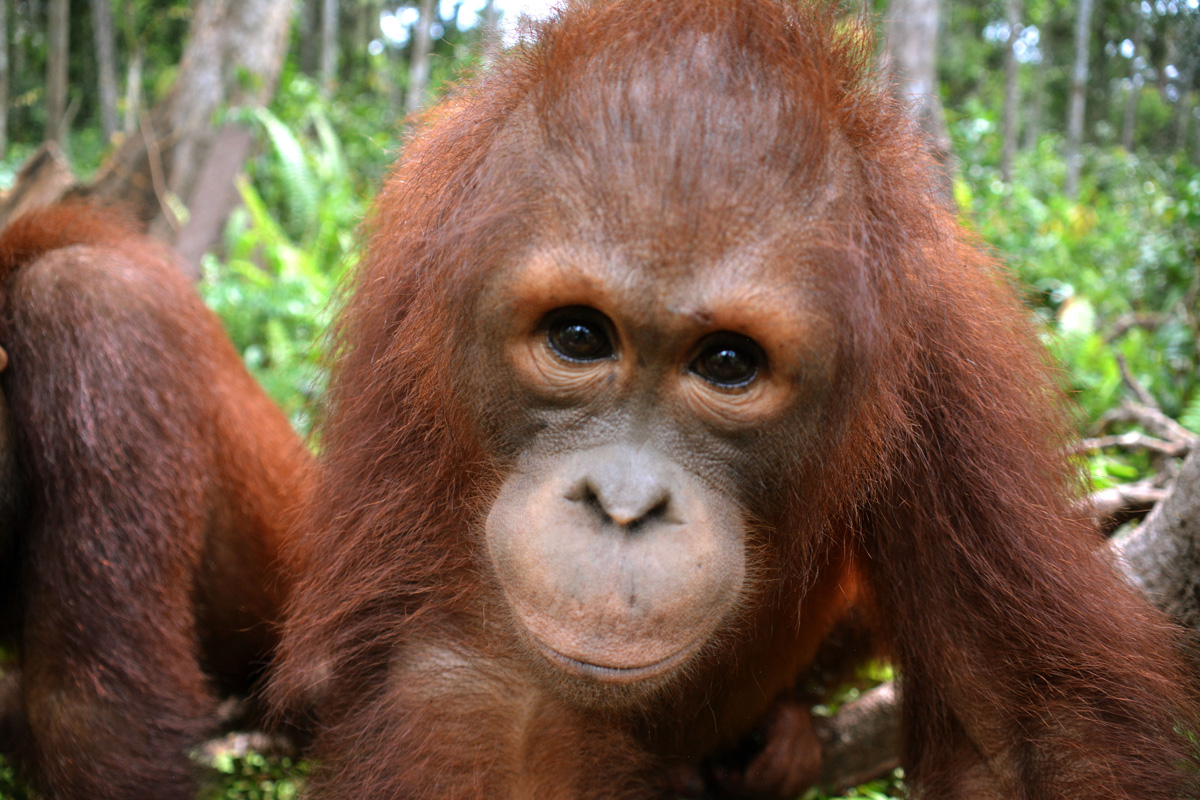 Rehabilitation Centrer: Nyaru Menteng
Date of Arrival: 21 June 2016
Current Age: 5 years
Current Position: Forest School – Group 5
Gender: Male
Health Status: Healthy
Recently, heavy rainfall and unusually strong winds lashed the Nyaru Menteng Orangutan Rehabilitation Center at night. When morning came, the weather had completely changed: The sky was clear and blue and the orangutans were excited to go to Forest School. The surrogate mothers rushed to let the orangutans out of their complex - they couldn't wait to get out and head to the forest! The surrogate mothers, carrying woven baskets filled with fruits, then led the long line of orangutans to the Forest School area.
The surrogate mothers had to stop the line at the end of the boardwalk, as water and mud was blocking the way. The young orangutans at the back of the line started to get impatient, and one by one tried to overtake those ahead of them; a move initiated by Jelapat and his best friend Talaken, who were positioned right behind the surrogate mothers. These two were the most excited, as always!
Jelapat bravely attempted to cross the flooded, slippery boardwalk, but suddenly stopped and looked for an alternative route. He led the other orangutans to Forest School by brachiating through the canopy, leaving the surrogate mothers behind. Weighed down by the contents of their woven baskets, the surrogate mothers made their way on foot and eventually caught up with the orangutans in the school area. Thankfully, the flooded areas of Forest School did not dampen anybody's spirits that day!
One morning, at the end of January, a surrogate mother found Talaken laying weak in her enclosure, as other orangutans were preparing to head off for the day. The surrogate mother took Talaken to the clinic to be examined. Talaken whined and cried constantly, clearly disappointed that she was missing out on playing with her friends in the trees. Jelapat, upon seeing Talaken in distress, gave up his time in Forest School, and stayed behind to keep his best friend company. Jelapat would not leave Talaken's side, even when a surrogate mother tried to encourage him to go to school and play with others. What a dedicated friend!
The next day, Talaken was still unable to attend Forest School. Jelapat went with the other orangutans to school, however, Talaken's absence made Jelapat lose his enthusiasm. He spent that day playing on the ground, and occasionally wrestling Kalanis.
After receiving intensive treatment under the Nyaru Menteng veterinary team for almost a week, Talaken had recovered and was able to be reunited with bestie Jelapat. The two got straight back to exploring the forest, playing in the canopy, and searching for termites and rattan shoots to eat together, deep in the Forest School area.
Jelapat is succeeding in honing his foraging skills and loves to eat large portions. We know he is happy to have his best friend back by his side, so that they can keep on enjoying exciting adventures in the forest together!