Jumbo: Fall 2016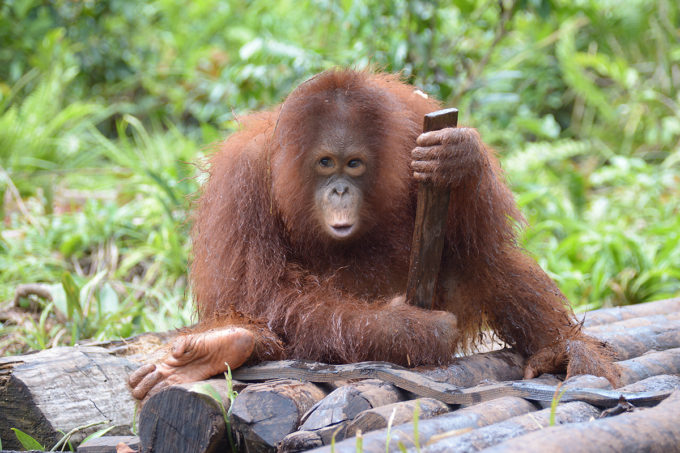 Rehabilitation Center: BOS Nyaru Menteng
Arrival date: February 16, 2013
Age on arrival: 1 year
Current age: 4 years
Gender: Male
Previous location: Forest School – Group 1
Current Location: Forest School – Group 2
Medical status: Healthy
Regular, heavy rainfall throughout the late spring and early summer saw many of the young orangutans at Nyaru Menteng struck down with fever and flu; Jumbo included. Jumbo spent two weeks in isolation at the Nyaru Menteng clinic before he was was determined to be in good health and cleared to return to the Forest School.
His impressive progress earned Jumbo a recent promotion to Forest School Group 2, where his tree-climbing skills are greatly improving. It hasn't taken Jumbo long to muster up the courage to stand up to larger orangutans, which indicates truly remarkable growth.
The dynamic between Jumbo and many of his old friends from baby school appears to have changed, with many of them now reluctant to follow Jumbo when he moves off to play with the older, much bigger orangutans.
The technicians recently noticed Que-Que, a bigger orangutan, picking on Jumbo. Much to Que-Que's surprise, Jumbo fought back, throwing twigs and branches at Que-Que's face as he fled. After this altercation, Jumbo went back to his old group of friends, and played together with them near a pile of logs.
Interacting with bigger, older orangutans seems to have benefited Jumbo, despite the intimidation factor. He now spends most of his time exploring and foraging. He still loves termites and ehang fruit, but now also has a taste for young leaves and grass roots.
We love seeing your amazing progress, Jumbo. Keep it up!