Jumbo: Fall 2018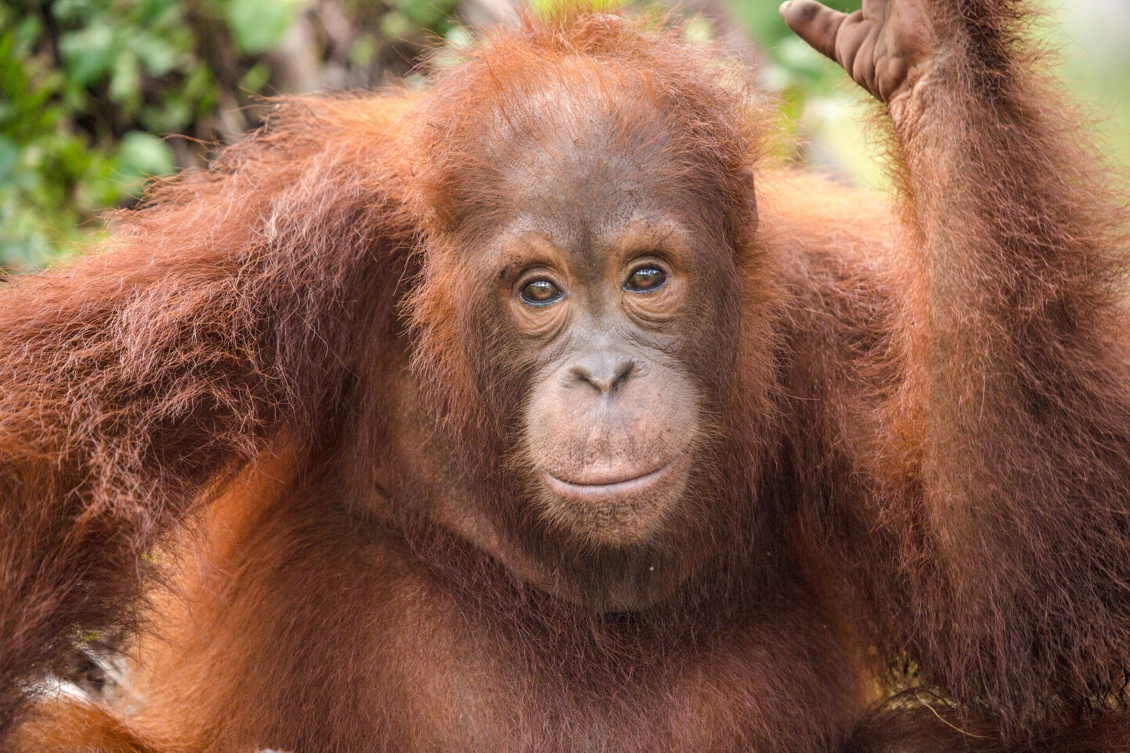 Rehabilitation Center : BOS Nyaru Menteng
Date of arrival : February 16, 2013
Age on arrival : 1 year
Current age : 6 years
Current weight : 63 lbs.
Current school position : Forest School - Group 5
Gender : Male
Health Status : Healthy
As with humans, an orangutan's immune system can drop every once in a while. Our medical team at Nyaru Menteng is always on high alert during the transitional period between the wet and dry seasons - a time when orangutans can easily fall ill. During this time, orangutans are given supplements, such as tonics of garlic, honey and vitamin C, to keep them in optimum health.
This past wet season Jumbo's babysitters noticed that there was something wrong with him. He looked weak and showed little interest in Forest School activities. This was not normal behavior for Jumbo, so the babysitters took him to the clinic for a check-up. Test results revealed that Jumbo had contracted malaria! He was one of the many orangutans who fell ill and he had to spend several weeks in the veterinary clinic recovering.
Luckily for Jumbo, his case of malaria was considered mild and after a few weeks of treatment he was soon cleared by the vet team to go back to Forest School Group 5. However, when the babysitters tried to lead him back to the Group 5 area, he quickly turned away from the path and headed toward Group 2. It seemed Jumbo had made some good friends with some orangutans from Forest School Group 2 while at the medical clinic and he wasn't quite ready to say goodbye to his young friends!
Jumbo's babysitters decided to let Jumbo have his way, rather than force him back to Group 5. This turned out to be better for everyone! During his time in Group 2, Jumbo passed on some important skills to other orangutans, including tips on how to forage for natural foods. He was often seen pointing out new foods to his juniors, who would then follow suit. He certainly gave the babysitters a hand in this department. What a great teacher Jumbo is!
Over the next few weeks Jumbo gradually began splitting his time between Groups 2 and 5, but he ultimately settled back into his own Group.
Jumbo has a unique habit of walking along the boardwalk into the Forest School area: He walks backwards! Unfortunately, this comical style has caused casualties at times: a babysitter was once accidentally pushed off the edge and into the creek below because Jumbo, walking backwards, wasn't watching where he was going! As if nothing had happened, Jumbo kept on moving backwards toward school.
Jumbo is one of the most active individuals in Forest School Group 5. He never stops honing his skills, and his nest-building abilities are beyond question: the locations in which he chooses to build his nests, and their shape, form and strength, are simply perfect. You could say that Jumbo is at the top of his class!
However, there is still a lot that Jumbo needs to learn. He still has to complete his Forest School training and then advance to the pre-release stage. He needs to maintain his tip-top condition before he can be selected as a release candidate. Stay healthy and keep practicing, Jumbo! You'll get there soon enough!