Jumbo: Fall 2019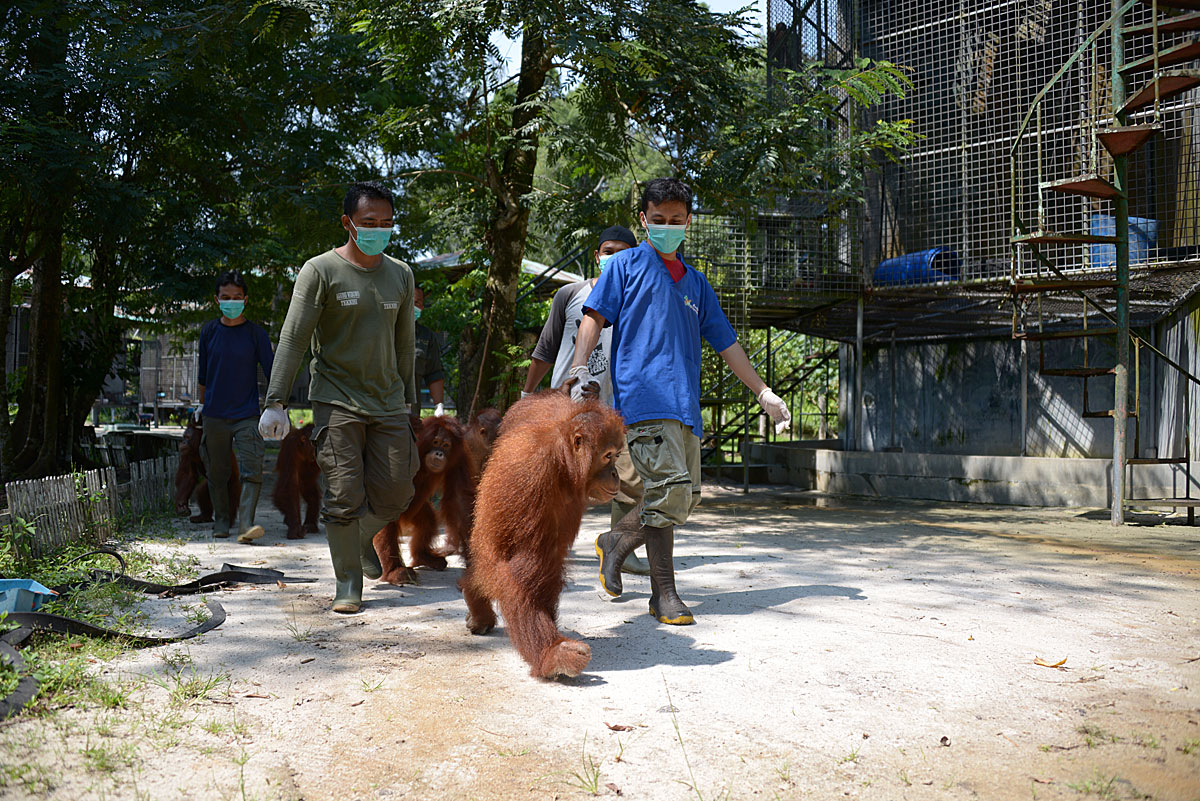 Rehabilitation Center: BOS Nyaru Menteng
Date of arrival: February 16, 2013
Age on arrival: 1 year
Current age: 7 years
Previous weight: 63 lbs.
Previous school position: Forest School - Group 5
Current school position: Complex Socialization INFO 1 (males)
Gender: Male
Health Status: Healthy
Armed with more advanced skills than his peers, Jumbo managed to finish Forest School in March this year. Following graduation, Jumbo was moved to a Socialization Complex together with eight of his fellow graduates.
Socialization is the next step in the rehabilitation process for orangutans who have completed Forest School... before moving to an island. In this stage, orangutans are placed in groups based on their sex and age, with skill level and individual personalities also taken into account.
During the socialization period, the more passive orangutans are placed with those who have well-developed skills, to allow for peer-led learning. Based on our evaluations, orangutans can be heavily influenced by their peers, and it is usually the more dominant orangutans with advanced skills who pass on their knowledge to others.
In the complex, Jumbo is joined by his besties, Obama and Erick. The complex is large enough for the friends to maneuver and play around in, and dangle from the rubber enrichment ropes. All three appear to be enjoying their new gym environment!
The socialization phase gives young orangutans the opportunity to share knowledge and skills while awaiting their turn at experiencing life on a pre-release island. Luckily for Jumbo, he is surrounded by a close-knit group of friends, something we hope will be of great benefit to him.
Jumbo possesses better-than-average skills: He is a diligent, independent, and extremely curious orangutan. These positive traits are what make Jumbo a perfect teacher for his peers during the socialization stage.
As newcomers to the complex, Jumbo and pals are still adapting to the fruit and enrichment distribution schedule. One day, Jumbo and Obama were busy wrestling when they were startled by the arrival of technicians, who had come to deliver fruits and vegetables to the complex. The friends became very quiet, as if not believing their own eyes: suddenly, an abundance of tasty treats was right before them! Once the technicians had left, the friends quickly scrambled to grab their favorite foods.
Our enrichment team regularly distributes coconuts for the orangutans in Jumbo's complex. The orangutans are familiar with coconuts and know that they must rip them open to get to the water and meat inside. However, not every orangutan knows how best to do it.
With his strong teeth, Jumbo will peel off a coconut's outer fibers, then pound the inner shell against a wall carefully to avoid shattering it. When the water begins to seep out, he will quickly open his mouth to catch the water and avoid missing a drop.
It seems that Jumbo is the only orangutan in the complex who knows about this successful method. Obama, for example, tends to shatter the shell of his coconut - he has not figured out how to break it in a way that saves the thirst-quenching water from being lost. He can only watch Jumbo enjoy his coconut water, and will occasionally try to cup the water in his hands as it drips into Jumbo's mouth.
Jumbo not only amazes us – his friends are also in awe of his skills! Keep up the great work, Jumbo!