Jumbo: May 2015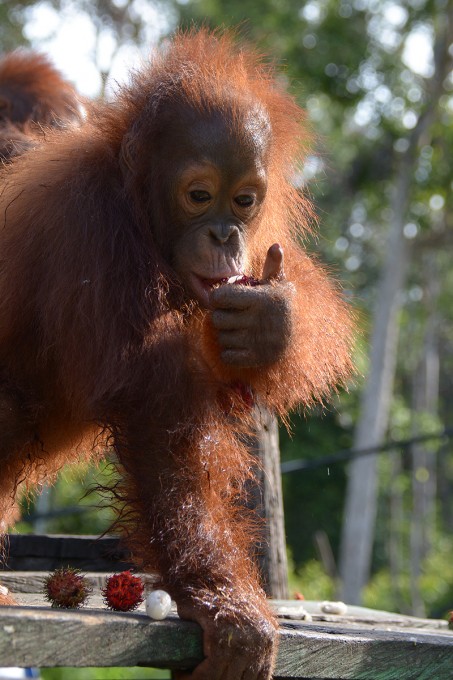 Back in January Jumbo got sick and was treated for a bad case of the flu. We moved him into the quarantine complex to make sure the illness didn't spread to the other young orangutans and of course to make sure Jumbo received all the one-on-one attention he needed to recover. Even though he wasn't feeling well, Jumbo was still quite active playing around the complex area. And his appetite did not seem to dwindle which was very good news.
After a week of treatment in quarantine, Jumbo was deemed fully recovered by the vets and returned to join his peers in Group 1.
In Forest School Jumbo has gained a lot of weight and self-confidence. He now mingles with his other classmates, something he rarely did previously.
Jumbo and his friends spend the day climbing trees and swinging on lianas (low hanging branches & vines). Swinging in the trees is excellent exercise for young orangutans aged 3-5. it helps them build their arm muscles and coordinate their arboreal movement. Jumbo looks quite comfortable in this fun activity.
Jumbo has also grown a little tougher. He does not cry for milk anymore, but he still likes to be close to his babysitters during meals. After finishing his share of fruit and milk, he will generally rush back up the trees. It is lovely to see Jumbo so enthusiastic in Forest School. Such a change since he first arrived!
There is still a lot more for Jumbo to learn to become a solitary and independent orangutan, but judging from his daily progress, we are certain that Jumbo will grow up to be an amazing male cheekpadder orangutan in the forest someday. Well done Jumbo!