Jumbo: Spring 2014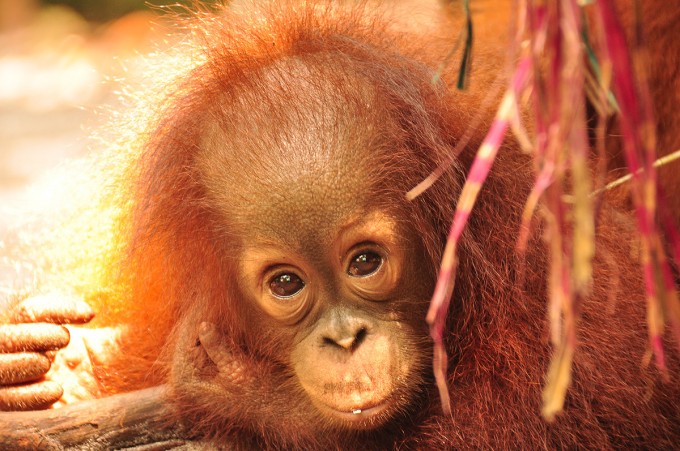 Jumbo is a healthy baby who is now almost 2 years old. He's still quite small and weighs around 14 pounds. He recently moved up a level from the BOS Nyaru Menteng Nursery Group to the Infant Group. His best friend Cinta moved up as well.
It's a typical day at pre-school. Jumbo is playing with Cinta and Barlian. In the late morning sun, Jumbo walks slowly around the yard while cuddling with Cinta. At times he appears unhappy and tries to get away from her, but she won't let him go! He probably wants to move around a bit more freely, but Cinta is determined. Eventually Jumbo gives up and lets Cinta cuddle with him & follow him around.
Jumbo is a friendly little orangutan who is happy to play with anybody. He and his friends like to chase each other and roll around in the playground. Jumbo's foil is a little guy called Barlian who likes to wrestle. Sometimes he chases Jumbo around until Jumbo gives up! He's still no match for the slightly larger Barlian! Imagine-- these two little guys will grow up to be great Cheekpadder male orangutans-- like Tarzan-- living free in the forest as nature intended!
Jumbo and Cinta like to visit a tiny baby called Syahrini. She is usually sleeping in her basket next to her babysitters in the Baby House. This 4 month old female baby was born to a young-adult female orangutan named Suja. When Syahrini caught a slight cold she was moved to the nursery so she could get 24-hour medical attention from her babysitters. Once her health is 100% she'll return to her mother, but for now, she's caught the attention of Jumbo & Cinta!
Jumbo tugs at baby Syahrini's blanket-- probably trying to get her to come and play outside with him and Cinta. But as usual, he's caught in the act by her babysitter! Jumbo is persistent, however, and won't let go of the blanket! The inevitable tug o' war ensues between him and the babysitter. A few minutes later, realizing he's been outmaneuvered by the bigger, stronger babysitter, Jumbo stops tugging, but he stays there with Cinta staring at baby Syahrini.... absolutely mesmerized.
Written by Monica Devi Krisnasari – BOSF Adoption Coordinator
Edited by Richard Zimmerman – Orangutan Outreach Director