Jumbo: Spring 2017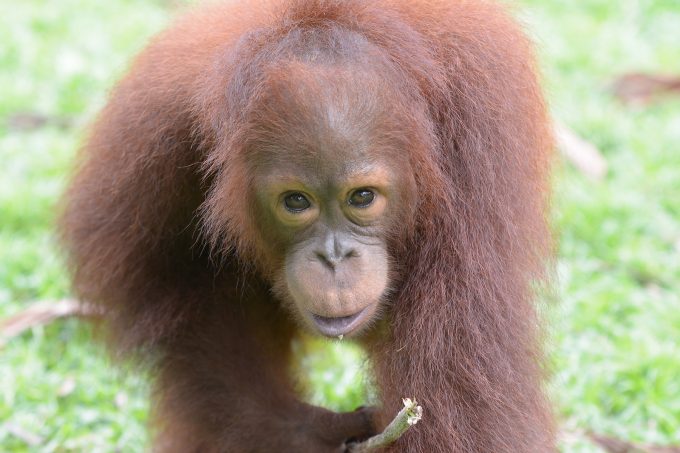 In the last few months, Jumbo has been incredibly healthy and active, attentive to his babysitter's lessons in BOS Nyaru Menteng Forest School. His curious nature helps him work on his daily skill development.
Jumbo is interested in everything around him and gets excited whenever he encounters anything new. Recently when a babysitter was showing him how to construct a nest, Jumbo was far more interested in her rubber boots, which he obsessively poked and rubbed with a twig. His curiosity did not end there. He spent a whole day going around to the different babysitters and caregivers observing their boots...
Apart from his huge curiosity, Jumbo also does have a tendency to get a bit anxious. One day he was preoccupied by dangling on a tree, when a group of wild monkeys suddenly approached him. He quickly got nervous and began kiss squeaking— voicing his and anger and discomfort at the pesky intruders. Jumbo quickly jumped to the nearest babysitter in search of protection. Lucky for him, the babysitter managed to calm him down, and Jumbo happily returned to play with his other friends after the monkeys had moved on to their next activity.
When it's time to go back from school, Jumbo likes to run to the feeding platform that is located in the Nyaru Menteng playground and grab as much fruit as he can carry. His favorite fruits are pineapple and watermelon, and he will not stop eating as long as there's fruit to be found. When playing in the playground, Jumbo often has fun with his best friend Erik. The two of them love wrestling and swinging in the enrichment ropes.
Judging from his awesome progress and skill development, we think Jumbo will soon be able to move up to Forest School Group 3! Hooray! Keep up the outstanding work, Jumbo!