Jumbo: Spring 2018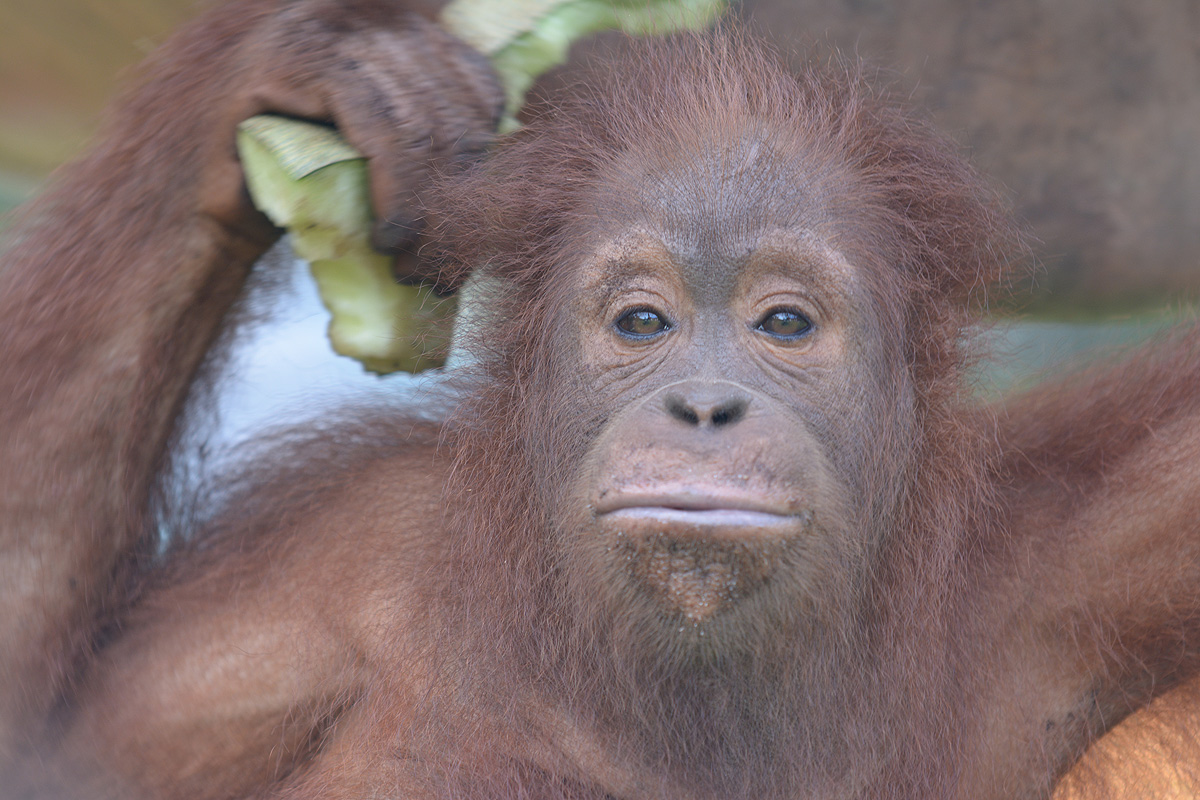 Rehabilitation Centre: Nyaru Menteng
Gender: Male
Date of arrival: February 16, 2013
Age on arrival: 1 year
Current age: 6 years
Current weight: 24 kg
Current school position: Forest School - Group 5
Health Status: Healthy
When the orangutans head to Forest School in the morning, Jumbo is always the slowest in the group, as he likes to make pit stops along the way. If babysitters fail to notice that he is lagging behind, Jumbo will make a quick escape and head into the forest. However, the babysitters are usually able to persuade him to return to Group 4 by offering him fruit.
Jumbo still needs to work on his climbing skills, but he is already quite good at foraging for forest fare, and doesn't hesitate in trying new foods. He recently discovered mushrooms, and they have now become one of his favorite snacks!
Jumbo never explores the forest by himself. He will usually take his friend Obama along with him. Together, the two like to splash around in puddles and search for natural foods like forest flowers and insects. Jumbo and Obama have the same taste in food!
Jumbo has shown very positive progress over the past three months, and has been in good health. We have high expectations that Jumbo will continue to develop his skills, and one day follow in the footsteps of other orangutans who have been released to the wild.
Earlier this year, and after a year of learning new skills in Forest School Group 4, Jumbo and some of his friends were moved up to Group 5. This is the most advanced Forest School group, and is only one step away from the pre-release stage. But, before Jumbo and others get their chance on a pre-release island, they must first master the skills they will need to survive in the wild.
Jumbo has already shown significant progress during his short time in Group 5. He has cut back his rest time and instead spends more time training and exploring the forest with his best friend, Obama. Jumbo has worked hard at improving his nest-building skills, and is now able to construct tidier and sturdier nests. He also loves to explore the forest to forage for natural food sources.
At night, Jumbo often sleeps at Forest School. Based on his advanced skills and ability to quickly adapt, his babysitters are not concerned about his sleepovers and often allow him to do so for several days in a row.
Jumbo had to take a break from Forest School and his sleepovers at the end of January, due to a slight fever. Looking a bit weak, and with a diminished appetite, the medical team placed Jumbo under medical supervision for three days in the clinic. He quickly recovered, and gained about two kilograms!
Jumbo, together with his pal Obama, is showing the most progress of the orangutans in Group 5. Once he completes this level of training, he will get the chance to experience life on a pre-release island. We can't wait to see Jumbo enjoy freedom in the forest alongside his best friend!