Jumbo: Spring 2019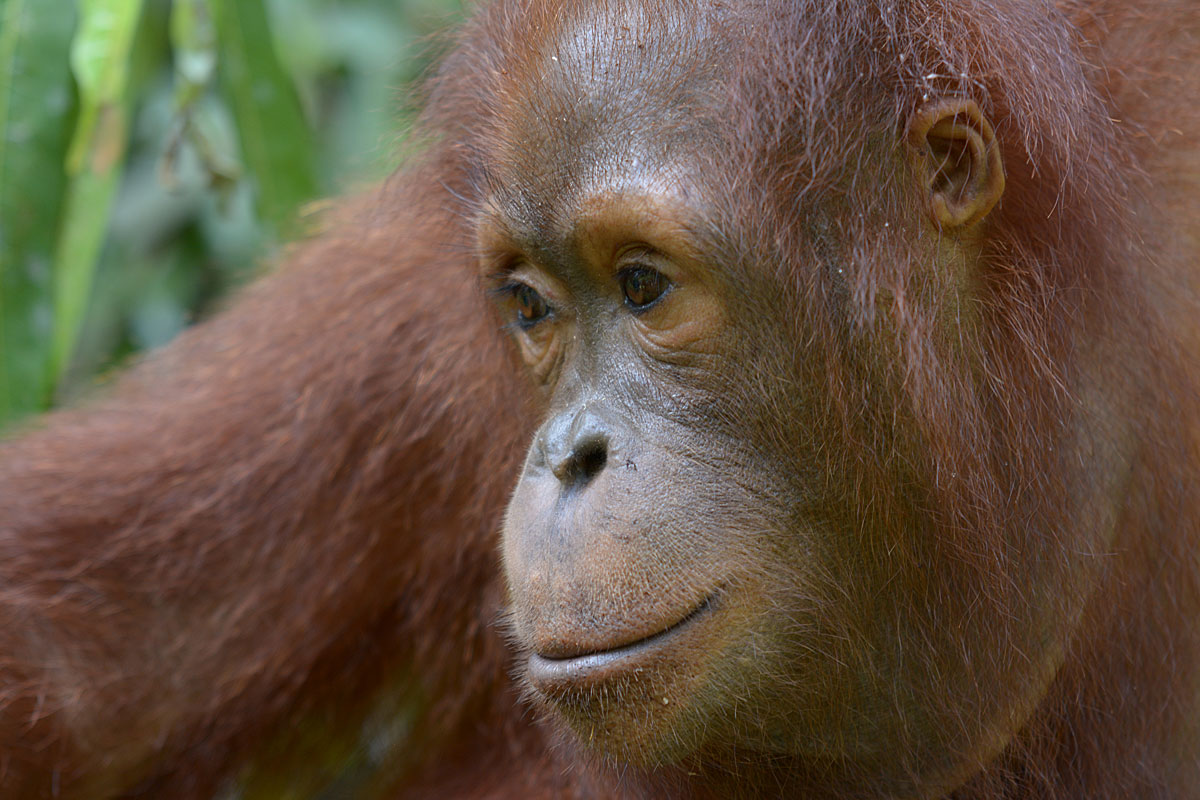 Rehabilitation Center: Nyaru Menteng
Date of arrival: February 16, 2013
Age on arrival: 1 year
Current age: 7 years
Current weight: 28.4 kg
Current school position: Forest School - Group 5
Gender: Male
Health Status: Healthy
Every morning, our technicians and babysitters are greeted with the excited squeaks and longing stares of young orangutans that are eager for another day of learning in Forest School. Once the complex doors are opened, orangutans immediately start popping out of the entrances to enthusiastically join the procession to school.
Some head directly for the Forest School area, while others wait for their friends so they can travel together. There are also a few who trail behind, like Jumbo, who is usually one of the last to exit the complex. It's almost as if Jumbo thinks he is on a special mission: to help the technicians patrolling the complex persuade any disinterested orangutans to head to Forest School.
On one particular day, Jumbo found one such reluctant student - Eric!
It did not take long for Jumbo to encourage Eric to follow him, and the two joined the large pack heading toward Forest School. As if wanting to ensure that Eric would not bail on him, Jumbo walked backwards to keep an eye on his charge. This irritated other orangutans, as Jumbo was blocking the path as he paid close attention to Eric trailing behind him. Other impatient orangutans tried to overtake Jumbo to get to Forest School first.
Once he arrived at Forest School, Jumbo headed straight into the forest canopy. He knew there would be interesting things to discover up there; such as a used nest still in good condition, which he rested in while eating rengas fruits and figs.
How easy life can be with good-natured, responsible orangutans around us like Jumbo. We are certain he will grow to be a great adult orangutan someday!
~
Orangutan rehabilitation is a comprehensive and lengthy process. The first step is quarantine, which begins the day an orangutan arrives at our Nyaru Menteng Rehabilitation Center. After passing quarantine, orangutans must work through several stages of Forest School over many years before advancing to the pre-release stage; the final leg of the rehabilitation journey.
On average, an orangutan will undergo at least 7-8 years of rehabilitation, and will have waited around 10 years before returning to the wild. However, there are some orangutans who develop and master their survival skills and natural behaviors faster than their peers. For these orangutans, this may indicate an earlier-than-average release time.
Jumbo is one such individual who regularly shows positive progress. Since entering quarantine more than five years ago in 2013, Jumbo has grown to become a very active, intelligent learner. His consistency and advanced skill development has earned him a spot on the candidate list for the next batch of orangutans to progress to the pre-release stage.
However, before Jumbo gets a taste of adventure on a pre-release island, he has to wait in the Socialization Complex while preparations are being made. Living briefly in the complex also enables our team to observe his ability to solve problems given in the form of enrichments. At the moment, Jumbo must stay in the complex with other orangutans who are also waiting for their turn on a pre-release island.
Living on a pre-release island is going to be one of the most challenging experiences of Jumbo's life. There will be no babysitters or technicians nearby to help; no more orders or instructions to follow; and no friends to play with in organized groups. Friendships will change once competition and survival mode kicks in.
But we are not worried about Jumbo. With his advanced skills and knowledge, we believe Jumbo will thrive in his new environment. An exciting time lies ahead for Jumbo!