Jumbo: Spring 2020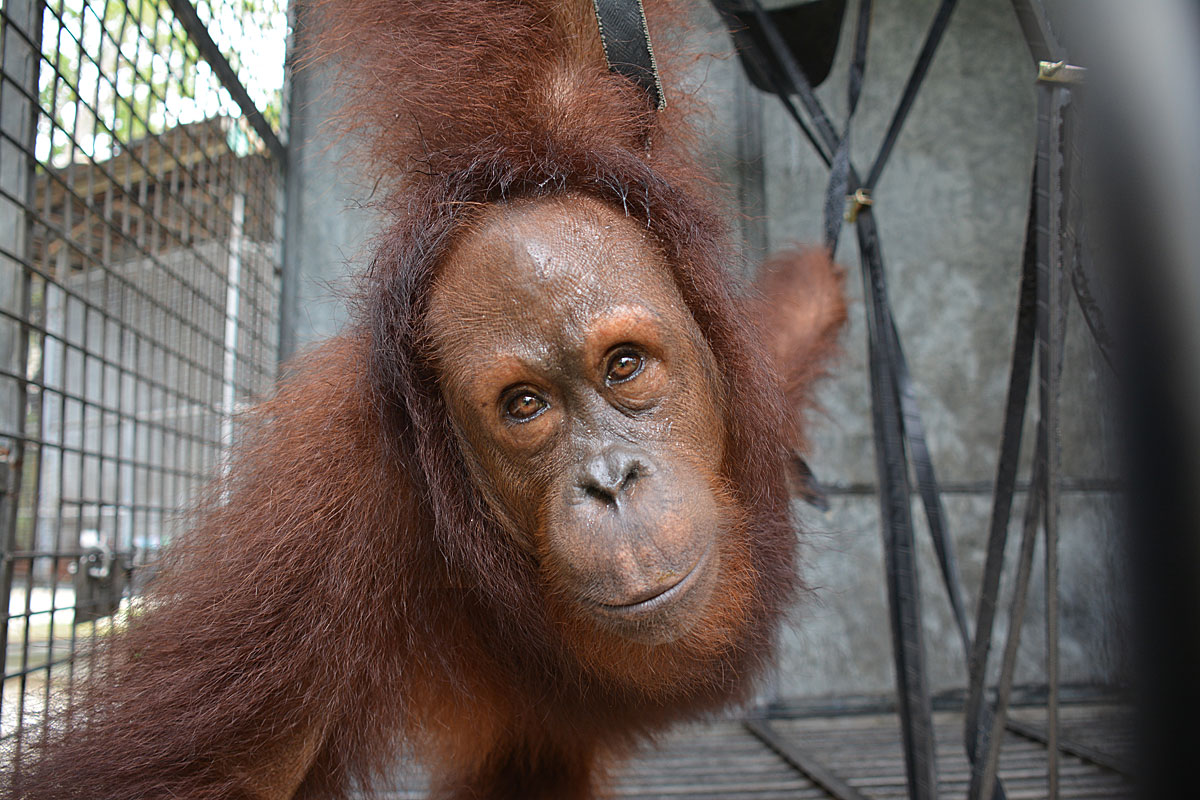 Rehabilitation Center: BOS Nyaru Menteng
Date of arrival: February 16, 2013
Age on arrival: 1 year
Current age: 7+ years
Previous school position: Complex Socialization INFO 1 (males)
Current school position: Individual Cage
Gender: Male
Health Status: Healthy
At the age of seven years, a young orangutan would usually have already developed an independent nature and no longer be dependent on its mother. A similar thing occurs with rehabilitated orangutans; they begin to distance themselves from surrogate mothers and technicians, and limit their interactions with these carers. Some, like Jumbo, will even try to scare or shoo away approaching technicians. This is a good sign, as it shows increasing independence.
When a technician approaches, Jumbo appears to feel uncomfortable and will show his displeasure at their presence by spurting water at them or kiss-squeaking. Due to this reaction by Jumbo, our technicians had to develop a special method by which to hand over enrichments, without agitating him.
However, there was no resistance from him. What a surprise! When a technician arrived, pushing a red wheelbarrow full of corn and cassava leaves for lunch, Jumbo quickly climbed down and gave the technician a friendly glance. His eyes locked onto the red wheelbarrow, following it wherever it went. Something was clearly different about Jumbo that day.
Suddenly, the technician remembered that corn and cassava leaves were Jumbo's favorite foods. No wonder Jumbo was calm that day – he was awaiting his favorite meal to be handed out! He enjoyed an extra portion of corn and cassava leaves that day.
And boy, how he enjoyed it!
~
Orangutans who successfully complete all stages of Forest School will advance to the socialization stage, where they await their turn to move to a pre-release island. Prior to moving to an island, each individual needs to undergo a series of health tests and checks to get a clearance.
In January, it was time for Jumbo to have his health test. Our medical team, assisted by technicians, experienced some difficulty when they tried to sedate him for the test. Wise to the fact that these humans were up to something, Jumbo skillfully dodge them over and over again. It was only when he was distracted by a bunch of cassava leaves that the medical team was able to successfully discharge a blow-dart and hit him. Jumbo soon fell asleep, but it took four technicians to lift him from his cage!
The team quickly conducted a series of physical examinations, and took blood and fecal samples to determine his condition. After a month, the completed results were finally available. Jumbo was declared in good health.
After his health test, Jumbo did not return to his peers in the Information Complex; he was instead placed in the Individual Complex nearby the clinic. Jumbo's new enclosure is more than large enough for one individual, and is installed with plenty of enrichments for him to engage with while he waits to go to an island.
Jumbo's rehabilitation journey is entering the final stage, and we expect him to soon get his chance to experience life on a pre-release island. You're almost there, Jumbo!