Krismon: Spring 2019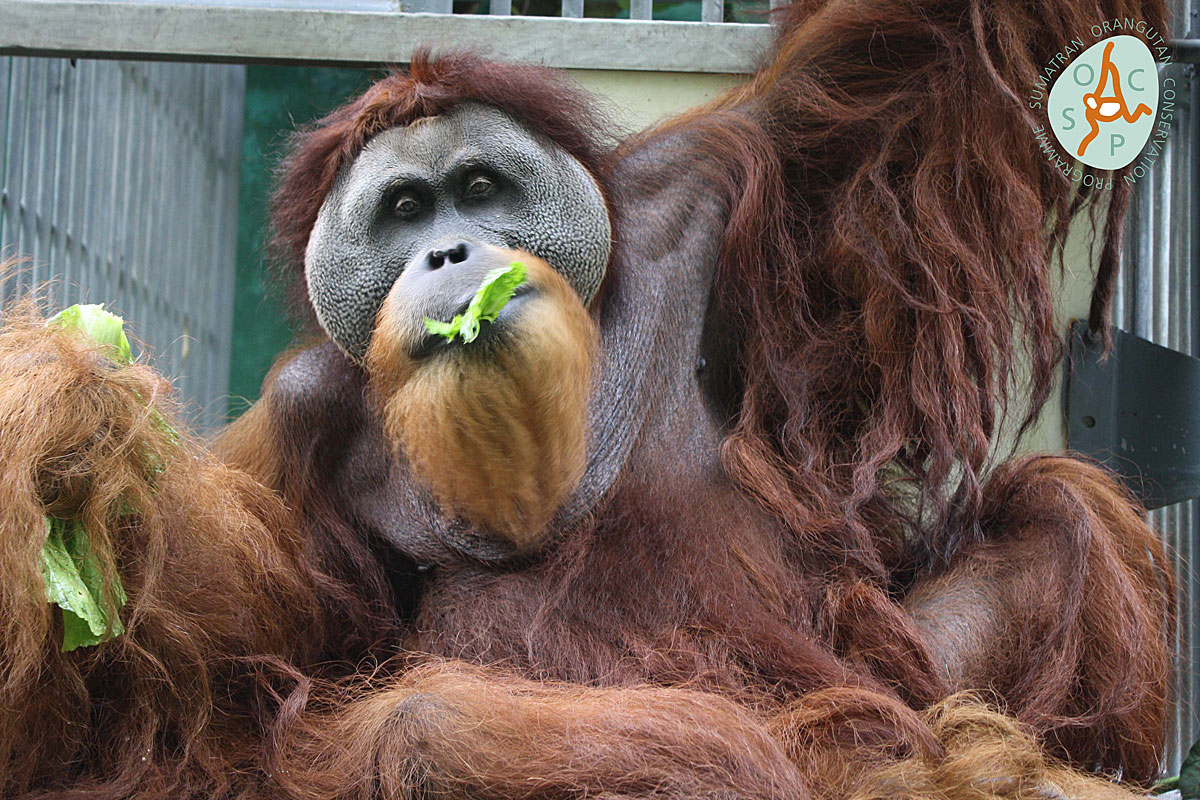 Krismon loves his vegetables (Photos by Arista)

Background
Krismon is an adult male orangutan, estimated to have been about 20 years old when he was confiscated from a house in Kabanjahe, North Sumatra and brought to the SOCP Quarantine and Rehabilitation Centre on 30 May 2016.
Behavior and Health
There have not been many changes in Krismon's behavior and overall demeanor over the past few months. We've been giving him extra leaves and branches, which he has enjoyed tasting, eating and making a mess with in his cage— typical behavior for adult male orangutans!
The biggest change in the last few months is Krismon swapped cages with another permanent resident named Lewis. Lewis is a blind adult male who, like Krimson, will eventually move to the Orangutan Haven. We did this so that Lewis could be housed next to an adult female named Dek Nong. Up until now Krismon and Dek Nong have not shown any interest in each other, so we thought it best to give Lewis a shot! Despite being blind, Lewis is otherwise healthy, so he might still be interested in having a female companion. Krismon seems fine with his new cage and his behavior has been normal since making the move.
Every year the vet team conducts a routine medical check-up for unreleasable orangutans and this year the team found Krismon's overall health condition to be good. He is, however, slightly anemic so he has been prescribed a daily multivitamin. The team also weighed the big guy during the routine medical check-up, and he weighed in at approximately 141 lbs. (64 kg).
The keepers have noticed that although Krismon still exhibits some shaking/tremors when climbing, the hyper salivation (drooling) is not nearly as pronounced or frequent as it was in the past. The keepers also said that Krismon prefers to eat vegetables like cauliflower or broccoli rather than sweet, sugary fruits – which is not so typical of orangutans, but much better for his overall health! Krismon also really enjoys cikala pith — a type of ginger used widely in North Sumatra as an herb. It is easily found in the neighboring gardens of the care center.
Future Recommendations for Krismon
Krismon should continue with a similar food and exercise regimen until the Orangutan Haven islands are ready for him (currently planned for late 2019/early 2010). When possible his keepers will provide him with more cikala leaves since it grows readily in the Orangutan Haven area, so when Krismon has moved, the staff can continue to give it to him.
All things considered, Krismon remains very relaxed and free of stress. In time he'll move to the Haven where he will be able to live free of his cage. That day can't come soon enough!