Meet Bumi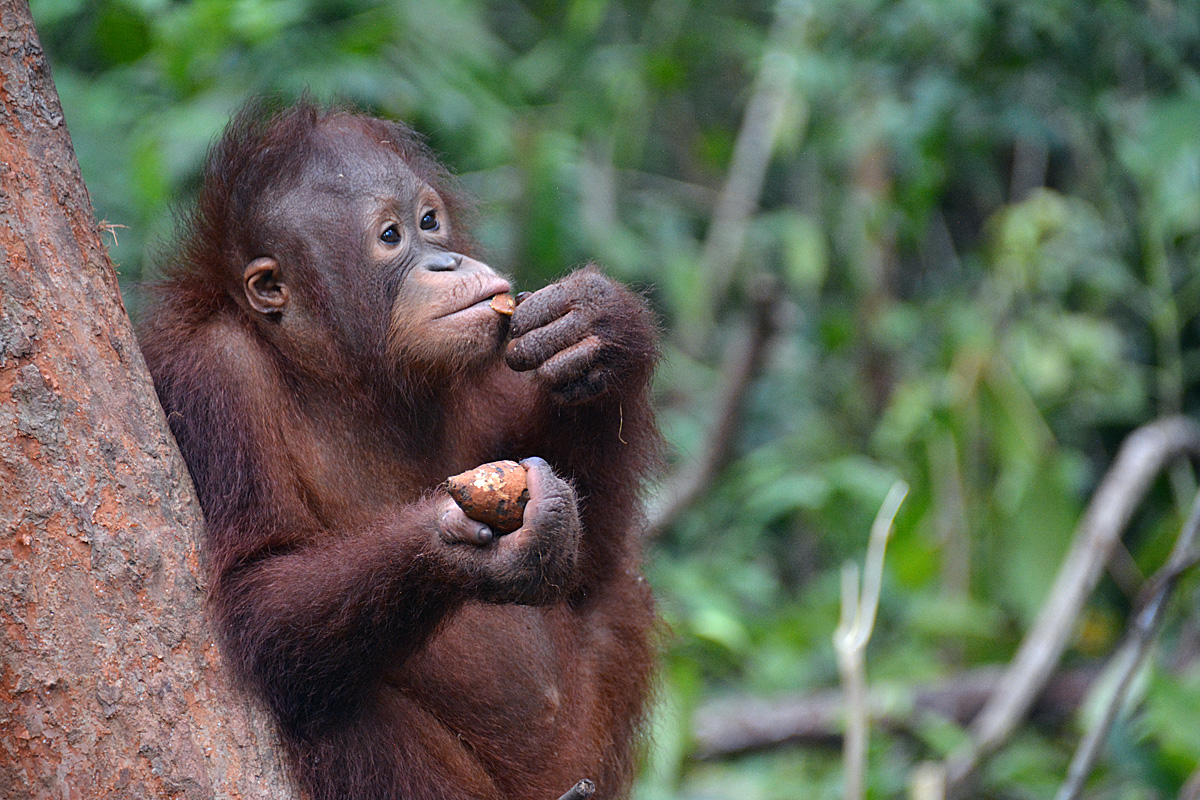 Rehabilitation Center: BOS Nyaru Menteng
Arrival date: June 18, 2016
Age on arrival: 2 weeks
Current age: 3 years
Gender: Male
Current location: Forest School – Group 3
Health status: Healthy
The team at Nyaru Menteng took in a baby boy on June 18, 2016 after he was rescued from Tumbang Koling village in East Kotawaringin, Central Kalimantan, by the Central Kalimantan BKSDA and the Centre for Orangutan Protection (COP).
When the baby arrived at Nyaru Menteng, he was given the name Bumi (meaning 'Earth' in Indonesian). He was in very poor health, noticeably weak and shivering. The rescue team initially estimated Bumi's age at around two months. However, after a more thorough examination, they discovered that he had a fresh wound on his belly button from his umbilical cord, indicating that he was actually a new-born less than two weeks old.
The veterinarian prescribed a course of antibiotics to prevent infection in the wound and aid the healing process, but poor Bumi was so incredibly weak that he could not even open his eyelids. We believe that he was violently separated from his mother shortly after his birth.
During his first nights at the center, Bumi was understandably restless and cried frequently. The babysitters held him continuously and even kept a small cuddly toy close for additional comfort, which appeared to help him sleep better. Now he only cries when he wants his bottle.
Knowing that Bumi was traumatically torn from his mother leaves us deeply distressed. We know that we can never replace his mother, but we will do everything possible to nurture him back to health and help him grow into a confident, healthy young orangutan.
Bumi spent the next period of his life in the nursery and eventually moved into Baby School. He continued improving his forest skills and making friends. He has always been a well-behaved orangutan who plays well with others and enjoys learning new things!
Fast forward and we find Bumi developing extraordinary climbing and swinging abilities for his age. Alongside his best friend, Bravis, they love to spend time exploring the forest canopy in the Forest School.
As older orangutans move out of Forest School to continue their rehabilitation on islands, space becomes available for younger orangutans to move up the ranks. Bumi and Bravis were the best candidates to be promoted from Group 2 to Group 3, where they currently reside
2 weeks after joining their new group, Bumi and Bravis were quick to explore and take control of the Forest School playground. There were no corners left uninspected, no liana roots left undangled. They immensely enjoyed their time in the Forest School!
One recent day at around 3 p.m., the temperature began to cool off and the sky grew cloudy. The bubut birds were chirping, as if telling everyone it was time to call it a day and return to the playground. Bumi and Bravis, who were used to coming back on time when they were still in Group 2, now hesitated, preferring instead to spend more time playing in the forest. The surrogate mothers understandably let them do it, knowing well that the two orangutans instinctively knew what they were doing… and that they would join the playground before dark.