Meet Cinta!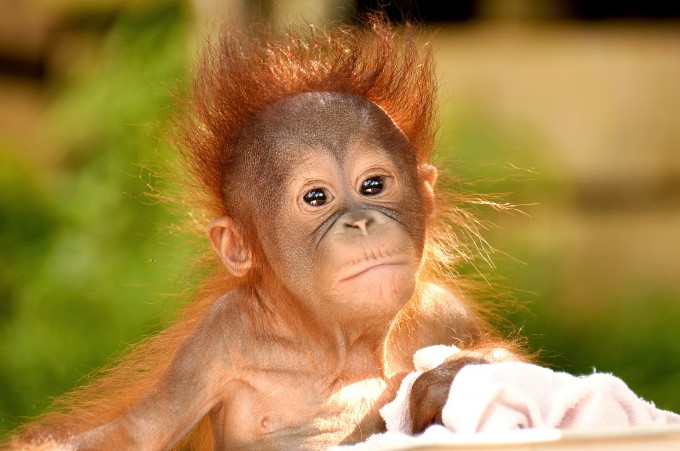 In February 2013 while the BOS Nyaru Menteng team was busy preparing the fifth orangutan release in Bukit Batikap Conservation Forest they received a phone call from Harnudi and Diher, residents of Tumbang Jalemu village, sub-district Manuhing, Gunung Mas Regency. They claimed they had 'found' an infant orangutan and wanted to send her to the care center.
BOS immediately coordinated with the Central Kalimantan Natural Resource Authority to rescue the orangutan. On the morning of February 14th,Valentines Day, while the main team was releasing a group of rehabilitated orangutans back into the forest, a small emergency team consisting of BOS Nyaru Menteng staff and crew members from the Central Kalimantan Natural Resource Authority (BKSDA Kalteng) departed to Tumbang Jalemu to get the baby.
After a four hour journey by car on rough roads, the team members Nandang (BKSDA Kalteng), Barlian Purnama Putra (NM Vet), Hermansyah (NM Communication & Education staff), and Sudaya (NM driver) arrived at Tumbang Jalemu. Harnudi and several other residents of the village directly brought the team to where the baby orangutan was being kept.
According to Harnudi, the baby had been found by his brother in-law in an area which, until recently, had been a lush forest populated by many orangutans. A palm oil company had come in and cleared the land and totally destroyed the forest.
When she was found, the young orangutan was motherless, screaming and shivering. The baby was brought home by the man who found her. Back in the village, the orangutan was placed on a jacket with an old towel serving as a blanket.
Barlian Putra immediately conducted an initial health check and noted  that she was a female, aged around 3-5 months old, skinny with clean and long hair. Nandang from BKSDA-- as the representative of the government-- made the official report of the orangutan handover from the community to the government. Once the administrative process was completed, Nandang and Hermansyah spent some time speaking with the villagers about orangutans and the need to protect them and other local wildlife.
When they arrived in Nyaru Menteng, the young orangutan was given the name "Cinta" (meaning 'Love' in Indonesian) by a special guest: the ex-president of Indonesia, Megawati Soekarnoputri. [Cinta is pronounced Chin'-ta]
Cinta underwent further health examination and the results showed that she was five months old, weighed 2 kg with dark red hair and dry skin. She was immediately brought to the quarantine to start her rehabilitation and reintroduction process which will eventually give her the chance to live in her natural habitat in the forest.
This angel is all that remains of her family and the extended population of orangutans who had once inhabited that forest.....
Text: Monterado Fridman & Richard Zimmerman