Meet Gober and the Twins!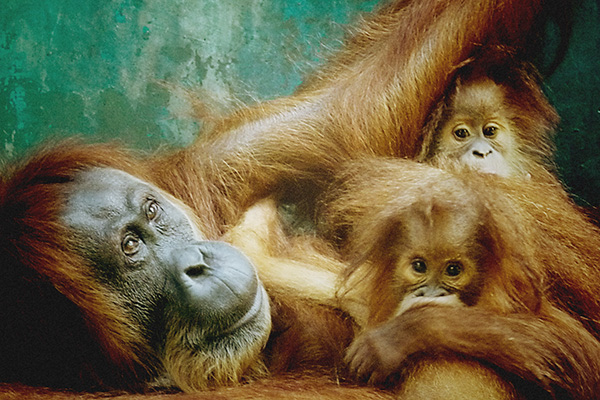 With Gober and the Twins joining the online adoption program we are thrilled to announce our new partnership with the Sumatran Orangutan Conservation Programme (SOCP).
Gober is an elderly female Sumatran orangutan from an area in North Sumatra consisting of rubber plantations and fruit agriculture, completely surrounded and isolated from native forest by intensive monoculture oil palm plantations. When Gober went blind (due to age-related cataracts), she began raiding crops and the local villagers asked SOCP to remove her from the site.
Gober entered the SOCP quarantine center in November 2008. Kept alone at first, in 2009 she was gradually introduced to another blind orangutan, a handsome male named Leuser who had been shot and left permanently blind. In 2010 they were housed together. Unexpectedly, Gober fell pregnant and in February 2011 delivered healthy twins – a male and female. The male's name is Ganteng (meaning "handsome") and the female is Ginting (a common family/clan name from the local quarantine area).
The twins are thriving under Gober's expert care. She is doing such an amazing job of rearing them. The intention is to carefully reintroduce Gober and the twins to their father Leuser, very gradually, to minimize the risk of accidental injury to the infants. In 2012, following a surgical procedure on her cataracts, Gober's sight was partially restored!
While there is a chance Gober and the Twins will be released into the wild, it is more likely they will move to the new sanctuary & conservation center being developed by SOCP in Medan-- just down the road from the current quarantine facilities. The project, called Earth 4 Orangutans, will be the first of its kind in the region. You can learn more about it here.
All photos © SOCP. Please do not use without express written permission.
Learn more about the Sumatran Orangutan Conservation Programme.