Meet Jelapat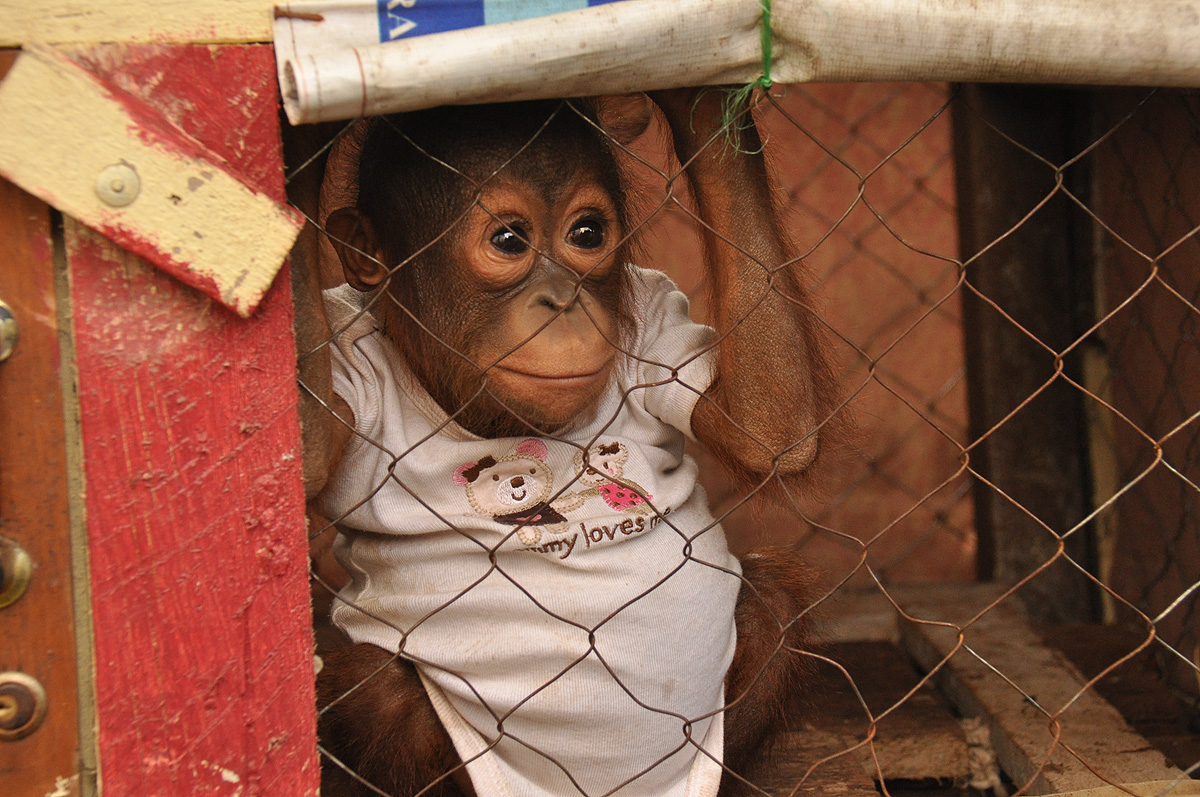 The islands of Borneo and Sumatra suffered catastrophic fires in the fall of 2015. These fires caused wild orangutans to seek refuge along the rivers and, unfortunately, near human settlements. This led to conflict with local villagers. Whenever this happens adult orangutans are killed on sight— and their babies are often taken by villagers and kept illegally as pets or sold to animal traffickers. In the months following the fires, dozens of baby orangutans were brought to BOS Nyaru Menteng.
June 2016 was a particularly busy month for the rescue team. BOS initially received information about a male infant through a member of their communications team who had seen a Facebook account sharing a photo of a captive orangutan. The baby orangutan was being kept illegally as a pet by a local villager in South Barito, Central Kalimantan.
BOS reported the finding to the Central Kalimantan BKSDA (forest authorities) the following day (June 21st) and a joint rescue team was immediately deployed to the reported location. When the team arrived, they found a baby male orangutan dressed up like a human in children's clothing.
A local resident named Sukri, who "had possession" of the orangutan and had named him Jelapat, said he had found him in mid-December of 2015 in a gold mining area of Timpah village, Kapuas Regency, Central Kalimantan.
Forest fires had devastated the area around that time, destroying all the trees and blanketing the region in a thick haze. The man claimed he had found Jelapat along the banks of the Barito River, alone and weak. His mother had undoubtedly perished in the fires. Most likely she had been intentionally murdered, for no orangutan mother would ever leave their infant alone like that.
Sukri took Jelapat home to care for and keep as a pet, and placed him in a small cage on the roadside of his densely populated village. This must have been a terrifying experience for the young male. He was given leftover rice and side dishes of human food to eat.
After a brief explanation of disease transmission between humans and wild animals, and Indonesian law regarding protected species, Sukri willingly handed over Jelapat to the rescue team. Report documents were completed by the Central Kalimantan BKSDA, after which Jelapat was taken to the Nyaru Menteng rehabilitation centre.
During the rescue, the team found Jelapat to be friendly and noted that he had no fear of humans. This indicates that he had been held captive for quite some time. An initial examination determined his age to be about a year and a half.
Upon arrival at Nyaru Menteng, Jelapat was placed in quarantine – together with two other new arrivals named Mema and Bumi, in order to undergo a thorough medical examination by lead veterinarian Dr. Agus Fahroni and his team.
Jelapat was the fifth baby orangutan rescued by the team that month. It is always sad to see motherless babies still coming to the centers. Jelapat, like the other infants being cared for at Nyaru Menteng, will have to undergo years of rehabilitation to learn the survival skills he would have gained naturally from his mother in the wild.
He has a long road ahead of him, but we'll be with him every step of the way....