Meet JoJo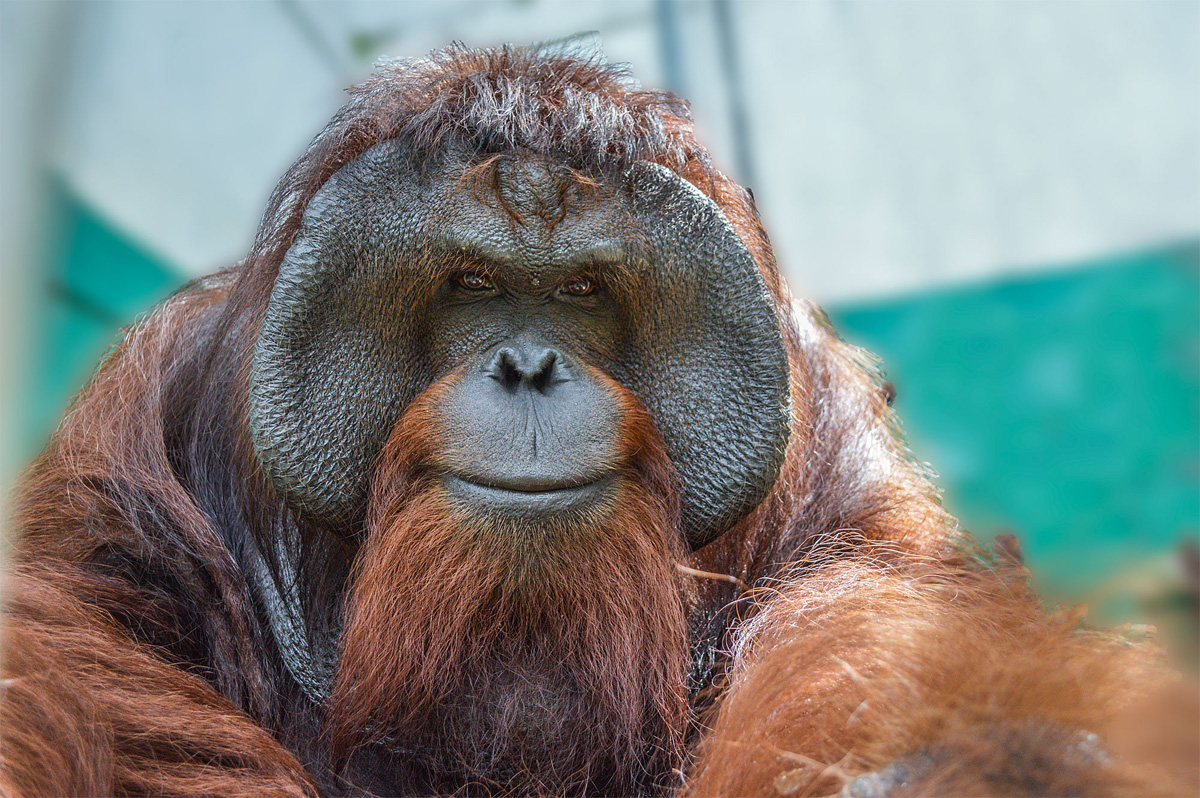 JoJo was the first orangutan to be rescued by International Animal Rescue (IAR). In fact, he was the very reason IAR created the Ketapang Orangutan Rescue Center in 2009. Orangutan Outreach is enormously proud to have partnered with IAR since the very beginning and helped them create such a vibrant, successful rescue center.
When Dr. Karmele Sanchez, Director of IAR's operations in Indonesia, first came across JoJo in 2008, his condition brought her to tears. He was sitting in an open sewer surrounded by feces and garbage. His 'owners' had chained him up on a wooden pallet and his body was hunched over and weak from a lifetime spent in a tiny cage with a diet in no way suitable for an orangutan. He was severely emaciated and the tight chain around his ankle had caused a deep, open wound. He must have been in agony. But despite the horrific living conditions, he still had a sparkle in his eye, so Karmele knew there was still hope for this beautiful soul.
JoJo had been 'discovered' in 2008 in the capital city of Pontianak by our colleagues at the Center for Orangutan Protection (COP) and they'd brought Karmele there to treat his wound— but NOT to rescue him. Back then, rescue was not an option— despite it being illegal to own an orangutan in Indonesia. Why not? There was simply nowhere to bring him. Such was the state of affairs in the West Kalimantan Province of Indonesian Borneo a decade ago.
JoJo offered no resistance when Karmele examined him. It was as if he knew she was there to help him. Even though IAR was unable to rescue JoJo that day, it was impossible for Karmele to just walk away and leave him in such misery without vowing to return and save him. So she made a promise to JoJo to return and rescue him as soon as she could.
By the summer of 2009 IAR was moving forward with the new facility— situated a tiny, rundown transit center in the sleepy town of Ketapang... about as far off the beaten path as one could get. With the new project underway, Karmele was finally able to fulfill her promise and go back and get JoJo and IAR could now give him the medical treatment and tender loving care he so desperately needed.
JoJo spent the next few years regaining his health and learning how to be an orangutan. Once he began eating a proper diet and receiving medical care, he completely transformed. He also began to grow! He has since grown into a handsome fully flanged adult male, lovingly called a cheekpadder.
Over the years, many more orangutans have been rescued and IAR built a new facility a half hour away from the old transit center on many acres of forested land. There are now over 100 orangutans at the Ketapang center, each of whom has his or her own heart wrenching story of survival. Some of the other orangutans at Ketapang are familiar faces to the Orangutan Outreach online adoption program: Pingky, Neng, Gunung, Rickina, Oscarina and little Gatot.
JoJo is very active in his enclosure, swinging around and spinning on the ropes. At meal times, JoJo loves to take as much food as he can carry up into the high hammock in his enclosure, where he peacefully enjoys his fruit, vegetables and enrichment treats.
JoJo is an extremely intelligent orangutan who enjoys all the enrichment we provide. He loves problem-solving and is very skilled at getting food and treats out of the various puzzles the care staff prepare for him. Like most orangutans, he can never get enough honey and seeds!
JoJo is so smart that he is able to communicate with the medical team when he feels unwell. If he ever has a small wound on his back or wrist, he will point it out to his carers when they are doing their rounds. Like most orangutans, he is very curious and watches everything— and everyone— around him!
While we are all proud of JoJo's progress, the sad fact remains: he is still in a cage. And we find this absolutely unacceptable.
JoJo will never be able to be released back into the wild due to lingering health issues. A lack of vitamin D for so many years caused him to develop rickets and he can't completely stretch out his legs… so living full time in the trees is not an option. In addition, after so many years in captivity, he would not know how to survive in the wild.
But we are determined to move him out of his cage and into a tree— breathing fresh air and living under the open sky…. And that day is coming closer as we move forward with an exciting new development for unreleasable orangutans like JoJo and Pingky! Remember: Think BIG!
JoJo is a symbol of strength and resilience. He provides IAR and Orangutan Outreach with never ending determination to help all orangutans. Thank you for helping us care for JoJo. YOUR adoption funds bring us closer and closer to seeing JoJo out of his cage and free in the trees…