Meet Jumbo!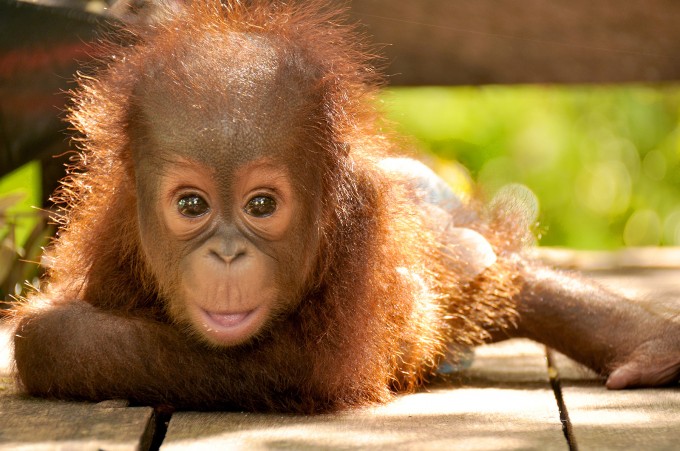 In February 2013, just two days after the rescue of Cinta, a van pulled up to the gate of BOS Nyaru Menteng at 1:30 PM. Five passengers emerged and one of them was carrying a tiny baby orangutan. They expressed their intention to hand over the orangutan to BOS Nyaru Menteng's expert care. They were the residents of Dusun Manggana village, Seruyan District, who a few days earlier had contacted NM regarding a young orangutan who had been under their care for one month.
Budi, one of the residents, claimed he had found the orangutan when he and his two dogs were taking a break in a shack in his field. He recalled hearing an unfamiliar sound coming from the middle of field. Peering out from his shack, Budi saw two orangutans-- a mother and her infant. The young one was playing on the ground, making strange sounds that Budi had never heard before. The mother was some distance away eating young oil palm leaves.
Trying to drive off the orangutans, Budi and his dogs ran in their direction and made loud noises. The dogs were trained for hunting and they ran towards the mother. According to Budi she was surprised and quickly disappeared behind the trees. Budi ran towards the infant who, he claimed, she had left behind... screaming out of fright. [Editor's note: Orangutan mothers NEVER leave their babies voluntarily!]
Budi kept the infant for a month before deciding to hand him over.
Upon arrival at Nyaru Menteng, staff vet Maryos V. Tandang immediately conducted an initial health check and wrote the official handover report.
The male orangutan was estimated to be one year old. Hermansyah, Nyaru Menteng Communication and Education staff took photographs for documentation. After the whole administrative and documentation process was completed, the tiny orangutan was given the name Jumbo by a special guest that day: the ex-president of Indonesia, Megawati Soekarnoputri.
Like all new arrivals at Nyaru Menteng, Jumbo was immediately put into the quarantine section along with Cinta, his new best friend....
Thanks to the dedicated staff of BOS Nyaru Menteng, Jumbo will have a second chance to live in his natural forest habitat after years of rehabilitation and reintroduction... He and Cinta will have a long journey, but they can do it!
Text: Monterado Fridman